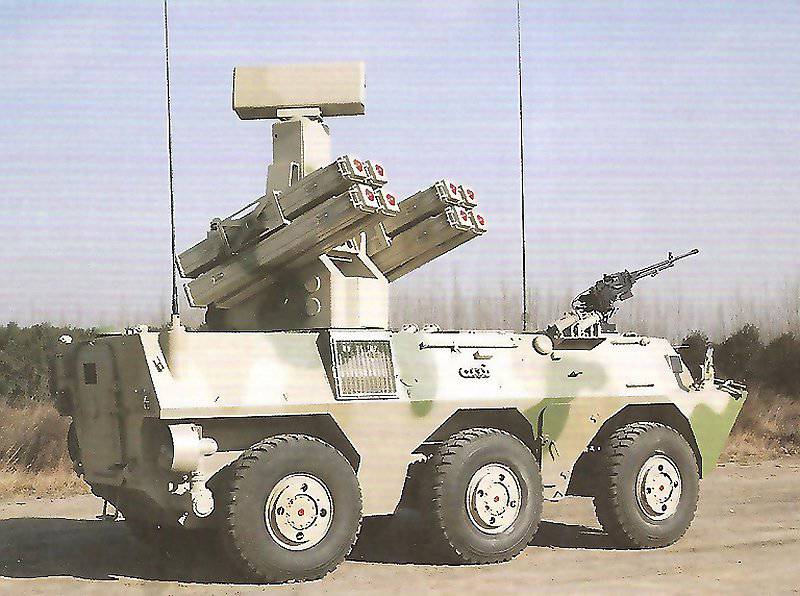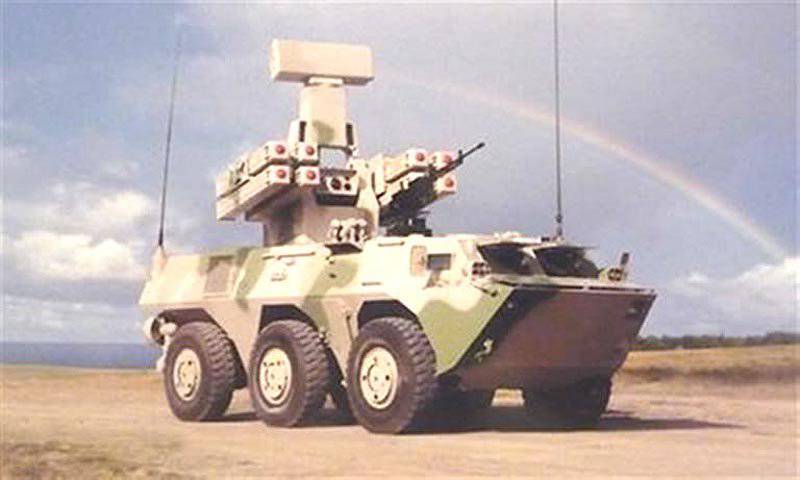 NORINCO's WMZ551 amphibious chassis is used as a platform for the Yitian air defense system.
While many countries in Europe and North America are reducing their fleet of armored combat vehicles, most Asian countries form it at the expense of local production. Several Asian countries are currently self-sufficient in the design, development and production of all types of combat armored vehicles (armored vehicles), tracked and wheeled, but in some key areas, such as engines, transmissions and weapons systems, still rely on foreign suppliers or manufacturing equipment. under license.
Malaysia and Singapore recently acquired a major combat fleet
tanks
(MBT) abroad, while other countries, such as Korea, are designing their own MBT and BMP to meet their own operational requirements.
A number of suppliers are facing a general decline in defense spending in Europe and are currently looking at Asia to utilize their production capacity, but in many countries these needs are being met at the expense of local production.
China
China is the vanguard of creating its armored forces. Over the past 15 years, the country has made rapid progress in the design, development, and production of armored vehicles, ranging from MBT to light and medium tracked and wheeled vehicles.
The large number of the Chinese army and its continuous purchases mean that only a part of its BBM fleet is the newest projects and for this reason many outdated BBM are often modernized in order to increase the service life. In the case of MBT, upgrades usually include a larger caliber gun, improved ammunition, a modernized fire control system (SLA) and increased protection.
In the past, China was the main exporter of BBM to the Middle East, especially to Iraq and Iraq, but in recent years emphasis has been placed on Africa and Asia. For its own army, China has developed a series of new MBT.
A small amount of OBT Type 98 was made for the Chinese army, before production of the improved Type 99 (or ZYZ-99) began, in which the smooth-bore 125-mm gun from the Type 98 was set aside, nor was the new automatic ammunition loading mechanism installed. A computerized SLA was installed in the turret, the former ammunition for conventional ammunition was retained, the gun could also fire laser-guided projectiles based on the Russian design, at a distance of at least 4000 meters. Ahead, the tower at Type 99 has a similar shape to the tower of the German MBT Leopard 2A6 with the aim of increasing the level of protection.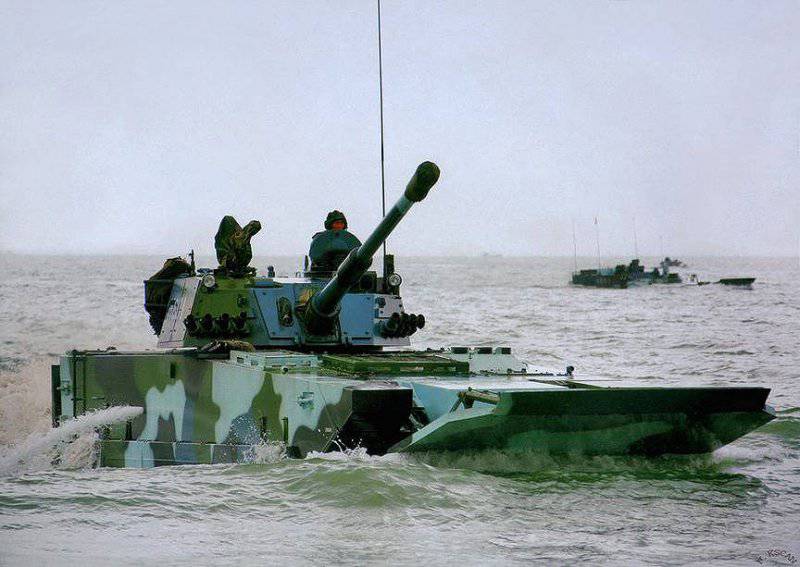 The option for firing a direct aiming floating machine ZBD 2000 is named ZTD-05 and has a 105-mm cannon and an 7,62-mm coaxial machine gun
China studied ways to increase the tank's firepower, and an 140-mm smoothbore gun was installed on the vehicle for testing, while for several years there were reports of a new generation of Chinese MBT armed with an 152-mm gun, possibly installed externally.
OBT Type 99 is the only tank in service with the Chinese army with an estimated number of 200 units; it is still being offered for export by China's North Industries Corporation (abbreviated NORINCO), which supplies most Chinese land-based weapons to the market, including the older XTNXX MBT and Type 2000-IIAP, co-produced with Pakistani Heavy Industries Taxila (HIT).
However, this is not just MBT, which are "on the rise." The new BMP ZBD-04 (or ZBD98-Type 97), which was first shown to the public at the end of 2009, is currently being used by the Chinese army in ever-increasing numbers. Their exact number is not known, but there is an assumption that 300 – 400 ZBD-04 are currently in service.
The car combines a new hull design with a heavy weaponry turret based on a turret mounted on the latest Russian BMP-3 armed with an 100-mm cannon, which, like the Type 99, can fire laser-guided projectiles. The turret also has a 30-mm cannon and a twin 7,62-mm machine gun, but unlike the BMP-3, the ZBD-04 has no forward-mounted machine guns in the nose.
China also recently introduced a new generation of floating machines, currently delivered over 450 ZBD 2000 in several versions.
The option of transporting personnel under the designation ZBD-05 is equipped with a twin turret with a stabilized 30-mm cannon and a paired 7,62-mm machine gun. An ATGM HJ-73D (Red Arrow 73) is mounted on each side of the turret.
The direct fire support option under the designation ZTD-05 is armed with an 105-mm cannon and a paired 7,62-mm machine gun. There are also a number of specialized options, including a command post to support the conduct of hostilities in the coastal zone.
The Chinese army additionally has a ZBD-03 BMD armed with an 30-mm cannon and a paired 7,62-mm machine gun, as well as a Red Arrow 8 ATGM launcher mounted on the roof.
NORINCO is promoting the same turret on other chassis, such as the WZ501, the Chinese version of the widely used BMP-1.
Along the same path, Chinese development of long-life vehicles continued, for example, the floating 6x6 BTR of the WZ551 series, which has been in service with the Chinese military for over 25 years. The newest member of this family is the WMZ551 series, which includes the 105-mm self-propelled anti-tank gun already in service under the designation PTL-02 and the 120-mm self-propelled howitzer / mortar, which came into service under the designation PLL-05. The chassis is also used to install missile systems, including Yitian.
NORINCO also entered the 8xXNNUMX wheel drive market with its new floating VN8 BTR. It has a single turret with an 1-mm cannon, an 30-mm coaxial machine gun and an HJ-7,62D (Red Arrow 73) ATGM on the turret roof. Other specialized options are available, including a command post and a mortar conveyor.
VN1 with a similar turret is in service under the designation ZBD-09, but with the HJ-73D ATGM not on the roof, but on each side of the tower.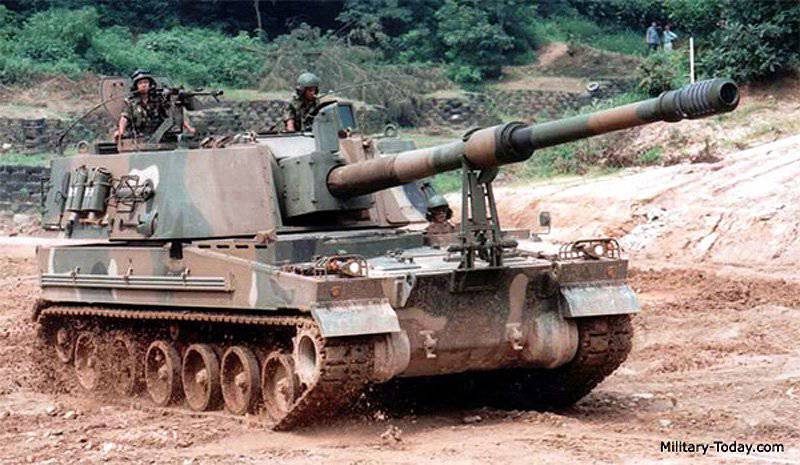 The K9 SAU with an 155-mm / 52 cannon is currently in service with the Korean army and is produced in Turkey under the designation Firtina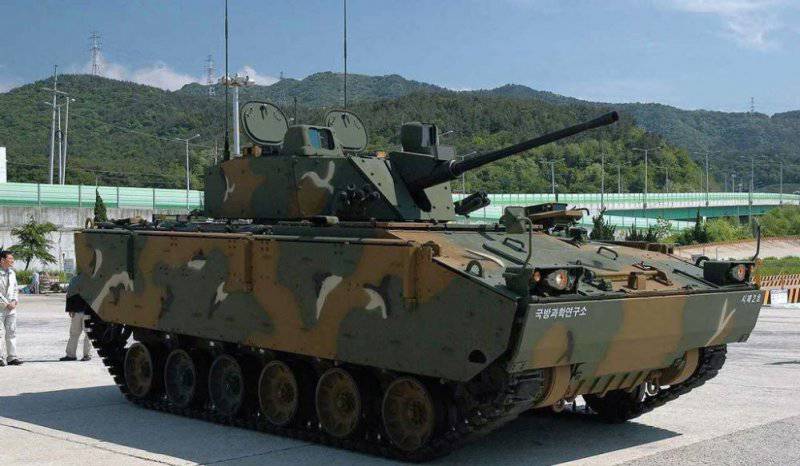 The NIFV K21 BMP is currently being manufactured for the Korean Army and significantly improves performance at all three key levels: booking, mobility, and fire power.
South Korea
South Korea followed a similar path, moving from equipping its forces with imported vehicles, in this case from the USA, and replacing them with locally-developed machines. Indeed, the country today is self-sufficient in most types of BBM, both tracked and wheeled, and had some success in the export market, even with high competition.
For example, Hyundai Rotem has completed the development of a new generation MBT K2 for the Korean army. Currently, it is starting its production, and also it has consolidated its additional success in the form of a strategic partnership in the field of joint manufacture of a new Turkish MBT.
It is expected that South Korea will put into service at least 500 K2. They have a relatively small combat weight of about 55 tons and a crew consisting of a commander, gunner and driver. K2 have 120-mm / 55 caliber smoothbore gun with automatic loader in the stern niche of the turret and traditional twin 7,62-mm machine gun and 12,7-mm machine gun on the roof.
Independent stabilized day / night sights at the shooter and the commander support the search and shock capabilities, and the digital SLA allows you to hit stationary and moving targets with a high probability from the first shot, even during movement.
The K2 is based on the experience of the K1 tank with the 105-mm M68A1 rifled gun and its further development K1A1, which has a number of improvements, including the 120-mm / 44-caliber smooth-bore gun with a large combat range and more effective weapons that have more enhancements that are more effective.
Specialized versions of the K1 / K1A1 family of armored bridges (AVLB) and BREM (ARV), as well as the engineering version of mine clearance. It was all made 200 ARV. The German company Rheinmetall is the main subcontractor of some subsystems, including the crane, the winch and the dozer blade installed in front.
The country was equally active in the field of infantry fighting vehicles, the new K21 BMP (NIFV) was selected in 2008 year after testing three prototypes from Doosan Infracore Defense Products and the machine is still in production.
K21 NIFV represents a significant advance in comparison with the current Korean BMP in three key areas: booking, mobility and firepower. It has a combat mass of approximately 26 tons, a crew consisting of a commander, an arrow and a driver plus 9 infantry.
The chassis has a double turret with a double-feed 40-mm cannon, an 7,62-mm coaxial machine gun and a paired installation of an unconfirmed type of ATGM on the left side of the turret. As in K2, an advanced round-the-clock computerized LMS was installed with stabilized day / night sights on the shooter's and commander's places. The commander's sight is a panoramic system and also supports search and shock characteristics. As standard, the machine is not floating, but when an additional kit is installed, the machine becomes floating at a speed of 6 km / h using a tracked propulsion unit. The outdated Doosan Infracore KIFV BMP, which it will replace, is reminiscent of BAE Systems AIFV BMP US Combat Systems with a troop compartment in the stern with sloping sides in the upper part with firing holes and corresponding viewing devices.
Its only weapon in the turret is a 12,7-mm machine gun M2 HB on the roof and a separate unprotected 7,62-mm machine gun on the left. A number of more powerful weapons systems were installed for testing, up to a twin-turret with an 90-mm gun, but as you know, not a single option has entered production.
The usual set of specialized options entered service with the Korean army, including ambulance, WMD intelligence, a mortar carrier, an 20-mm air defense system, a command post and an evacuation option. However, no detailed information was provided on the individual options.
The only export buyer was Malaysia, where KIFV 111 machines arrived in order to meet the urgent operational requirements put forward in the middle of 90's. Malaysia has now received an ACV (Armored Combat Vehicle) tracked vehicle from the Turkish company FNSS Savunma Sistemleri, but orders for KIFV are no longer expected.
South Korea also gained a lot of experience in the field of wheeled armored vehicles, three contractors designed and manufactured several armored personnel carriers in 6x6 and 8x8 configurations in order to meet the potential demands of the Korean army.
These are: the 6x6 and 8x8 Black Fox wheeled vehicle from Doosan Infracore, the KW1 6x6 and KW2 ACV 8X8 BMP from Hyundai Rotem and the 6X6 and 8XXXXXXXXXXXXXXXXXXXXXXXXXXXXXXXXXXXXXXXXXXXXXXXXXXXXXXXXXXXXXXXXXXXXXXXXXXXXXXNXXXXXXXNXX and Fox 8xXNUMX Black Fox As expected, Seoul will release an official announcement to accept the order at the end of this year.
At the lower end of the scale, Doosan Infracore has developed and is currently manufacturing the Barracuda 4 x 4 BTR and sells it to Indonesia and Iraq, as well as to South Korea. Barracuda, supplied to Iraq, is equipped with lattice armor to increase survivability during RPG-7 attacks. It is mainly intended for the internal security market and is almost identical to the Rheinmetall 170 TM BTR, which was purchased for the Korean army several years ago; It is based on the UNIMOG all-terrain tracked chassis.
The South Korean industry also went deep into the field of artillery, and Samsung Techwin produced a total of 1040 155-mm / 39 caliber M109A2 self-propelled howitzers for the Korean army under license from BAE Systems, US Combat Systems.
The Samsung Techwin Defense Products Division is currently producing the 155-mm / 52 caliber K9 Thunder SP artillery systems for the Korean Army plus the K10 support vehicles. Despite its apparent simplicity, K9 is a step forward for a whole generation in capabilities compared to M109A2, offering a step-by-step change in mobility, protection and firepower.
Since 2002, the Turkish Land Forces Command has taken a batch of X-NUMX-mm / 155 Firtina howitzer caliber, which are almost identical to the K52 Thunder and manufactured in the factories of this command.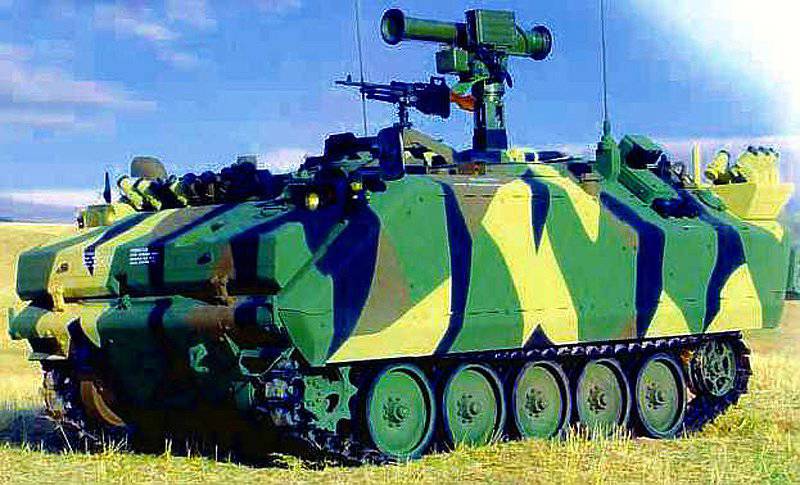 Turkish ACV 300 armored vehicle ordered by Malaysia in an anti-tank version and armed with Pakistani anti-tank missile system Baktar Shikan, in the picture in the raised position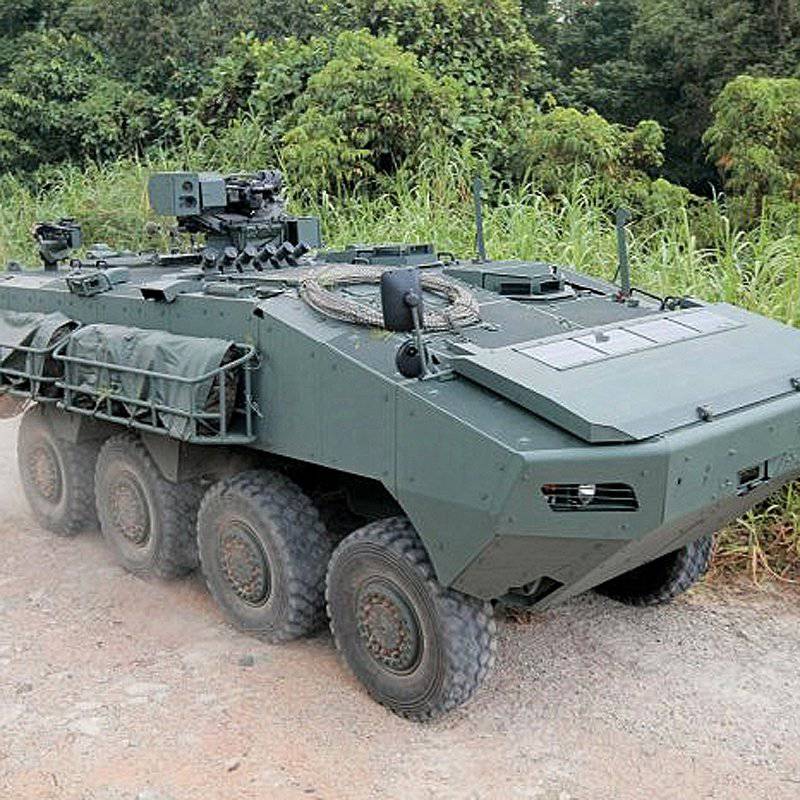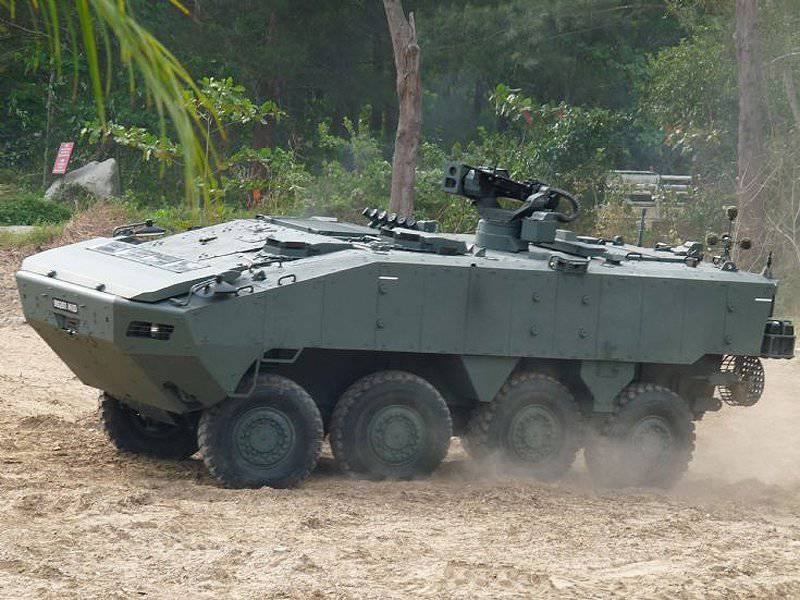 The floating Terrex infantry combat vehicle is currently being mass-produced for the Singaporean infantry corps.
Malaysia
For many years, the most armed armored vehicles in the Malaysian army were the 26 machines Alvis Scorpions and the 162 Belgian machines SIBMAS 6x6, which are equipped with twin turrets with a Cockerill 90-mm cannon that shoots MECAR ammunition.
Malaysia began a broad modernization of armored vehicles, and the army is now firmly in the ranks of the operators of the OBT. The country recently received a fleet of X-Numx tanks PT-48M from the Polish company Bumar-Labedy. In addition to the tanks, supplies included many support vehicles, including six WZT-91M BREMs, three engineering vehicles, and five PMC-91M bridge-laying machines.
Tani joined the initial park of 211 ACV 300, ordered from FNSS Savunma Sistemleri in 10 variants in 2000 year. All of these vehicles are currently in service, but the second batch of 48 ACV was ordered in April 2008 of the year and is currently completed (28 BMP, 4 anti-tank, 2 communication and 10 repair machines). Eight additional vehicles were ordered in the same year in the extended ACV configuration and will be armed with an 120-mm 120R 2M XA retractable mortar from a French company TDA under a contract worth 18,8 million dollars to a TDA Armement SAS company.
In April 2010, Kuala Lumpur also signed a letter of intent worth 8 billion ringitov with local company DRB-Hicom Defense Technologies Sdn Bhd (Deftech), providing for the supply of 233 BMX AV8 8X8. Tests of the first prototype were carried out in January 2012, then the first production machines arrived in 2013 year. All 233 machines must be delivered by the 2016 year and there will be a total of 12 variants. AV8 is based on the Pars family of Turkish FNSS, the BMP version will be equipped with an LCT-30 turret from a South African company with a stabilized 30-mm cannon and a paired 7,62-mm machine gun. This model will replace some of the SIBMAS and Condor 4x4 machines from Rheinmetall Landsystem that are currently in service. In the long term, up to 500 AV8 machines can be purchased.
Malaysia initially received the 186 SIBMAS and 459 Condor, but not all of them are in operation, and AV8 will replace only part of this fleet.
Singapore
Singapore enhances its armored capabilities mainly due to Singapore Technologies Kinetics (STK), which has a long-term working relationship with the Singapore army.
It began when STK serviced the fleet of tracked and wheeled armored fighting vehicles of the Singapore Army, then switched to major upgrades to the French light tanks AMX-13 and the American tracked armored vehicles M113. This was followed by local design, development and production of FBM to meet the requirements of the Singapore Army.
In particular, the Bionix BMP is currently in service with the army in three versions. They are distinguished by their turrets: the first is equipped with a twin turret armed with an 25-mm M242 cannon from ATK and a paired 7,62-mm machine gun; the second with a similar turret armed with an ATK 30-mm Mk44 cannon and an 7,62-mm coaxial machine gun; and the third with a simple turret with a 12,5-mm machine gun and an 40-mm automatic grenade launcher. The Bionix hull has been modified for a number of specialized options, including the ARV, AVLB and, most recently, the Trailblazer trawl-clearing vehicle.
STK also initially developed the Bronco ATTC (All Terrain Tracked Carrier) all-terrain tracked vehicle to meet the requirements of the Singapore Army, a number of options, including an ambulance, an ammunition replenishment machine, and an 120-mm SRAM (Super Rapid Advanced Mortar System) mortar from STK 120 mm . All these cars were subsequently sold for export. For example, Bronco's further development to meet British operational requirements led to the ordering of the 115 Warthog machines: BTR, ambulance, command post and options for BREM were shipped to Afghanistan at the end of 2010.
At the "heavy" end of the product line, the capabilities of the Singapore Army's armored corps are increased by acquiring 96 of the former German Army Leopard 2A4 MBT, repaired by Krauss-Maffei Wegmann and delivered in several batches. Of these 96 machines, 66 were deployed in divisions, and the remaining 30 will be used as spare parts.
The newest BBM that went into production for the Singapore Army is the Terrex BMP from STK. This means a revolutionary step for the Singapore Infantry Corps, as this is the first armored vehicle for infantry (the previous machines are all in service with the Singapore Armored Corps).
The Singapore Army has an 135 BMP Terrex to equip the 3 battalion in sufficient numbers. The first car was already delivered and deliveries should be completed next year.
The Terrex base infantry fighting vehicle is completely floating, equipped with a modern remote-controlled combat module (DBMS) armed with an 40-mm automatic air-launched grenade launcher with an air attack, a paired 7,62-mm machine gun and an additional 7,62-mm machine gun at the rear of the building's roof.
Singapore's fire support has also been enhanced by STK's development of a complete family of 155-mm artillery systems, the latter being the 155mm / 39 caliber Primus tracked system and the 155-mm / 39 caliber Pegasus light howitzer (LWH). Both are currently being delivered to Singapore's armored corps.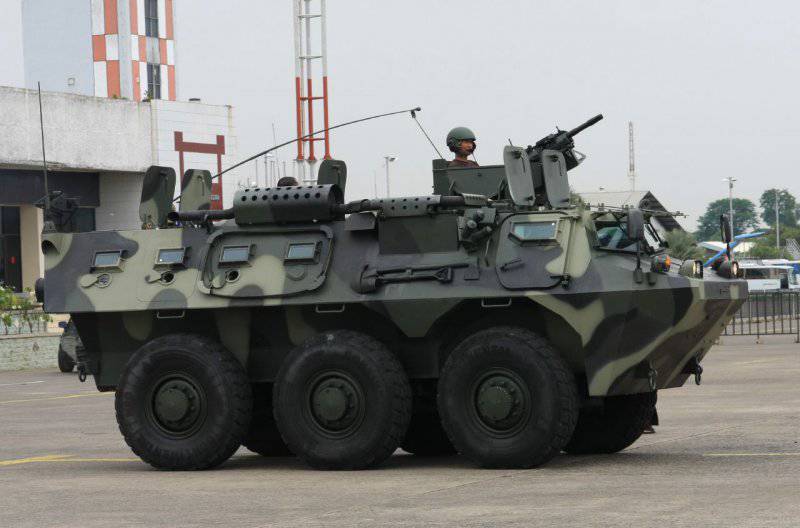 Indonesian BTR Anoa 6x6, armed with an 40-mm automatic grenade launcher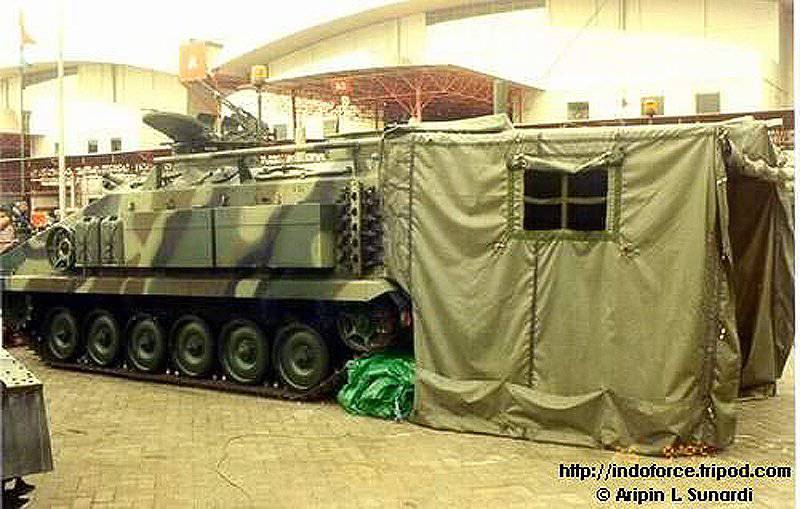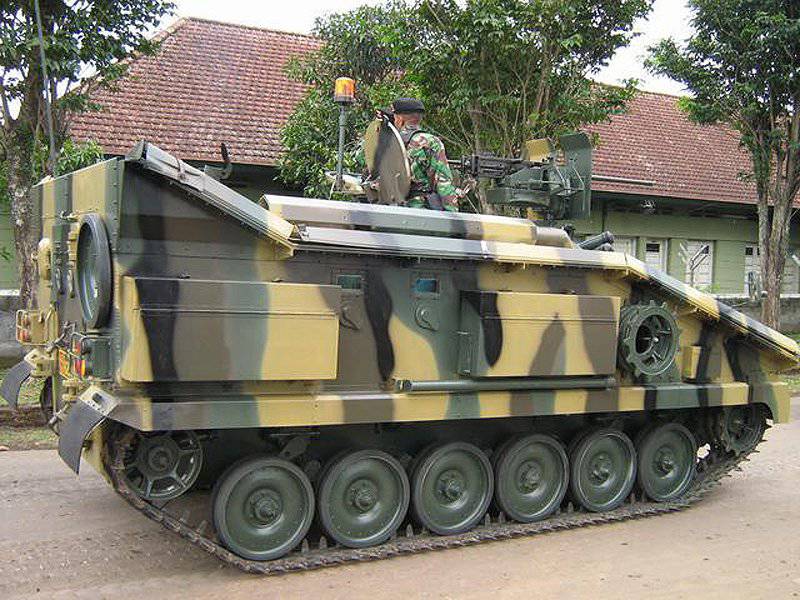 Indonesia has a fleet of Alvis Stormer 40 tracked vehicles, including a control point
Indonesia
Indonesia has traditionally been a net importer of BBM, it is armed with many tracked and wheeled vehicles from various sources, including French (AMX-13 light tanks and other variants), Russian (BTR-80A 8X8), British (Alvis 90 mm and options; Scorpion armored vehicles and variants; Saladin armored vehicles; Saracen armored personnel carriers and Ferret reconnaissance vehicles and US (Textron Marine and Land Systems Commando and Ranger), but nevertheless there are also growing local production capabilities.
Indonesia began the development of wheeled armored vehicles in 80's and manufactured Achmad Yani based on the French chassis ACMAT 4x4, and also upgraded some outdated Russian BTR-40.
More impressively, PT Pindad (Persero) is currently serially producing Anoa APS-2 6 x 6 APCs for the Indonesian army; 158 units are ordered in three batches and over 100 units have already been delivered. In many aspects, the car is similar to the French floating car VAB 6x6 (Traffic automobile de l'Avant Blinde - Advanced Armored Car) manufactured by Renault Trucks Defense, although Anoa has a power plant behind the commander, the driver's seat is in front of the car, rather on the right, not on the left. cars.
The base steel welded hull provides protection against 7,62-armor-piercing bullets, but protection can be enhanced by invoice armor. Without overlapping plates, the machine has a combat mass of about 14 tons, it has a Renault 310 hp diesel engine, coupled with an automatic ZF transmission and a cooling system from Behr.
Its main armament consists of an 12,7-mm machine gun or an 40-mm automatic grenade launcher mounted in a secure module in front of the left side of the turret.
The infantry squad is located on the undivided (like benches) seats on each side of the troop compartment. The personnel landed or landed through hatches in the roof or through twin doors in the stern, which have loopholes for firing and surveillance devices.
A number of specialized options were proposed and a low-profile version was made with the Alvis Scorpion twin-turret, obtained from the stocks of the Indonesian army with an 90-mm cannon and a paired 7,61-mm machine gun.
In addition to acquiring new cars, Indonesia plans to continue upgrading its outdated vehicles, including light tanks AMX-13, Scorpion, Stormer and amphibious vehicles BTR-50P, which are in service with the Indonesian marines, with a special emphasis on the engine compartment and chassis.
Materials used:
www.monch.com
www.norinco.com
www.doosan.com
www.hyundai-rotem.co.kr
www.stengg.com
www.deftech.com.my