"If we are not friends, we will destroy our country"; "I want to, shchat nasta peace, shcheb brother girlfriends turning." These lines from the letters of children living in Ukrainian cities where there is no war, the newspaper leads
NEWS
with reference to the Ukrainian portal Vesti.Ua.
In the collection - letters in Russian and Ukrainian languages. "Children's diplomacy and non-child wisdom," the newspaper notes. Curves lines and errors - do not count, they can be easily corrected. It is much more difficult to correct the mistakes of adults ...
"I learned that their wives, mothers, and children cry for the dead. (...) I want to, Poroshenko and Putin met with each other and talked "
- writes 8-year-old Vika Smal from Kiev. Together with the letter - a drawing with the image of a Russian and Ukrainian soldier, and between them the inscription: "Peace forever."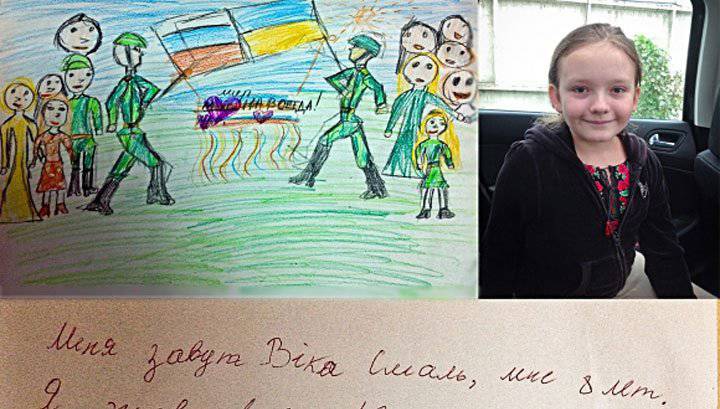 But that writes 9-year-old Ksenia Prisyazhnyuk from Odessa:
"Now in Donetsk and Lugansk - the war. Many people were left without their homes and things. Someone lives with relatives, and those who have no one - generally in the basement. They need to help - I do not mind sharing with them some things and products. We must help the soldiers. (...) I would write to our president: dear, dear Petro Alekseevich, please make peace with Russia ... "
.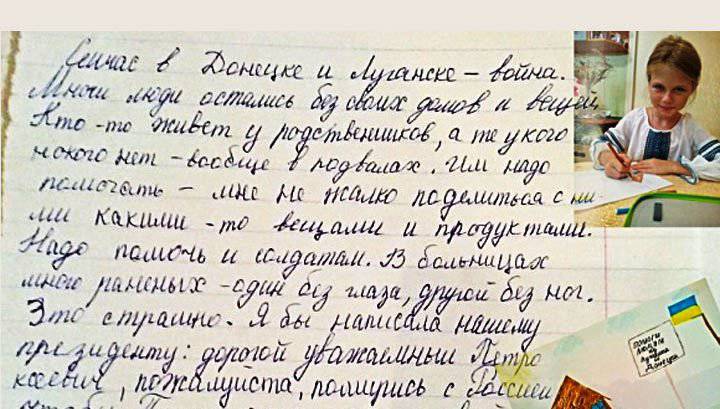 "At the beginning of the summer I met a girl who came from Lugansk to Zatoka. Lisa did not come to rest, she waits for the war. A bomb accidentally hit her school. Lisa hopes to return and go to school at least in October. (...) In order for the war to end, the presidents of Ukraine and Russia must be guilty and agree. To all ended and fell into place. And people should collect all their forces and money and restore order: plant flowers, trees, restore houses, bridges, hospitals destroyed during the war. It will bring people together. If we are not friends, we will destroy our country. Live together
, - writes 10-year-old Sofia Yushkina from Belgorod-Dniester.