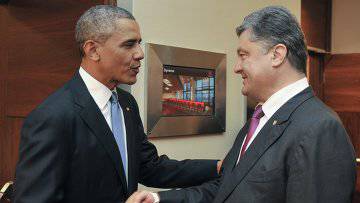 Ben Judah (Ben Judah) puts forward a truly crazy idea:
If we believe that Ukraine will ever become a member of the European Union and NATO, then we should be ready to arm it. We have to face the truth and understand that the costs of unrestricted expansion of the European Union and NATO can include a mediated war with Russia — and then enter into such a war. We have rekindled the hottest moments of the Cold War, and now we must address the consequences, stimulating democratization in Eastern Europe.
This logic requires that we send Western military advisers to Kiev and provide Ukrainians with full information and satellite support. And we have to supply them with tons of guns
Tanks
, drones and medical kits. We should even be prepared to send NATO troops if Russian tanks go towards the Crimea in order to create a land bridge between the peninsula and southern Russia, which many fear.
Judah is building a scheme in Ukraine in such a way that it shows his clear preference for the military option, rather than "capitulation." However, the course described by him is so absurd and dangerous that it discredits itself. It is absurd, because even if Western countries go to all the measures listed above, this will not change the final result of the conflict. And it is dangerous, because such steps may well provoke a larger and more destructive war. The United States and its allies may decide to send to Ukraine
weapons
and supplies, so that she fought a war, in which she is not able to win; however, this will only increase the damage to the country. Even if we assume that Western countries will somehow be able to declare a "victory" over Russia in such a war being waged by someone else's hands, Ukraine will be destroyed to the ground during this war.
If Ben Judah's "we" belongs to Western countries, then "we" do not believe that Ukraine will ever join the EU or NATO, since many members of these organizations do not want to accept it. The most realistic solution in a crisis is to confirm that Ukraine will not join any blocs. Therefore, it is irresponsible to act as if she will ever become a member of the EU or NATO. If earlier it was not clear to anyone how heavy a burden Ukraine would be for the North Atlantic Alliance, then the events of the last six months have dispelled all doubts. Obviously, NATO is not going to defend Ukraine, and therefore the worst thing that the alliance can do is to include it in its membership. If "the costs of unrestricted expansion of the European Union and NATO can include an indirect war with Russia," as Judah puts it, then this is a deadly verdict for the policies of both organizations and a good reason for stopping their progress eastward.
The United States and its allies will always think about Russia more than about Ukraine, and they will never take serious risks for the sake of Kiev. So it was when last year the crisis began, and since then nothing has changed. Some Western countries recklessly compete with Russia for influence on Ukraine, but at the same time they have no desire to allocate the resources required for such rivalry and to take risks. They went to such a rivalry, without even thinking about how negatively Russia would react to these attempts. Now, when we see how it turned out to be a catastrophe, it makes absolutely no sense to repeat this mistake and push Ukraine towards a war, in which it is impossible to win.