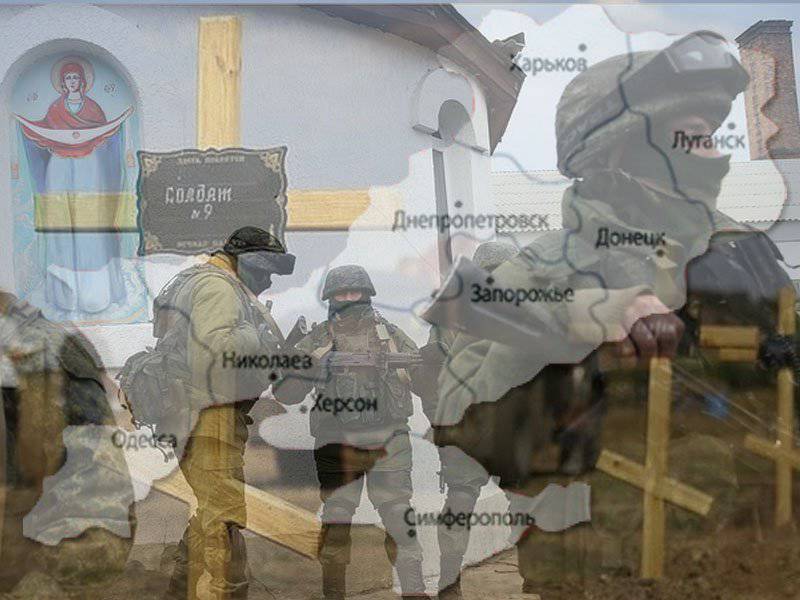 We talked with our hero twice, before his trip to the Donbass and after returning. He went to war voluntarily, driven by patriotic feelings, an order and his own understanding of a sense of duty. What I saw in Ukraine was very different from the picture shown on TV and painted in online communities. The desire to share the experience was the reason for our second conversation, it took place immediately after the return of serviceman N. home. Our interlocutor was extremely frank, but we deliberately concealed his name and a number of details of the biography so that there was no threat to his personal safety. Some of the facts described by our interlocutor, can not be verified due to the scarcity of truthful information from the combat zone. Part of the information when checking in various open and closed sources has been confirmed. This includes including the counteroffensive of the Russian army under the guise of Donbass militias, predicted by our interlocutor at the beginning of last month, which is unfolding these days before our eyes. To believe or not the picture presented to them is for the reader to decide, we only transfer the content of our conversation, without any text processing and bills.
All the events in question took place from May to August 2014. The italics indicated quotations from a conversation held in early summer, before sending N. to Donbass.
Did you serve in the army? Which troops?
He began his service in the 16 th Tambov brigade for special purposes. After military service, he signed a contract and was assigned for distribution to the Caucasus, to the 58 Army. He was trained in the center for the training of intelligence units. The contract was interrupted early.
Have to participate in the fighting?
Well, how to say, there is no war in the North Caucasus, there is no fighting there. We went to the mountains to comb, sat in ambush, accompanied by columns. Participated in what is called the cordon. When FSB special forces storm houses, apartments, we stand in a cordon, block the area. I did not participate in direct clashes.
What unit were you in the Donbas?
I can not tell you.
DNR or LC?
It was a division of the Russian Ministry of Defense, let's say.
Did your unit participate in the fighting?
Yes
How do you evaluate the professional qualities and training of the militia?
Militia on the top three.
Is it a matter of training or low moral character?
There are many factors in assessing their skills. They do not have competent commanders. There were many serving people, but there were no competent commanders. Many recruit themselves to the squad 30-40 people get
weapon
and, feeling the power, begin to pull the blanket over himself. There is no consistency, people substitute each other, kill each other. The equipment that our country supplies to Ukraine would be enough to capture a country like Latvia or Poland. They can use this technique, but they can correctly use it - no.
What kind of equipment supplies the Russian Federation to the Donbass?
Think for yourself, without the support of the Russian Federation, the South-East would not have lasted even a month. Because everything that they have is simply impossible to get in battle. This and
Tanks
and howitzer artillery, and self-propelled artillery, "Grads", absolutely everything from small arms to special equipment.
How do you rate the fighting qualities of the Ukrainian army?
If we consider reservists and the National Guard under, then the level is similar to the militia, absolutely the same. And if we consider battalions of mercenaries, they are Azov, Ternopil, Donbass, where there are probably all Englishmen, French, Poles, 70 percent, then they are, yes, masters of their craft.
What is evidence that there are mercenaries in the ranks of the Ukrainian troops? Were prisoners? Captured documents?
Yes, what documents, if you saw with your own eyes how their column moves to Lugansk under the American flag - just hung a flag over the equipment. This time. And the second, when we worked in the Red Partizan (Chervonopartizansk - Ed.), This is the Izvarino district, Krasnodon, there was a female colony, we were digging it for two weeks, kept it surrounded. So there without hiding, quietly declaring itself, there were 30 Polish mercenaries. Not hiding, not hiding.
And why their captives are not shown on cameras? So far there is only a video of a Swede from the battalion "Azov", but this is one person.
Yes, the Swedes just replicated. I think there is no wide publicity that's why. Imagine a situation that our country will show ten people to these Swedes, Czechs, Negroes, then they will do the same, they will present the destroyed squad of Russian mercenaries. This is a war of special services.
And captured citizens of the European Union, the United States?
Not the United States, but the European Union, yes.
Is it true that they say about the low moral qualities of the Cossacks? In particular, about desertion and leaving positions without orders?
As for the Cossacks, it is impossible to say definitely, some are normal, well-prepared. Some came to warm their ass, to pick up cars, pomradernichat, smuggling to mess.
Speaking of looting and smuggling, tell us what the scale of these phenomena?
Here is an example. There is such an organization "Oplot", they probably heard. When they were standing in Snezhniy and Dmitrovka, there were general alcoholism, drug addiction and looting. People were taken away on the street of their cars, things. Often came to the killings. It's about people. You know, money is a good measure of a person: whatever he may be in words, when he gets a lot of money or gets the opportunity to earn a lot of money, he changes right before his eyes. In general, looting is present and very common. He is well fought in Lugansk and Donetsk.
Shootings?
Yes, in most cases. The situation is difficult, people can be stumbled, and others, they still understand. And so, if it is clear that a man is a gangster, he has robbed another civilian, pulled him out of the car, hijacked the car, then, of course, he was shot.
Tell us how the militia has a system of medicine. Suppose a fighter is injured or disabled, what happens to him next?
If a person from a local goes to the militia, then he goes at his own peril and risk, they have no payment, in most cases there is no serious medical care - only that which can be rendered on the spot. They have no social guarantee, for example, those who come from Russia, that is, those like me. We must also understand that there are different groups from different offices. There are people from Russia who travel for ideological reasons, they themselves have gone, crossed the border, joined some militia unit and fought, such people also have no social security, nothing. And there are those who act from the office, from our departments (Russian - approx. Ed.), These people and the salary goes, and social security. When injured pay compensation depending on the severity, 300-400 thousands.
And how much do they pay an ordinary soldier, an officer?
It depends on the rank, position, there are some officers who, by virtue of age, are only suitable for work in the rear services, they are paid one sum.
How much does a fighter, who has experience in database, qualify?
The experience of fighting does not affect, the main thing is the position and qualifications. Here I, for example, I had a reconnaissance and sabotage unit from the Ministry of Defense, our salary was 90 thousands per week.
Is this money really paid? Do not throw?
Yes, they are really paid. The office never threw people. Money always stood out, their commanders threw people. At first, the money was paid to the unit commander, and the commander paid it back to his people. There were cases when the commander received several million rubles on his hands, he was torn off the lid, he substituted people for a very tough magnus * orez, they simply killed half of them, and he himself disappeared with money. Now it was taken under control, because there were many dissatisfied people, people were returning with weapons, rushed, threatened to arrange terrorist attacks, and so on. The system was adjusted, so to speak, now the money is given out differently.
And if a person dies, give money to relatives?
Yes, when you come in, fill out questionnaires, indicate the addresses and contacts of relatives there, everything is checked, you hand over the documents. If you are killed, the money sent to relatives.
Did you tell your family where are you going? How did they react to this?
You know, it was difficult for my family to even live with the fact that I joined the army. I left the institute and went to serve. I have a military father, a military family. Many relatives also participated in the Great Patriotic War, in the wars of the Union, in the wars of 90, Karabakh, Yugoslavia, Transnistria, Chechnya. My father participated in the Afghan and Chechen wars, he was strongly opposed to me going to the army, and when he found out that he was going to the Caucasus, he did not want to know me until the end of relations. But he took it out of fright, everything was fine, they made up. The family does not know that I am going to Ukraine.
You never told your family where you went and drive?
Native ... no, I did not say.
I asked about the injury, and what is done with the bodies of the dead citizens of the Russian Federation if the body could be removed from the battlefield?
If he is from Russia and served in one of the organizations, then he is sent to Russia.
Through the Rostov military hospital?
Yes, everything goes through Rostov. And the preparation of people, and technology, and everything else.
Have you seen a recent report on 200 cargo that you brought to Russia in a refrigerator? (Novaya Gazeta # 60 from 4 June 2014 "200 Cargo")
The same cargo arrived two of my comrades.
Doesn't it seem to you that such a situation is wrong when these people thought that they were beating for Russia, for the "Russian world", while the state media were silent about that?
Politicians play their game, they do their work, let them do it. I do not think that when we win, they will be forgotten. The main thing is that people remember them - if people remember them, their memory will not be forgotten, politicians change, and memory is passed down from generation to generation.
How have your views changed after participating in the database in the Donbass?
Views have not changed, changed the idea of ​​what is happening. You see, all these Vkontakte groups, on the Internet, they write all this hurray-patriotism, tales of white bulls, that everything is one, a united front of the militia, and so on. And you just can not imagine what kind of militia there is on the sale of drugs and weapons. There simply disappears weapons that Russia supplies. Anti-aircraft systems "Igla", "Arrow", heavy weapons - all this just disappears. The Igla MANPADS are allocated to subunits, of which more than half disappear when crossing the border. Where, what - no one knows.
And how does this flow of smuggling go, the Russian side does not inspect the goods?
You see, the tightening of the screws in this question began only now (August - approx. Ed.) When everything was still raw, on the run-in - how to deliver what, in what ways - people with shoulder straps were doing it ... I will not say what organization, but with epaulets.
And the same MANPADS complexes were only in subdivisions from Russia, or were they also broadcast to MANPADS militiamen?
No, they were allocated to the unit that formed the Ministry of Defense or the "office", and they went along with them. Then on the invoices, on the papers, they stood out, and no one knows where to go any further. Because the staff was not informed what and how it should be allocated and in what quantities.
What are your views strengthened?
Yes, in any, it still remains. I just realized that if wars were not fought over money, there would be no wars. And this war, yes it ... it would be possible to finish a maximum in a month. Because both from our side, and from the Ukrainian military and security officials, the same money-laundering, arms trade, and drug trafficking is going on. Just goes making grandmas. You will see, when the politically convenient moment comes, a fracture will come in our or in their direction. In the meantime, it is not profitable, while it is advantageous to wage this war, so current incomprehensible, with varying success. The militia will report that they are great, the Ukrainians will say that they are. Until there is a convenient political moment, I assure you that they will throw bombs at each other.
So who is fighting and why? Criminal clans find out the relationship?
Why do criminal clans, political. The West earns its money, weapons are being run in, special forces, testing of new types of weapons, training of special forces. This remember how the war in Spain was? It was running in before the big war, just a test of strength.
That is, everything will end in a big war?
It all depends on how far our leader dares to go in economic terms. As far as he is ready to lead the country out of the banking protectorate of the West. If he dares, the interest on 90 will be a big war. It has always been this way: when the West was cornered financially, a big war began.
What impressed you the most was that you didn't expect to see when you arrived at the Donbass?
It makes a big difference what is written in newspapers, on the Internet and
the news
, with what is really going on. Banditry, looting, murder, lack of coordination. The "Vostok" battalion, the units of Bezler and Strelkov have coordination. These units, without regard to personal gain, are doing everything they can to win, or at least to keep what they have. When politicians have played enough and there will be a war until victory. I was surprised by this colossal difference between the picture on TV and reality. I will tell you this: our structural units themselves destroyed seven militia units that smuggled weapons and drugs.
That is, those radio intercepts, which are published in the network, in which the militia are afraid of imminent liquidation, may be associated with their criminal affairs, smuggling?
There is still a struggle for power, everyone understands that the war will ever end, and someone will get power. Ukraine will not be united, it is a million percent, and everyone understands that this is the place of the king of half the country, it will not be empty. When the war ends, no matter whose victory, for a long time, there will be a very long war between each other, between the current commanders, under various pretexts. They will be accused of treason, work for the Security Service of Ukraine, the FSB and so on.
Donetsk, Lugansk hold out until winter, as Strelkov said?
Strelkov also spoke of Slavyansk. He said that they would last there for a month or two, but does that make sense? After these statements, he did not last a week, surrendering Slavyansk. Donetsk, of course, is not Slavyansk, there is more territory, Ukrainians are not fools either, or rather, those who oversee them. They will not climb into the city. They will not, as we in Grozny, let in infantry with tanks in the city, where they will be burned, burned and burned. They will be planned, area after area destroyed by artillery, "hail",
aviation
. It is unlikely that they will last until the winter if there are no fundamental changes.
Tell us a few fighting episodes that you remember something.
I remember how they took the heights from Krasnodon and Izvarino. And the most memorable is the storming of a prison with Polish mercenaries. The National Guard and the reservists who were there almost immediately fled when a full-scale assault was launched. And the Poles held out. These are old Soviet prisons, they are like fortresses, with thick walls, catacombs, cellars, and the most memorable thing was to smoke out of these thirty - a dash of a hundred people. Thirty men are mercenaries, and the rest are ideological, pravoseki, contract soldiers. The Poles have two hundredth 15 left, the other three hundredth, someone whole, they managed to escape, were able to break through. You may have seen that it was shown on TV how Ukrainian soldiers in the Izvarino area cross the border and surrender. This prison was still besieged by another militia unit around the month. We have already arrived there by assault.
Our unit consisted of two reconnaissance groups, armored and artillery support, we installed the bases for the battalions of mercenaries; on the first or second day of our arrival in Ukraine, we patted the Ternopil battalion, and a week later we split the Donbas battalion, it seems. But this happened only with the help of our artillery, which entered the territory of Ukraine and already from the territory of Ukraine worked according to our coordinates.
How can you estimate the loss of the militia, the Russian military and the Ukrainian army?
If you look at the units of the Russian official structures, the Ministry of Defense, then a little, dozens. In the militia, hundreds of dead citizens of Russia, and among the militias in general, the losses roughly correspond to the losses of the Ukrainian army. That those "grads" of the city burn out, that others, and that's what you get. Just let people in a meaningless meat grinder.
Your opinion about history with "Buk" and "Boeing"?
Honestly, I found out about it already some time after the event itself. We then carried out tasks, were in a deep autonomous system, in the rear of the enemy, so I can't say anything concrete, because I don't know anything about it and I can't even guess who was to blame. And that, and the other side is absolutely the same lie. Here is an example - battles for the airfield in Donetsk. Remember this destroyed truck with supposedly wounded militias? In this truck were including Russian military personnel who tried to break from this airport, and destroyed their own. I told you this so that you understand how well both ours and Ukrainians lie. So I do not presume to judge who did it. Yes, and not so important, the truth will be the one that can be proved. If the Ukrainians will be able to prove that we were shot down, then so be it, if we prove that they tried to substitute us, then we will be right.
That is, to never get to the truth in this situation?
And nobody needs it. Just needed a precedent with which you can work in the information plan. That's all.
What do you think of the militia commanders? Your opinion about them has not changed?
No, the attitude towards the Alpha commanders, Strelkov, the Vostok battalion has not changed, this is in principle adequate people. Know the Demon unit? He comes from our "office". There was a rumor such that he simply sent all the militias to **, closed from everyone and did not obey the militia at all. I'll tell you why he did it - by the way, we did the same, for the same reasons. Our division wanted to crush some elbrus, 105-izvara, which we sent to hell and said that if they come to us again, then we will simply kill them. Bes just looked at that naked, pardon the expression, bliss that they hide behind some high ideals, while they themselves trade in weapons, drugs, substitute each other because of the benefits. I didn't want to lose people because of the whims of big bosses and other shaluponi, he killed the parliamentarians from the militia and closed himself from everyone and performs only those tasks that the Center puts before him.
All of these official faces, beards, bolotovs, pusilins, etc., do they have any power over what is happening, or is there every unit of itself a boss?
For the most part, everyone is his own boss. All these beards and others who say something in Internet videos make statements, they have power in Donetsk and Lugansk, well, maybe even in the suburbs. And in such cities as Izvarino, Krasnodon sit local princes, kings who in the coffin saw all these beards and riflemen.
Will you come back to Donbass?
Yes, we have an order. We are not militias.
Last time…
Last time I couldn't say a lot of things, but now there is an opportunity to talk, and I saw there was enough to tell. And now the situation is difficult there, they want to end the war before winter. Therefore, it is now under pressure, and under pressure, and under pressure.
Ukraine has chances to add pressure, unless of course Russia seriously intervenes?
And Russia will not intervene, why should she? Why does she need the corpses of her soldiers and the official war? This is the most extreme case. But I tell you, this is a game, big politics. The Ukrainian side has gone, it is pushing its own interests, then the political situation has changed, ours began to crush. This is far from the end results and prerequisites for the final defeat. So they said not so long ago, 6, the number of (August - ed.), It seems that they are ready for a large-scale counterattack, although I do not believe in it, they do not have the forces and means to it, armored units. But of course if under the guise of the militia our personnel units, who have already been transferred there and who are just waiting for an order, will not act. But I think the counterattack is a bluff, when it really prepares, they do not yell at all angles.
What do you think could end this war?
Is it real? This appearance of a commander among the militiamen, who will simply shoot down half of what is now, suppress differences and act in a united front. Or under the guise of the militia will operate regular Russian units.
You described the victory of the militias, and what could stop the war and bring people to the negotiating table?
What for? It does not benefit anyone. For example, you earn good money, will you stop working if it brings you a good income? I do not think. So here, people earn good money, laundering money, drugs, weapons. Why should they stop it? He earned one, came another, also earned, a third appeared, also earned money. It also goes from an ordinary soldier to commanders and other politicians. The soldier drives the car, and he is joyful, the commander will ship a batch of weapons and drugs and earn a couple of millions, politicians work out their economic interests. So the negotiating table is unlikely, the political situation in the world should change. When saber-rattling will not be advantageous to any party.
How do you feel about the statement that the Russian "Right Sector" is now dying in the south-east of Ukraine?
There is such information that from Moscow, Kaliningrad, St. Petersburg there are such thugs who are fighting on the side of the Ukrainians. There are the same former military specialists, who for good money are fighting on the side of the Ukrainians. I will not tell you the exact place, I forgot, one of the units destroyed an entire sniper school from Russia, which was subordinate to the Ukrainian side. Somewhere in the month of June. If entire sniper schools are no longer just some ideological boys. These are experts in their field.
And the Russian nationalists who go to fight for the New Russia?
And, these morons, too, missing. Yes, just from Belarus, going to fight for the militia, but they are just ideological. Yes, the office is doing everything to stop their attempts to return to Russia, and yes, there they receive tremendous experience.
Some nationalists are fighting on the side of the militia, others are on the side of Ukraine, but are the Russian special services interested in not returning either one or the other?
I do not presume to speak for the special services, whether it is profitable for them or not, it is fraught. But this is hardly profitable, why does the state need this instability.