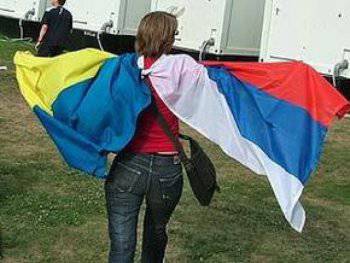 Here, some citizens are perplexed and outraged, looking at the behavior of representatives of our residual cultural elite from the 90's, acting as allies of the gay Kiev government. "As they could, we listened to them, read them," the citizens ask.
And so it could.
It is quite normal for them.
And not the first time.
And in order to understand why this is so, one must understand one simple thing, like a stool. Ukraine is only at the level of hysterical, not rooted neither in reality, nor even in the subconscious of Ukrainian svidomo citizens of slogans, with a kind of "separate education" with "separate movoy" and "separate culture". For any serious pro-Russian, anti-Russian forces and players on the "world chessboard" - yes, there, even for the majority of western inhabitants, Ukraine is culturally, economically, mentally, and somehow is part of Pax Russica. And the whole essence of the geopolitical situation, which plays in real tanchiki and combat airplanes on this unfortunate land, was very well characterized by a certain V.I. Lenin in the slogan that I passed in the title of this article.
If we take for granted that in the territory of the Russian Federation and the territorial-state formation Ukraine is a single geographical area inhabited by a single people, then there is nothing to be explained and nothing to be surprised: a creative singer of words with his mouth Vakarchuk is by definition closer to a creative singer of words with his mouth Makarevich. Once again: there is nothing surprising - we are one, in fact, a people. And what is happening in the Donbass is not a "Russian-Ukrainian war" or "civil war in Ukraine": it is a civil war of the Russian people, the "hot phase" of which is now stupidly localized on the territory of the unrecognized DNR and LC. And it was precisely to this scenario of development that the "sponsors" and potential beneficiaries of this entertainment event were striving for: they simply did not succeed in Moscow.
And in Kiev - exactly the opposite.
That's the whole explanation to both Makarevich and Ulitskaya & ko, and, by the way, the request of Russian President Putin to provide a humanitarian corridor for bankrupt Ukrainian soldiers. It's just that both those and others - once again - perfectly understand that this is one people.
The conclusions, however, make different from this.
But this is - as it was ...