The civil airliner of the future MC-21, created by Irkut Corporation, is planned to be raised into the sky next year, reports
Rossiyskaya Gazeta
With reference to Deputy Prime Minister Dmitry Rogozin.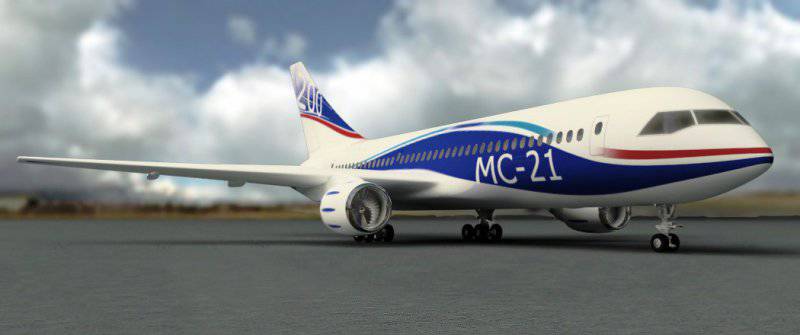 He also noted that "the government of the Russian Federation will make every effort to develop the aviation engine-building industry at a faster pace," since the need for domestic mechanisms in the country is very large.
According to experts, now "engines capable of becoming the basis for the new Russian
aviation
". For example, the main MC-21 will first be produced with foreign engines, but already 4 cars should be equipped with the domestic PD-14 engine, created in Perm. At least these are the forecasts of experts.
"MC-21 is a modular aircraft, on its basis we will get a line of even more interesting machines of a different dimension. These aircraft will allow Russia to have mobile highly skilled troops, which can be instantly transferred to where it is needed. "
- said Dmitry Rogozin.
Earlier, 27 in August, he signed a decree on state guarantees for the project "Middle-medium-haul MS-21".
Help "Rossiyskaya Gazeta":
"The MS-21 (21 20th century mainline aircraft) should replace, as planned by the developers, the outdated Soviet models of the Tu-154, as well as press the foreign A-320 and Boeing-737." MS-21 in various modifications, along with another new product of the domestic aviation industry - the SukhoiSuperjet-100 airliner - in the future should be up to 80 percent of the total fleet of civil aviation in Russia. "