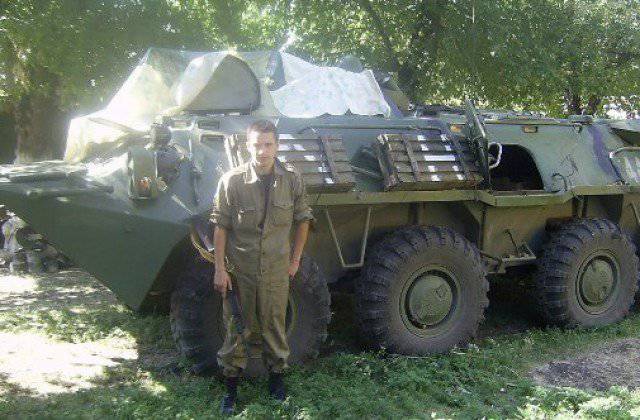 23-year-old resident of Magnitogorsk told the "Russian Planet", as he fights in the south-east of Ukraine on the side of the militia
Alexander Ivanov is 23, he limps on one leg. The limp because of the injury that Alexander received near Lugansk, where he volunteered to fight with the troops of Kiev. After getting better, a resident of Magnitogorsk is going to return to his comrades in the Luhansk region. Departure is scheduled for September 15.

- How did you decide to go to Lugansk for the first time?
- My friend and I, he has the call sign Som, and two more guys, Talib and Svetly (their names cannot be called, only call signs), got in touch with our commander Mongoose, he is from Perm. He needed specialists in Lugansk who know how to fight. He met us there, we got into the reconnaissance and sabotage group. Engaged in intelligence and sabotage.
- How did your parents react to the decision to go to war?
- Mom, of course, against. She did not know that we went there, I did not speak for a long time. Father did not know. I called when I crossed the border at Izvarino. I called my father and said: "Dad, I will be at war, we will be home in a month and a half or two, we will fight a little and come home." It is necessary to change the outfit and a little rest from this war, because many people move down the roof. He stops sleeping, begins to climb in front, loses fear, and if you lose fear, they kill you with a swoop, they do not live for a long time. And people are fighting for a month and a half, they are sent home on leave because it is hard. I called my mother and said: "Mom, I'm sorry, I'm at war." Of course, she was hysterical, but Dad was ok. He guessed that I was going to war, I bought a uniform, bought an attire, and sometimes the word "Lugansk" slipped in conversation. Normal parents will never be allowed to go to war, so I didn't tell my friends in advance. Here we left, fought, still go.
- Where did you fight?
"We were in Lugansk, in the Zarya battalion, we fought against the famous Aydar battalion — these are purely mercenaries, with no Ukrainians. Basically, the Turks, Georgians and people from all surrounding countries. There all mercenaries, all terrorists.
In the battles I was every single day. On the first day, they took shape, and then how it began - either reconnaissance, or ambush, or sabotage. We left during the day - came at night. We slept for four hours, we were very tired, but somehow got used to it, did not lose heart. There were no thoughts, but how to sleep. All on the go did.
- How long have you been in Ukraine?
- Almost a month and a half. The commander was exactly three months. There, basically the human psyche endures for two or two and a half months, then the psyche begins to break. Permanent bombings, permanent clashes, permanent bodies, the corpses of children, women, all this is worth a lot.
- That is what is shown on TV, that there are exterminating civilians - is it true?
- It's still put it mildly. When the Aidar ambushed us in a village with the name of either Verbunka or Verbovskaya, we burned two of them there
tank
and the Urals with infantry. We went in, knocked them out of there. But at night they returned, went into the houses, set up an ambush, and when information reached us that they were there, we went back to the village. They launched us into the environment and closed us. And that's where the kneading started. We brought out women and children, because they kneaded everything with tanks. This was our last battle, now the Mongoose intelligence group does not exist, the commander was killed, and the company was pulled into different units. Many were injured, so I came home injured.
- What was your injury?
- Two tanks hit me. Ossetian and I were encircled, trying to get Grandma out of the basement. The grandmother, apparently, was of Soviet hardening, she screamed out of the basement: "Get out of here, fight in another garden!" But we pulled her by the legs, by the arms. Guys her yards were taken over the fences. And we started the batch. We had nothing, there was no RPG, we only had Bumblebee, napalm, and we decided to set fire to the tank. We fired at him, saw that it was useless, and in response he fired at us. I was saved by the gate, because instead of fleeing from there, I closed it. Fragments extinguished the gate. The second time, when he fired, my sneakers burned down on me, I received a contusion and a shrapnel wound to the thigh. It was all in our last battle.
- Tell us more about your dead commander.
- Commander "Mongoose", from the Perm Territory. He left a wife and three children. He went there to fight also for civilians, he is generally an honest man, brave. When we went somewhere, he pushed such a speech! So that no one is discouraged, everyone believes. Generally all. Really believed. All thanks to him. Even in a battle, when he was hit by a tank or from an 120 mine, because there was a strong explosion and fragments, he took everything with his body, one and all. And right under my feet I flew in, they were crushed a little. He generally went to this village first. Then, when we learned that there was an ambush, we rushed there to help him. He ordered the removal of civilians, women, children, from houses, because he drove a tank into the central square and began to work out the "Herringbone". "Herringbone" - this is when the tank is going, followed by the BMP and another tank. They begin to destroy this house, this house and erase it from the face of the earth. He will stop at the house and start ironing until the basement fails, and the Nazi punishers, the black uniform, the red ribbon, the natural Nazis, are already coming from behind, and here we are. We sat in the garden and when the tank began to iron this house, they realized that we were there. Our guys began to say goodbye to life, who pulled the grenades. Last attack. Then the Sklar appeared. Sklyar is a man who fought, which the special forces went through, worked as an instructor in the special forces, he is Ukrainian, in general he is well done. He showed where to retreat, where to take the wounded, and he, I and Anton were left to cover. The battle began somewhere in the 11 hours of the day, and we went out already after dark, an hour in 12, it did not darken there for a long time and the battle was hard. We still had a horn and a cartridge in our pocket, there was nothing else. And we somehow made our way, but when they left, there was no commander. We learned later that the commander was killed, the boys were not there either, they were killed.
- How do the locals live in such conditions?
- They are up to an hour in the city, and then everyone hides. Their National Guard under very pedantic. They get up in the morning, wash themselves, have breakfast, start bombing in half an hour. As soon as half an hour passes, rest half an hour. Dine after lunch for half an hour of silence. Then they bombed before dinner and after dinner, at night at three o'clock and that was all. According to him you can check the clock.
Lugansk is partially in ruins, every second house is a hole without glasses. There are no shops, lights, connections, nothing. Humanitarian aid helps, but it is not enough, still not enough for people. Our people carry drinking water, because there is no drinking water, no gasoline, nothing. There is not enough medicine.
There is no life in the city, there are no young people, only alcoholics and those who have nowhere to go have remained. I remember that we were somehow all black, someone else was stripped, someone was bleeding, it was a tough battle. Grandma came out, took out a bucket of water, which she had the last, for sure, we only collected a flask and gave it to her because there is no drinking water. She brought us candy. I remembered her words: "Throw fascists from this land." The locals treat us well, but when we smoked that other grandmother from the basement, we learned a lot of things about ourselves.
- Where were the people hiding during the bombings?
- Mostly in the basements, although hiding in the basement of a dwelling house was not an option: a punitive grenade always flew there. National Guard went and cleaned the house. Or, for example, the house starts burning from above, people mostly baked alive and suffocated. And when their bodies were found, it was scary.
- Why do people with all this do not leave there?
- They say: "This is our land, we will not go anywhere from here." They are not guilty that they have such power that their power does not give a damn about people. I understand, they would really beat the soldiers, the warriors, and they would beat the civilians. They want to raze the city to the ground so that nothing is left of it, well, they are doing it already.
- Did you have time to rest?
- Yes, we were allowed to rest. We performed the operation, stole an armored personnel carrier at night. I liked that. All BTR trophy. Here we are so desperate. There is a famous driver Cook from Moscow, he is generally a coumache driver. When they relaxed at night, we crawled along the bushes, removed the guards and removed the driver. We started, they did not understand what was going on, we with shouts and whistles "Russia, go ahead!", "Ukraine, go ahead!", "LC, go ahead!" They were in shock, for two minutes they did not open fire on us, did not understand what had happened. And so we got the BTR. We were given a day, or rather six hours of rest. We rested on the beach, they have good beaches, bathed there, as normal people sat, ate barbecue the whole company, took pictures. The camera is also a trophy, because it was a video of the torture of our soldiers. We gave the flash drive, the camera stayed.
- Did you watch the video?
- Yes, they looked, they are very hard on them. Basically, the ears are cut, the throat is cut like a pig. Well, cheeks cut, eyes poke. Mostly these are trying to intimidate. From their side, it's even meaner that the bodies are then undermined, a grenade is put under the body or something worse.
- That is, it was dangerous to export the bodies, you did not have the opportunity to bury the bodies of your comrades?
- We tried, but if there is a fight ... We left my friend, we started to chop up, we could not. There was a meter before him, but we could not even crawl, because it was this meter that was on high ground, it was perfect to shoot and we were not allowed to just pick it up. And so we try to bury all bodies, it takes ten minutes. They tried, buried, put marks on a map and wrote on a tree, that, that, that is buried here. Reported to headquarters, when they had already won back, came from headquarters and sent home. We buried even their bodies, because it is not good at all. A man, whatever he may be, deserves to be in the land. Basically, the prisoners were forced to bury, and the prisoners were drug addicts, those who sell drugs from local people. You catch him, he does the chores
- How would you characterize your opponents?
- Their weapons are very good. One thing they lack is courage. We've got an ambush 20 people, not more than twenty, our intelligence is small. In the forest, mines were laid, they set up an ambush. A regiment, a tank regiment fought against us, they had a BMP, we burned it and a tank. Instead of them came two more tanks and infantry fighting vehicles with armored personnel carriers, after the battle, from our side there were five two hundred (dead) and four three hundred (wounded). And from their side we put the 40-45 man, because they lack the courage to break through. My best friend since childhood, Som was not afraid, ran out, gave an RPG to this BMP, where the full crew was sitting, and we burned him, not even fearing that a tank was going for the BMP, we went to shoot them.
And in that village they did it like this: there is a fire, you run into a house, you knock out the gate, because there is a sweep there is a house. You burst in with a gun, you see a child, you see a woman, you grab them under your arm and pull them out, covering your body. You go to the "Ural", we exported them "Urals". Natsik do not pity anyone, they do not care. We knocked, if we weren't opened, we knocked out the gate, because many were asleep, many were resting. We woke them up because we knew that they would start ironing now. A friend was injured when he covered a woman, and I was dragging a child. A bullet pierced a bulletproof vest and hit the shoulder blade, sticking out from there. This woman began to kiss us there, to thank. When they left the encirclement, one house remained there, and that house was probably burned. There the village was wiped off the face of the earth. The field remains, bricks and iron only. We ran from house to house, and they exploded - they were beaten with a target. Then another village and "Grad" processed, and a mortar. In general, people have no chance to survive, they immediately burn, they suffocate. We were standing on one side of the field, the Nazis on the other, shouting all the time. And we shouted to them that they did not throw a grenade into the basement, because most women die like that. What about them? He threw a grenade and then went on ... When you go in the basement later, who covered the child with their bodies, who else. You see a woman pierced through with fragments, and under her is a child. It's very scary.
My friend Dan in that fight died, he was 22, the wedding was to be soon. Wonderful man. He did not have to go first. I do not know why he went there. We sat behind the house, they began to iron us, and whether it seemed to him that someone was running — either a woman or a child — he jumped out, and there the Kord machine gun was shot. His last words: "I am wounded." Everything. Then we shot this machine gunner, he threw the machine gun and went at us, there all the bones were broken, everything was through, all splattered. These are the consequences of taking drugs. We went into the house, and there were solid syringes, all such rubbish. We went to the houses where they ambushed and found drugs, drugs and syringes, and a lot of them.
- So you want to say that your opponents often take drugs?
- They pumped very well. Because of this, they still somehow stupidly fought, they stupidly went and shot. We had one Italian, a real citizen of Italy, who owned Russian-sweary not bad. The tank gave the fence, a hole remained in the fence, and they went to ours. The Italian came out, he was shot through with a brush, got into the machine's handle, this natsik completely lowered the horn and only hit the handle and the brush. The Nazi was shot, and in his place came a second, equally stoned, just as stupid, and he was also put down.
When we took them prisoner, they immediately said that they didn't want to fight at all, that they were mercenaries, but they were not paid anything. Ukraine has no money at all, they have nothing to pay. All mercenaries are thrown with money.
And we were not an option to surrender. The National Guard and mercenaries do not like Russians at all very much. They torture Russians for a long time, and people die for a long time. We saw the bodies that were brought to us, they were greatly disfigured, signs of torture - this was done by the famous National Guard, "Aydar", some mercenaries. They are all bloodthirsty. We were also rarely taken prisoner, but tortured. We had a Barbie boy - the call sign was like that because I bought my daughter Barbie for his birthday - they injured him, and when he woke up, they cut off his ears for profit, took it all off on the phone and mocked him for a long time, finally shot him in the heart.
- From the other side were the defectors?
- There were but few. Mostly their conscripts who are fighting for a thousand hryvnia, but reluctantly, do not even shoot. The battle begins, you hear, the conscript yells: "I give up!" They usually left on the left side, they took a white bag or a white rag. We all understood, did not touch, relatives came for them and took them away. And we did not take the mercenaries into captivity, because, despite what they were doing, they tried not to regret, they did not regret anyone.
- Ukrainians fought on your part?
- Ukrainians are fighting with us, they help well, they follow the way of life. The guys from Ukraine are fighting such as we - 20-23, the war, and grandfathers, retirees mostly. The rest of the men they prefer to take everything in an armful and dump overseas, in Russia. When we crossed the border at Izvarino, we said that to our grandmother. The four of us to the grandmother. We missed, wished good luck. And on the border there were such men who can really go against the tank in hand to hand, but they all run to us in Russia. If they were bolder, I think the war would have ended. From Ukraine very good guys fought with us. There was a tanker. When the three of us left the encirclement, the last three living, I, Sklar and Anton, he supported me. When I really got off the roof, when we were grabbed from Grad, we were hit by Uragan rocket launchers and mortars, and we came out of this environment. Yes, I had tears in my eyes, because a comrade, friend of Dan, a colleague was killed in my eyes, and we could not take his body. I went to the battalion commander and asked: "Where are the reinforcements?" He said that there would be no reinforcements. And I poured tears, I was reassured by this famous tankman, the world man. When we began to iron, he was not afraid, went against three tanks and burned the BMP with the infantry. I was not afraid, I left and we are grateful to him for that.
He and the Mongols are people who are fighting for their land, for their homes. These are just brave people, impressions from them I have a mountain. Mongol went through many wars, we trained young staff. He amused us, cooked for us, and he used to work as a cook somewhere before. There is no military specialty. I myself was in shock. Mongol is a cook, Talib is a teacher of geography, there were physical education specialists, Svetly we studied at the institute, just finished and went to war, lawyers, doctors fight, engineers, miners, fishermen. Dedok 75 years fought from Russia, from the Orenburg region, he came there at all under its own power, seven days on the "Niva". Seven days! They say our weapons are good. Yes, the weaponry is good, but from the anti-tank I was surprised by the famous "Vacuum cleaner" - the 44 anti-tank gun of the first year, I saw it there for the first time, and I saw it in action, I was in shock. I do not know how this grandfather took this machine. But such grandfathers were on guard most of all, guarded while we were sleeping in the barracks, guarded the territory. But, too, in the event of which they went into battle, they were raised in alarm. There were many of them, a whole floor of pensioners, we called them so "pennies", they did not have call signs.
There, in general, everything is very amicable, I did not see anyone swearing at someone, everything is friendly and united there. We are all very respected there. We were given new machines immediately, fed upon arrival, wished good luck. Local there are generally great. We immediately went to the front, we were taken by the Mongoose. He arrived in the evening on the bus, they gave us a new one.
weapon
. They started mortar shelling and came for us, the local soldiers gave someone alcohol, someone a first aid kit, someone a pack of raw eggs, fat with them, because they didn't know yet which battalion we were in, which company. We are constantly on the front line, in danger, we were given all the best.
- Can you say something about phosphorus bombs, about which our media said that they are being used by the Ukrainian army?
- All this is true. And cluster bombs. We slept in this BTR trophy. Well, how - it turns out, all night rolling, hollowing these dill. Then in the morning they figured out that we were standing in the woods and began to work on us with cluster bombs, I saw it myself. It explodes about five to ten meters above the ground and needles fall from it, sometimes balls. A needle pierces a person through, he doesn't understand what is happening, after 100 needles are stitching him, he runs alive, falls, bleeds out for 20 minutes. Needles rotate and wind everything that is in a person and fly through. This weapon is prohibited, as well as phosphorus. How to identify phosphate weapons? When it explodes, it begins to water all the phosphorus, that phosphorus that does not burn, leaves a white stain on the ground. When you touch it, it starts to eat the skin, that's how we determined it. Well, at night it glows well. Of course, they all use. There was little fire on us, mostly they were beating the city of Lugansk. Not according to our positions, our units were located behind Lugansk, on the front lines. They knew where our parts were. I do not know why they did not dig for us, they hollowed the city from "Grad", from "Hurricane". When we sat cleaning our weapons, the steps went over us. The steps are moving away - the rocket starts to accelerate and goes deep into the earth, and a powerful explosion occurs. They still have night vision, thermal imagers, new rifles ...
- When you first arrived, what was it that shocked you?
- I flew a shard in the thigh, a small splinter shorknul. The second then got there, just deep. We arrived, loaded the plates, unloaded, dropped the mine and killed Roma the crane operator, a civilian.
- What was the most creepy?
- The body. A lot of bodies. You go along the street, a very strong smell of corpses, because many close for the night, go to bed, and next to mine at night it falls and splashes the whole house at once with splinters. They remain in the houses and there is a lot of smell. Another worst thing was to catch a mine, because they used different mines. For example, 120, it beats very much with splinters. "Grad", everyone was afraid of him, because it was better to die from a bullet than from a fragment.
The most terrible thing is when the Aydar battalion, before storming the house, throws a grenade into the basement, not knowing who it is and what it is. This is the most terrible thing, and then when we knock out at home, and they retreat, go into the basement and see the bodies of women, children, young men, grandmothers, and grandfathers. Grenade F 1 - frag, kills all the fragments. Another very unpleasant moment was during my first fight. I jumped into the pit and saw a torn female leg.
Then, when we were walking down the street, there was a couple on the road, a guy of years 19 and the same girl. They didn't manage to escape from the tank, it's generally impossible to run away from it in a straight line. He gave a large-caliber shot, and they fell. They left an orphan girl, I remember this picture. There terrible things are happening.
I did not expect it at all ... I knew that there was a war, but I did not know that there would be civilians there. On TV, they say that a person is killed on 70 per day, but more people die there! Just do not go to those apartments, houses, where fragments flew. Who is torn there, who has burned down, they are not collected, they remain there. There people cry, men cry many. After the fight you will come, silence at first 20 minutes, then everyone starts to giggle, joke, and then tears begin about those who were killed. I saw for the first time that men are crying, really for real. There the tears are friendly, when you lose a friend, friend, commander, the tears flow very strongly. Now we are going to go to Perm, the four of us are number five, we will all go to the commander's family, collect help, as much as we can and go to the grave, just say goodbye. His body was somehow pulled out of there, but I didn't see him, because I was taken away with the wounded. The body was taken out in two days, and the locals helped, because there was a reward for the head of Mongoose.
I'm not afraid that "Aydarovtsy" will find me, I realized that these are not people, I just don't know what to call them. When women and children are killed, fear is lost, when you see him, he is ready to break off with his bare hands. And I will go there again.
- Do you often give nerves?
- No, but we had a Fox, he received the first concussion, and when we were surrounded, he received it a second time. He is somewhere in the yellow house now. But you can understand him, he really demolished the roof, because we had seen a lot. As a man tears alive. Here he goes in front of you, then the mine with him falls down next to him - and it scatters. This is scary. In general, we had a wonderful commander, he always went forward, first he reconnoitered everything, then he pulled the group up. He distributed orders, and we walked without fear.
"Why do you still want to go back there?"
- Many do not understand us, they say, why? This is not our war ... But young girls are dying there, children, a lot of children, a lot. I haven't been in combat battles before, I haven't been at all, and when I first had to kill a man, kill this mercenary, my hands shook, I did not eat for two days, it was unpleasant. And when I saw what they were doing, my fear and pity for these people disappeared. Because when the bodies of children, the bodies of women, old people, pensioners are dragged out into the street, when a small child dies, he is about one and a half years old, he does not understand why, why the war. When you pull out these bodies, somehow everything disappears. Immediately everything disappears. All pity. There I did not see a single Ukrainian soldier, there were only mercenaries and very well-trained mercenaries, only they lacked courage, and so, if they had courage, it would be hard there. They are very cruel.
I will limp, I will be crooked, I will be oblique, but I will go there to fight, because there are friends, comrades. Where friends appear, it's in battle, only there, because he will always cover his back.
- Have a chance to win?
- Well, I think we will get together, we will win. They are already near Lugansk, there are five or six kilometers from Lugansk, but if they enter the city, they will not take out street battles. Not taken out. They do not have the courage to do, like our guys. Our guys, when they ran out of ammunition, they took an anti-tank mine or a grenade and threw. Many had time to throw a mine under the tank and run away, and many remained there with a mine nearby.