In Ulyanovsk, a plenary meeting of MATF-2014 ("Transport Aircraft: World Trends, Russia's Future") was held, at which topical issues of Russian aircraft manufacturing were discussed, reports
Ulyanovskaya Pravda
.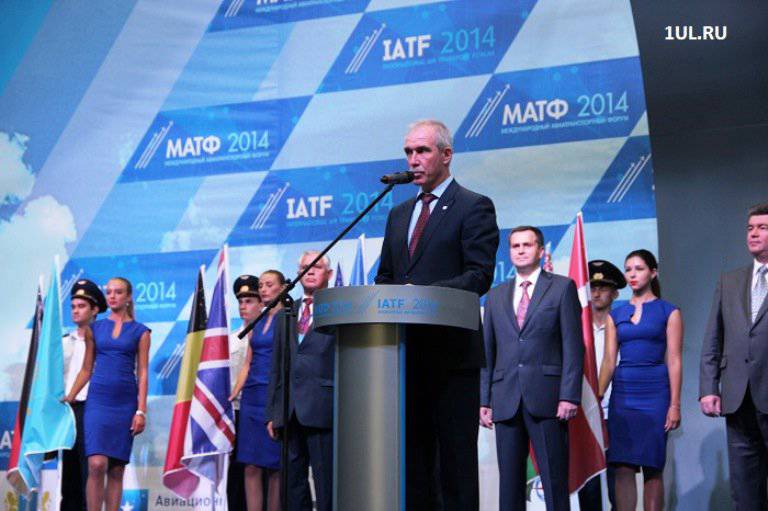 In his speech, the deputy general director of JSC UAC-TS Nikolai Sankov said:
"In the next 20 years, the volume of world aviation freight traffic will double, which will require about 2300 new cargo aircraft. The Russian Federation, in theory, possessing all types of transporters - from the light Il-112 (carrying capacity 5 tons, range - 2 thousand km) to the super-heavy An-124-100 (120 tons and 5,5 thousand km), does not produce anything serially ( the civilian version of the Il-76MD-90A has not yet been certified) "
.
According to the speakers, "the Ulyanovsk aircraft factory has the greatest competencies in the transport aircraft industry." It was noted that it "went into the IL-76MD-90A series", "built, and today, upgrades the Ruslans here, according to the plans of the UAC, starting from 2019, the Russian-Indian multi-purpose transport aircraft (MRTA , or IL-214), with a payload of 20 tons and a range of 2,5 thousands of km. "
The general director of Aviastar, Sergey Dementiev, said that at present "5 copies of IL-76MD-90А are in production (two will be handed over to the customer this year), in total 13 sets from 39-ti are laid down." He noted that on the basis of this aircraft "a project of a tanker (running name IL-78) was launched, which should take to the air at the end of next year."
Dementiev stressed that "modernization is in full swing at the enterprise: in 2008-2013, outdated equipment units 364 were brought out, 43 units of the newest were purchased, and 2014-2015 units should be 216 and 101, respectively."
According to the head, among the company's projects are "super heavy aircraft (carrying capacity up to 180 tons, wing span 70,8 m, aircraft length - 69,4 m); aircraft with a tonnage of up to 80 tons with slightly smaller dimensions and engines in the tail; nizkoplan model with the ability to convert to the passenger version and back; a model with a carrier fuselage (spanning 80 m, length - 54,9 m) and, finally, a modular platform with a load on the external sling. "
Volga-Dnepr Group of Companies summed up at the meeting the results of the competition "Promising transport aircraft of the XXI century". In the nomination "Formation of the technical appearance of a promising transport aircraft of the 21st century", the winners were unanimously recognized by graduates of the Moscow Aviation University Sergey Borovykh, Nikolay Turbin and Ilya Ageev with their project "Development of the concept of a heavy transport aircraft according to a new aerodynamic scheme". The work contains "a description and calculations of the" Mriya "class An-225 transport plane" triplane ", performed according to a double-beam scheme with an external suspension of the transported" oversized "cargo under the center section of the wing between the fuselages."
The main prize for the winners was an invitation to work in the Volga-Dnepr Group of Companies.