Permanent Representative of the Russian Federation to the UN, Vitaly Churkin, said that the Russian initiative for a cease-fire in the east of Ukraine is blocked in the Security Council of the world organization.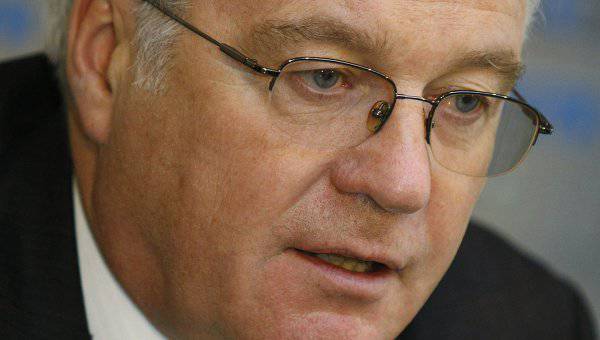 "The statement on the cease-fire proposed by the delegation of Russia was blocked simply under a frivolous pretext," RIA quoted him as saying
"News"
.
According to the Permanent Representative, "The Security Council as a result of the destructive efforts of a number of its members could not play its role" in resolving the crisis in Ukraine.
In the proposed document, Russia expressed serious concern about the events in Ukraine and called for "an immediate and unconditional ceasefire", as well as the start of negotiations "based on the Geneva Statement of 17 on April 2014 of the Year and the Joint Berlin Declaration of 2 on July of 2014 of the Year". It was also noted the need to "multiply efforts to provide humanitarian assistance to the population of Donetsk and Lugansk regions of Ukraine."
In addition, Churkin said that Kiev torpedoed "all agreements to resolve the crisis in Ukraine" and continues to pursue a reckless policy of warfare with its own people with the support and influence of some states.
"Petro Poroshenko spoke about the new settlement plan. Where is this plan? Or is this a new distraction, behind which there is actually a bet on a power solution? So far, the Ukrainian security forces, not looking at any norms of international law or moral ideas, do not selectively beat cities, residential areas and infrastructure facilities, "Churkin quotes
Lifenews
.
According to Churkin, Washington should admit to training and supplying the Ukrainian army, and not demand confirmation from Moscow about the actions of the Russians in Ukraine.
"Everyone knows that there are Russian volunteers in the east of Ukraine, no one is hiding this. I would like some other countries to show similar transparency. Let our American colleagues tell dozens of American advisers what they do in the National Security and Defense Council of Ukraine, let them tell how many American mercenaries from the so-called security companies are fighting thousands of kilometers from their shores, where the newest American weapons systems appeared from Ukrainian security forces, "he said.
INTERFAX.RU
.