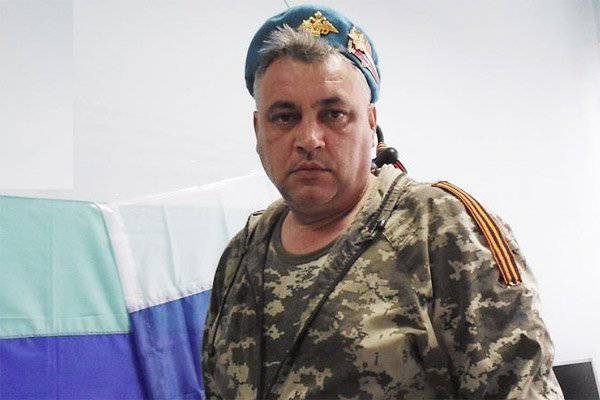 On that day, July 28, at 18.00, when I was writing part of these lines, a battle was going on on the outskirts of Donetsk, in the northeast. From the side of the village of Yasinovatoe (about 10 km from the outskirts of Donetsk), they went to Donetsk to break through the Ukrtanka of the T-64 junta in the amount of more than 21 units with the support of the Natsik infantry. I was in the center of Donetsk and here I clearly heard shots
tank
guns. The militia fighters met a tank breakthrough and fought. At 21.00 the battle was over. Enemy tanks withdrew from the city. In the battle, the militia knocked out 2 units of Ukrtanks T-64, 3 units of armored personnel carriers, 1 unit of self-propelled artillery guns - self-propelled guns - and more than two dozen Nazis.
The next day, from the village of Avdiivka, this is 35 kilometers from the center of Donetsk, the Ukrainian tanks of the junta T-64 in the amount of 57 units broke through. At that moment I was in one of the militia headquarters in Donetsk and noticed that when this information arrived, none of the commanders were nervous, but were clearly performing their duty. Early headquarters (call Michael) clearly gave orders. In the direction of Avdiivka, a militia detachment with commander Batey moved forward and stopped this Natsik breakthrough. Several tanks were burned. The attack on the city choked.
I remember well my conversation with Igor Strelkov in Slavyansk May 15. Strelkov said to me: "I have no past, it is burned. Only the future. " I realized that behind this commander many militiamen will go and will stand to the last. Go to a mortal combat. These words refer to the whole of New Russia.
Then, in June-July, being several times on the front line in Lysychansk and in Donetsk hospitals, I talked to many militiamen who had fought for real, drank soldiery valleys under mortar and howitzer attacks, and who were in fierce battles. I tried to understand. Why are these guys, different in nature and social status, fighting for Novorossia? What motivates them, why are they willing to give their lives for the victory?
Donbass hunter Batya from Slavyansk

At the end of June, 2014 in Donetsk hospitals contained many civilians and militias who were injured as a result of shelling and air raids on the cities of Slavyansk, Kramatorsk, Krasny Liman and other cities of New Russia.

In one of the wards of the Donetsk hospital section in 28 June, I met a militiaman undergoing treatment. The militia was wounded in the right leg as a result of a rupture of a projectile fired from a tank from a distance of two kilometers. At this moment, June 5, the militia was in combat guard.

Upon entering the ward, I found in a spacious, bright room that housed several beds, a pretty middle-aged woman with loose black hair in a white medical gown, standing near an overweight fifty-year-old man. The man was sitting on the bed, stretching out his right wounded, pulled into an iron chrome-plated medical corset, tied with a white bandage, leg.

The left healthy leg of the militia rested on the floor. He was in striped dark blue shorts, without a shirt and spoke in a deep voice with a woman, as it turned out, with his wife. On the miner's left shoulder was a dark blue tattoo of a beautiful epaulette epaulette. Strong hands of the Donbass miner, a loud voice — everything said that he was a native of Donbass and the master of the situation in any situation.

I asked him to tell about himself, where and how he fought and where he was wounded.

The miner introduced himself, thrusting me a big strong miner's hand:

- Dad, hunter. Was in Slavyansk. Ness service sniper in Semenovka.
Alexander Barkov.
In Semenovka I have my good friend Igor Klekta. He stood with the miners near the RSA building since 10 April. He came every day in the evenings from the mine "Miners-Glubokaya" with his fellow miners to the square near the building of the State Administration of the RSA. They had barrels, near which the miners were heated, on which was named their mines. They were all in orange mining helmets. After May 25, Igor Klekta and his friends went to Slavyansk, Semenovka, with their friends. Have you seen him there?
Dad.
Igor Klekt? I worked 17 years in the mine at the mine Skochinsky on the sixth section, I remember Klektu. But it was his father. He worked as a master site. No, we did not meet with Igor Klekta in Semenovka. In Slavyansk, at Strelkov I have been located since March. Was a sniper. SVD rifle. Wounded in the leg of 10 June, when Ukrtank hit our position from a distance of 2 kilometer.
Alexander Barkov.
The village is located near Slavyansk. This is a heroic place, indicated in all front-line reports. Tell us what happened before and how the injury occurred?
Dad.
In early May, we, the Strelkov militia, arrived at the position in the village of Semenovka. Digging trenches. We worked artillery, mortars, bombed aircraft. They bombed the entire building of the mental hospital - all six buildings. In early June, we began to bomb and shoot howitzers very often. Shelling of our positions in 5 began in the morning, and usually ended in 7 in the evening. They beat us with phosphorous shells.
Alexander Barkov.
Tell us how you hurt?
Dad.
We were on the position. At a distance of two kilometers near a country road, maneuvered and constantly fired a tank in our direction. We could not get it. From the sight of the SVD sniper rifle you can see this tank well, but you can not do anything. On that day, we stood in position and talked with the militia. I looked that way. Look, the flash is bright.
I shout to the guys: "Get down!" All fell to the ground in a trench. I fainted. Then I woke up. I hear the guys call me: "Dad, Dad! Alive?" Around me, near the legs, a pool of blood. Two leg bones are broken. Long ambulance did not come. In Slavyansk, a bandage was made in the hospital and afterwards was delivered here, to Donetsk.
If the projectile flew over the trench position and exploded behind us, then all the boys of my militia who were in the trench would have died.
And so we were lucky. Others then did not hurt. Here I will heal a leg - and I will go back to Slavyansk ...
His wife, hearing the words of the miner-hunter Bati about returning to Slavyansk, began to object. But Dad strictly looked at her: "Faith, and do not mind. I! He said! I need to beat them, dill, a little more."
I said goodbye to Batey, wished him good luck and went to another room.
Seedovka Burdey's HeavyI opened the door of another chamber. A rifleman wounded in a hand, the commander of a machine-gun crew, was sitting on the bed by the window on the right. Call sign: "Burdey". The militia was wounded in a battle near Semenovka. He was a well-built and physically developed man aged 35-37 with calm eyes of an experienced fighter. The strong-willed outline of a courageous person inspired confidence. The strength of the militia was felt in his gestures.
Alexander Barkov. How did you get to Slavyansk?
Burdey.
I lived with my wife in Krivoy Rog. He served in the Airborne Forces, military intelligence. When I learned in May that it was very bad in Slavyansk and that ukry was attacking, I took my wife to the Crimea, and I myself was going to go there. Quickly gathered. I drove to Lozovoi and set out on May 14 hike. It was about 200 kilometers to Slavyansk. 20 May was in Slavyansk.
Alexander Barkov.
How did you get into the city itself? On all roads around Slavyansk there are roadblocks of the National Guard. When I went to Slavyansk and drove through the roadblock, there stood 4 Ukr-BMD. I was told that some fields around the city are mined. Snipers work in Zelenka.
Burdey.
I am a paratrooper, the commander of the reconnaissance group with experience, was a senior sergeant in the army. If I had stepped onto a minefield, I would have smelled it. When he entered the city, he turned to the military enlistment office. There is a set of militia. I got acquainted with Chechen. Enrolled in the militia of Donbass. Appointed commander of machine-gun crew. Armed with a large-caliber machine gun and fully equipped with equipment. Then he left Slavyansk for Semenovka and took a position. The angle of shelling 180 degrees. Semenovka bombed and fired howitzers and tanks from morning to evening. 30 may have been shot in the arm.
Alexander Barkov
. What are you going to do next when the hand heals?
Burdey.
War is war. When I am in good health, I will return to Slavyansk. I will fight. I'm Russian. Okay, Alexander, if you are in Slavyansk, say hello to the poet. I'll go smoke.
Bourday, got out of bed, then opened the door of the bedside table, standing next to him. He pulled a round green RGD grenade out of his bed with his good hand and left the hospital ward to go outside to smoke.
Sergey, a taxi driver from Moscow.12 July. Garrison Severodonetsk and Lisichansk.

At one of the roadblocks near the village of Rubezhnoye (on the outskirts of Lysychansk), they were introduced to the militia Sergey, a native of the Luhansk region, the city of Stakhanov. Sergey does not look like a pumped up guy. Medium height, 57 years old, with glasses, hair is greyish, plump. At first I treated him somehow frivolously.

Then I talked to him and realized: Sergey was a staunch militiaman, was in many serious battles. Commanders speak very well of him, as a disciplined brave fighter.

There is a real civil war in Novorossia, age, and even more, physique is not the main thing. The main thing is the strength of the spirit of the militia fighters.
And Sergey has great strength of mind!
Alexander Barkov.
Tell me, why did you decide to go to the militia?
Sergey.
I lived in the city of Stakhanov until 33 years. I was not bad here, pretty comfortable. Then he went to Moscow, as everyone went. Liked in Moscow, stayed. Got married He worked as a taxi driver near Rublevka, on Rublevo-Uspenskoe highway.
May 20 on the Internet saw artillery firing at Slavyansk. I knew the local population. Himself local. I could not understand this: what is happening? They shot at civilians of the city. I went to the hometown of Stakhanov. I went to the militia.
Alexander Barkov.
How were you taken to the militia?
Sergey.
I was personally acquainted with the commander of the garrison of Severodonetsk and Lysychansk Pavel Leonidovich Dremov. He is my countryman according to Stakhanov. Came to him. He remembered me, he recognized me. Recorded in the militia. Issued
weapon
- SKS self-loading Simonov carbine model 1944 of the year. Prior to that, fired a weapon only three times. He served in the army in the construction battalion. Before taking the oath only three times shot. Never held a weapon again. Now learned and own. I shoot accurately.
(The first SKS samples were created by the end of the 1944 year. A box-shaped two-row carbine loaded with ten rounds - A. B.)
Alexander Barkov.
What duties do you perform in the militia of New Russia?
Sergey.
Now standing at the checkpoint. Check the car. He was in serious battles in Izvarino, was in Dyakovo. Seen how afraid of us. Although there were more. A lot more. Ukry-trained guys, young. Although at a personal meeting, the fear they appear. I saw it. I saw the stoned and crushed ukrov who are fighting with us. Although after the cuff something woke up in them.
Alexander Barkov.
How did your relatives react to your decision to go to the militia?
Sergey.
The wife is waiting. Son is waiting. Call up. Very worried about me.
Alexander Barkov.
Tell us about the memorable combat episode.
Sergey.
Detained one Ukra from the group "Aydar". I look at him - a very prepared guy. I tell him so and so - I do not want to understand anything. I gave him a clean slap like that of a man. Then he tore off the cross from his chest: "You have no right to carry the cross, you are at war with your people!"
Nothing. Heal up. Young still ukr. Well, he didn't seem to kill anyone. Maybe he will be fine.
Alexander Barkov.
What do you want to wish Novorossia?
Sergey.
I wish complete victory. No half contracts. I do not want more blood. People don't know what it is. I have seen.
Deputy Commerce Vasily
In the city of Severodonetsk on July 12, the garrison commander Pavel Dremov acquainted with the militia Vasily, who distinguished himself in recent battles near the settlement of Dyakovo. Basil is a native Northern Dnipro. After this 20 battle in June, Vasily helped two wounded militiamen get to the location of their unit. They traveled for two days under machine-gun fire, they were fired twice from helicopters. The junta's infantrymen repeatedly combed the landings. When Vasily left, he was fired from a "grenade launcher" and the machine-gun crew was destroyed.
Vasily tells.
When they went with the detachment, they were ambushed; there was no connection. To the border 600 meters. Near one of our Cossack enemy sniper killed right in the heart. A grenade exploded and a militiaman, a young lad, was wounded in the leg. At the same time, the foot was torn off his boot, and all the toes began to bleed. The whole leg is in small pieces. Move the militia could not. Further came from the rear BMP dill, two pieces. We began to retreat, retreat. Appeared two hundredths.
I took the wounded boy tightly on the waist belt, and we reached for the landing. The BMP began to shoot the landing. We lay down. After some time, the figure-eight "MI-8" ukrvertolet appeared over its heads and began to crush everything. I was in Transnistria. I looked at everyone there, but I don't remember that.
No, I, San, did not recall my life and did not think about anything at this time, I just thought about how we could go out with our boy to ours. The brain is disconnected. They waited until they cleaned out all the "brilliant green". Ukrov technique went then. Our retreated. Here they are handsome. 20 units UKR-BMP. Going through two meters. BMP passed.
It got dark. Not far from us landed ukrvertolet. Two PKS earned.
(PKS - Kalashnikov machine-gun PKS on the Samozhenkov-AB machine-tool 6Т2). RPG (hand grenade launcher) threw. We cleaned Zelenka.
Smoke rose, soared MI-8 overhead. Right in the night he has a lantern shining. And so I wanted to kick it. Excitement played out. Bumblebee on the side, behind the back of the scs. (SKS - Simonov's self-loading carbine, model 1945; the bumblebee bombs and are currently in service with the Russian army and other law enforcement agencies — AB.)
Just stretched, wanted to hit. Hand straps tangled. Did not shoot. Unhook from the thigh. And so - lupanul, of course.
I did not fuss, I believed that everything would be fine. Sniper earned. We creep. Let's get out. The commander will call, the chieftain. I answer him: "We will get out!" Send in the middle of the field. Away from us, 250 meters, - they lupanuli tracers in the night, on the left side. According to the wheat.
Crawled over to him. The first grenade from a grenade laurer missed. The second grenade could see that it was in the calculation of the machine gun. Grenade exploded - a machine gun from the position thrown up to the left, raised by two meters. Then we crawled.
Further on, another boy from Volgograd jumped out with the lad. "I'm yours!" - quietly shouts to us. And his bullet punched his shoulder. Three began to get out.
Suddenly a white rocket launcher flew up in the dark. Whether our, or ukrov collected.
Mobile communications began to work. With Dyakov came. Along - the sniper shot. PKS thrashed.
I really wanted to smoke. From dry leaves rolled a cigarette. More feelings have sharpened, woke up love for a woman.
All the next night went. The bandana on my head is all wet. Stumbled upon a swamp. Next was another ambush. And Ukrpekhota, several ukrov, apparently, lingered. They let us in, then they saw us and started hitting after them, on their backs.
Then the sniper earned, but we have already left the zone. Passing meters 50, turned around - to each other in a whisper. I look-two ukrov rise go. Sadanul on them from AK. Both mowed. Forward, forward, and I want to smoke, like beast. Need more. Go-go. Good hello ...
Night. We got up for the night. I hear in a dream, the guy says: "Vasya, you snore!" Woke up in the morning. Hear 66-oh crawling along the track. UAZ can be shot was.
Second day. Further, our "hail" began to work on the Ukrainian column. The link is working again. They said on the radio that the chieftain went four times with the guys to our searches. I have no maps either, the terrain is unknown. Where are we? Binoculars would be. This is a landing. Night. Another night has come. I did not smoke for two days. Made a dry roll from dry leaves.
Ataman of communication says: "Vasya, we can not find you." And I want to "smoke a woman." At night, moving. The boy, who was injured with his leg, wanted to pull the pieces from his leg. But I dissuaded him: suddenly the blood can not be stopped.
Where are your, where are strangers? We were at the end of the landing. I stand, I wait.
Suddenly behind me, rustling and distinct steps - stupid, stupid, stupid ... Right behind my back. Here I am tensed - the soul, as they say, went to the heels. I turn around. The hand itself twitched. I wanted to cut. Turned sharply - I see, there is no one. Then looking down - on the ground there is a hefty ... Hedgehog ... itit ... Worth looking at me, smiling. I will never forget this hedgehog. Here it is - a hedgehog - has caught up with fear.
Thirty more minutes passed. Finally, our troops from the squadron appeared - Kostya and Yura. The first thing I asked my people was to smoke. Smoked, finally, almost two at once.
Took together dragged our wounded guys. Loaded into our car - "Lada-penny" - 6 people. Kostya got into the back of the trunk. And a bullet from here! We fly into Dyakovo. "Pasha, everything, I went out, everything is fine!" In the floor we drive over the border. We report: "Evacuated with two three-hundred." And here Sasha from our company struck me, says in his ear: "I have to step in to work by the evening, but I have no money!"
Arrived at the location. Finally we made our way, we went out to ours. As soon as he reached our unit, the garrison commander, chieftain Pavel Dremov, said: "Vasily, you are the last. We already wanted to leave here."
***
For three months, from May to July, I met militia from Donetsk and Lugansk, Stakhanov and Slavyansk, Dnepropetrovsk and Kiev, Tyumen and Odessa, Moscow and St. Petersburg, Saratov and Krasny Liman and many on military roads in the Donetsk and Lugansk People's Republics. cities. The national composition of the militia is different - Russians, Ukrainians, Belarusians. I saw in the militia the Azerbaijani Fazil, the Chechen Hassan, the Jew Marat, Karel Nikolai and the Buryat Roman. Most of the militia, about 85%, are the indigenous people of Novorossia, people of the former territory of Ukraine, Donetsk and Lugansk regions.

These militiamen, about whom I wrote here, the hunter Batya, the machine gunner Bourdei, the deputy company of the company Vasily, the taxi driver Sergey, are mature thinking people. They could not sit at home with their wives and children when the Kiev junta shelled their home towns of Slavyansk, Kramatorsk, Lysychansk and others and killed civilians and their countrymen.

They are united by one thing - the desire to fight for their land, for their countrymen. Why were they in the militia? Because they took the misfortune in their homeland as their own misfortune, like a misfortune in their home. And further. Why did they join the ranks of the militia among the first? They had specific acquaintances and friends who were affected by this war.

According to all forecasts - the war will be long. This war is a continuation of the Great Patriotic War of 1941-1945. In this war, the fate of civilizations and cultures is decided. I am sad to hear that sometimes some say that oligarchs run the ball in this war. No, the real issues of ordinary people are resolved in a real war. Questions of life and death. The first victory over the junta will be in Kiev. "And we will have to take Poland too!" Fyodor Berezin, deputy commander I. Strelkova, told me in early July.

Russia helps the New Russia. From Russia, the guys go to the militia and there is help.

Russians are not a nationality. This is a nation. A nation of people who do not abandon themselves.