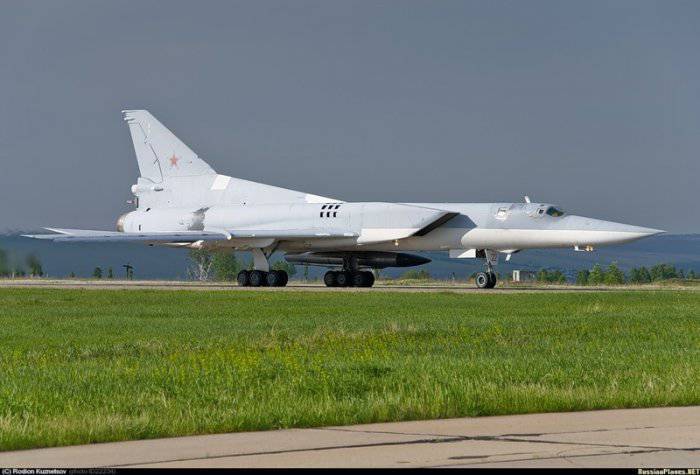 The Russian Black Sea Fleet needs to return strategic
Aviation
. About this said Major General A. Otroshchenko, Head of Naval Aviation of the Black Sea
fleet
Russian Federation in an interview with the naval newspaper "Flag of the Motherland". Giving an answer to the journalist's question, the officer noted that in the Black Sea Fleet he would have expected to see such combat vehicles as TU-23M3 missile carriers. However, experts agree that the general's statements look utopian.
According to General Oleksandr Otroshchenko, he primarily means strike combat aircraft, which have a large range of operations, precise and powerful
weapon
so that they can effectively use it, not only against ground forces, but also against ships of various classes, including aircraft carriers, without going into the defeat zones of enemy air defense systems, the chief of aviation of the Russian Black Sea Fleet told fleet journalists.
The Russian general made a clarification that the conversation is about Tu-22М3 airplanes that were previously based in Crimea. These vehicles were capable of delivering nuclear weapons. And also about the upgraded Su-24M. In his words, the upgraded Su-24M, as early as July of this year, can become part of the Black Sea Fleet. At the same time, Aleksandr Otroshchenko confessed that the Russian Black Sea Fleet is experiencing a serious shortage of experienced pilots, since almost all of them were released as part of army reform. In addition, the Russian Black Sea Fleet does not have a simulator for training pilots.

General draws castles in the air?
At the same time, various news agencies say that the Russian Black Sea Fleet has serious personnel problems in the matter of manning existing aircraft, which are currently based on the Crimean airfields in Kutch and Guards. And if new planes arrive, then there will simply be no one to fly them, say Russian officers.
Along with this, experts note the general groundlessness of the allegations about the likelihood of rapid retrofitting of fleet aviation, and even more so - the transfer of strategic combat vehicles to the Crimean peninsula. Sergei Kulik, who heads the Sevastopol analytical center "Nomos", put forward two options for this issue, but both, in his words, make it impossible to place such equipment on Ukrainian territory. He thinks that this is either an initiative of the general, who dreams of simply commanding strategic aviation, or a special stuffing of information agreed on top to check the reaction of the Ukrainian authorities.
Sergei Kulik believes that the reaction of official Kiev should be unequivocal: any transfer of aircraft that will change the military-political situation in this region of Europe is impossible, since this will lead to a violation of Ukraine's international obligations.
The expert also believes that Russia will not risk redeploying new aircraft to its bases in the Crimea, without the official "good" of Kiev, and such "good" is unlikely, especially with regard to strategic missile carriers.
Meanwhile, the press center of the Black Sea Fleet of Russia does not comment on the statement of General Alexander Otroshchenko, the head of the fleet aviation.