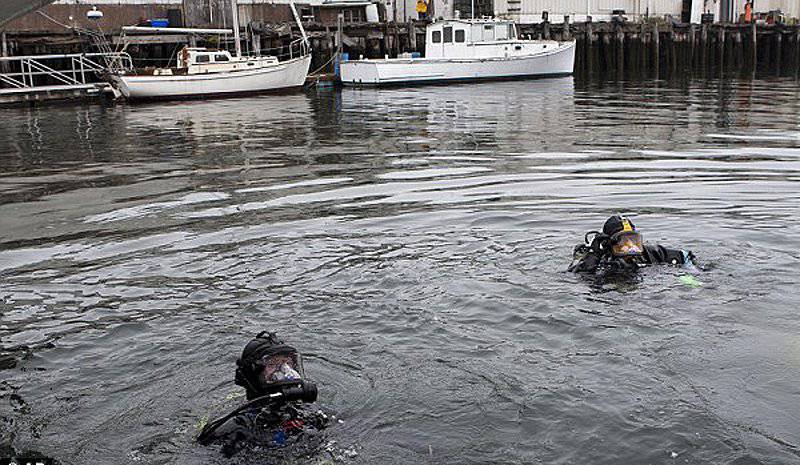 After the attack on the Cole DDG-51 destroyer of the US Navy in October 2000 of the year and on the French tanker Limburg two years later the military, internal security forces and private security organizations began to look for ways to combat the threats posed by submarine terrorists or divers trying to penetrate coastal targets or attach magnetic mines to ships in ports or attack civilian targets, the latter with an obvious desire for psychological impact on the population.
The higher level of danger and the need to respond to such threats in the past year forced the US defense authorities to propose ways to combat floating explosive devices, naval suicide bombers and other threats of a similar nature. JIEDDO (Joint Improvised Explosive Device Defeat Organization), an organization to combat improvised explosive devices, has three development programs aimed at improving the capabilities of the US military to neutralize improvised explosive devices (IEDs) in a naval setting. Similarly, other military and paramilitary organizations in the United States and around the world (NATO, the European Security Agency, etc.) are developing tools to identify and then neutralize threats.
Such underwater threats triggered the development of sonars (sonar sonars) to detect divers and other instruments that could provide adequate warning in the difficult external conditions prevailing in harbors, ports and shallow coastal waters. High-frequency active sonars operating in the 85-100 kHz range are the response that allows you to detect, monitor and classify divers. And if you add submarine loudspeakers to them, this will let the diver know that he has been spotted, brought to the surface or forced to take other actions. However, new system solutions and developments in the field of signal processing opened the doors to passive acoustic detection solutions. An example would be the Stevens Passive Acoustic Detection System or Spades passive acoustic detection system. The Dutch organization of applied sciences TNO, in the framework of the Sobek program, carried out tests of a passive set of hydrophones in the port of Rotterdam and tested data processing algorithms. It was announced that the discovery of a diver with a closed-cycle breathing apparatus in the harbor using passive sonar at distances up to 120 meters in the presence of other targets was registered for the first time.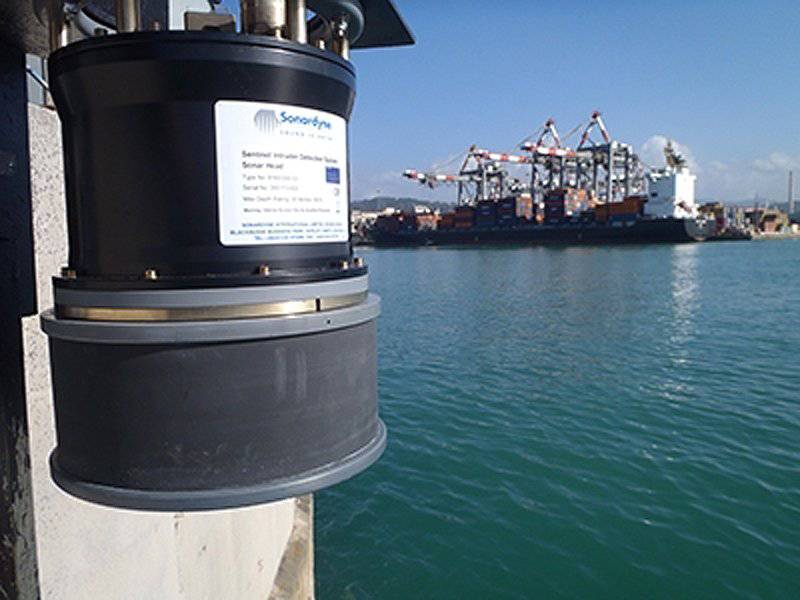 Sonardyne's Sentinel XF sonar version for military and state security applications has passive and active detection and classification modes. A separately mounted sonar can protect an area under water for more than 7 km2. Sentinel can be connected to third-party operational control systems, such as Nidar from Flir Systems
In order to cover large areas under water and to achieve the best detection probability, the diver detection systems, acoustic and magnetic barriers are networked as part of a special or multi-media control and monitoring system that can respond appropriately and neutralize threats using pneumatic
weapons
and other non-lethal underwater vehicles. Accordingly, surface and underwater vehicles are also being deployed to detect and positively identify targets, including improvised mines.
Sonardyne's Sentinel Sonar was introduced in 2007 and acquired in large quantities by the US Navy and other national and foreign military structures, domestic security organizations and commercial companies for a number of applications, including important facilities and luxury vessels. Sonardyne constantly conducts its research and development on Sentinel and this allows the company to keep up with the needs of users. There are three options on the market. The basic version comes with the Scylla underwater loudspeaker and is configured mostly to protect commercial infrastructure, including support for networked sonar arrays and the integration of third-party operational management systems. According to Sonardyne, the Sentinel RD (Rapid Deployment) option meets the needs of small, low-cost solutions where the maximum detection range is not required. The small surface area of ​​the system makes it easy to install it on yachts, small patrol boats and temporary structures.
Sentinel XF (eXtra Functionality) advanced third version is designed for defense and national security applications; The system includes additional software tools and displays. Sonar also has passive and active detection and classification modes; one radar is able to protect the area under water for more than seven km2. Sentinel operates at the center frequency 70 kHz, the mass of the head 35 kg (in the air, unless otherwise specified), the maximum detection range of the swimmer and the means of delivery is respectively about 900 and 1500 meters. It is built on an open window-based architecture, all raw data and tracking information are exported to external systems, such as Nidar from Flir Systems for integration with optical-electronic and radar systems.
In June, 2013, Sonardyne and the Stevens Institute of Technology merged to obtain a license for intellectual property on the Spades passive speaker system (Stevens Passive Acoustic Detection System). This portable passive diver detection system can be used independently or as an adjunct to the Sentine active sonar; by doing so, it expands Sonardyne's range of products from underwater surveillance.
Sonardyne's Sentinel DDS Sonar is available in three versions and they all incorporate the Scylla submersible loudspeaker. The base case is designed primarily to protect commercial infrastructure, Rapid Deployment (RD) with a reduced footprint for small vessels and platforms, and XF (eXtra Functionality) for military organizations and internal security structures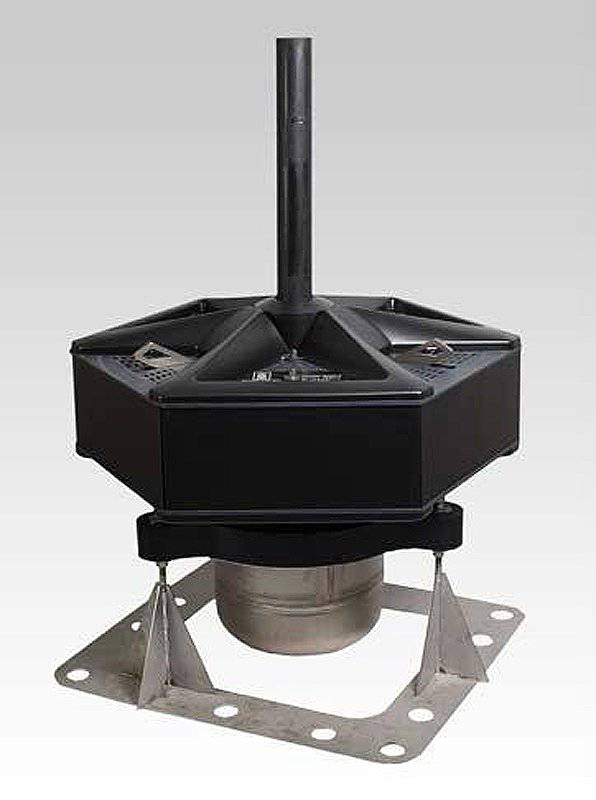 The Lasar 40 active sonar from Kongsberg Defense Systems is designed to integrate into a multi-touch network using the MSI system for signal processing and system operation. A separate Lasar 40 sonar can be controlled from an enhanced reliability workstation.
The Swimmer Detection Sonar Network (SDSN) (Swimmer Detection Sonar Network) - a joint development of the American company Scientific Solutions (SSI) and Singapore Electronics ST, with the support of the US Navy Research Authority and the Singapore Defense Science and Technology Agency - is a scalable multi-node sonar network with capabilities detection, classification, localization and tracking of swimmers, including the implementation of a multi-static approach. The system can also automatically track the target, determine target data (direction, distance, course, depth, speed, etc.), and initiate countermeasures, such as a high-power sound source. The prototype system was successfully tested in Singapore, although there were allegations of testing in Bahrain.
The Norwegian company Kongsberg Mesotech today offers an improved version of the SM 2000, which is an underwater intrusion detection component that is part of an integrated anti-tamper system delivered by the US Coast Guard to protect important facilities. The 90 kHz family for military and security forces includes the DDS 9000, which "closes" the horizontal sector 200 degrees, while the DDS 9001 is an omnidirectional sonar head. DDS 9000 is offered with the latest tactical processor and display Defender III from Kongsberg Defense Systems, which allows Mesotech sonar stations to operate as swimmer detection systems. DDS 9000 has a maximum range of 1000 meters and detects targets such as divers at a distance above 600 meters.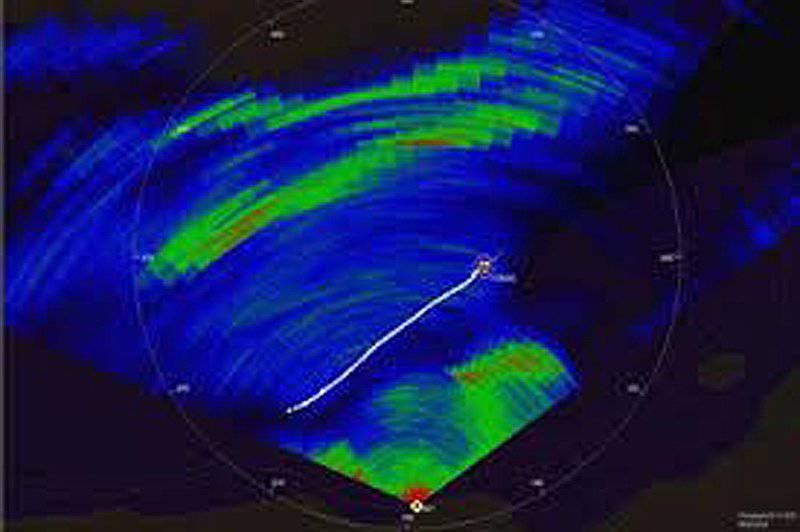 The Kongsberg MSI display (multisensor unit) used for signal processing and system operation is part of the C-Scope Underwater Surveillance and Protection (USP) system. Lasar 40 can work in active and passive modes, demonstrating the detection distance of 1100 meters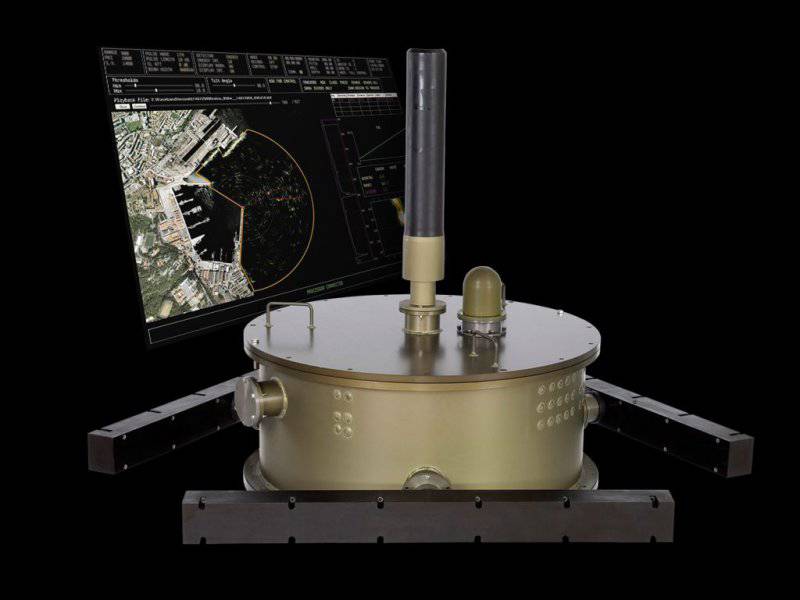 DSIT Delivers Its Standard AquaShield System And Portable PointShield DDS System To Israeli the fleet and numerous foreign customers. The system has a detection range of 1000, 700 and 1500 meters, respectively, for divers with open-circuit breathing apparatus, closed-circuit breathing apparatus and, finally, combat swimmers delivery vehicles
The maximum range of the DDS 9001 sonar is 800 meters. A sonar head weighs less than 90 kg, allowing a small group to deploy it in less than an hour. The open architecture of the DDS 9000 allows you to integrate the third or the same multi-touch Kongsberg MultiSensor Integration Unit (MSI) built into the C-Scope USP (Underwater Surveillance and Protection - Underwater Surveillance and Protection) system, which is also the heart of the Kongsberg kit deployed under a contract with Norwegian Ministry of Defense. The kit also includes the active Lasar 40 (long-range sonar), which has a quick-release version of the 40M with a lightweight 25 kg sonar head. It can operate in active and passive modes simultaneously or separately, in the active (30-45 kHz) and passive (1-45 kHz) ranges; it has detection ranges against swimmers with closed or semi-closed 1100 breathing apparatus of meters or more. The C-Scope USP system was sold to Turkish civilian and military customers to protect two naval bases with an integrated over- and underwater surveillance system supplied by Aselsan.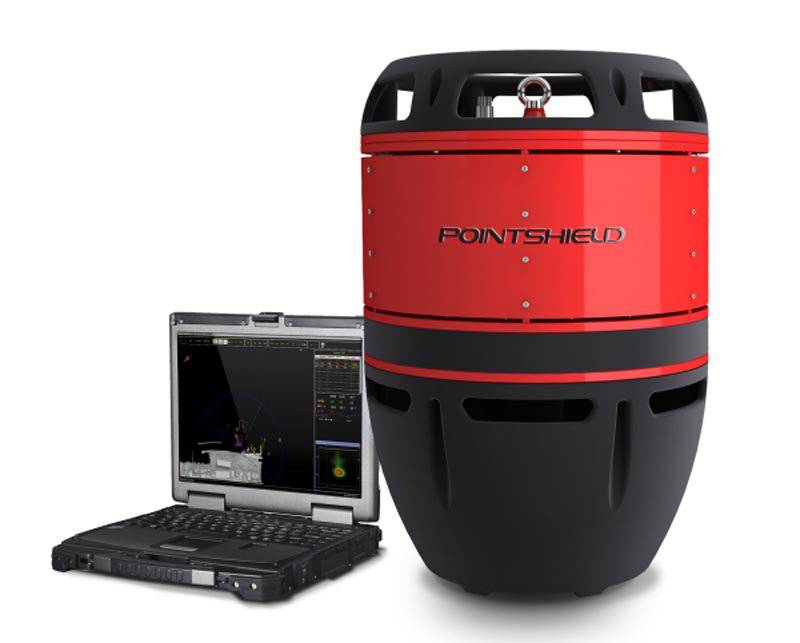 Like its larger counterpart, the AquaShield DDS, PointShield has a unique modular design that allows the system to be customized to meet customer requirements and specific local conditions.
In 2012, the Israeli fleet authorized the long-term operation of the AquaShield system and the portable PointShield DDS produced by the DSIT underwater systems specialist for round-the-clock protection of important coastal and marine facilities. According to DSIT, its main customers are unnamed fleets of the world, national security agencies, oil and gas companies, nuclear power plants, port services, as well as owners of yachts and coastal facilities. Systems sales exceeded 30 million dollars.
AquaShield is marketed as a DDS (swimmer detection system) 5 generation, which has a unique modular, open architecture and a windowed (windows) interface that runs on the "60 kHz center frequency" and offers a maximum detection radius of up to 3000 meters. The AquaShield system can handle more than 1000 targets simultaneously, has a 1000, 700 and 1500 meters detection range, respectively, for divers with open-circuit breathing apparatus, divers with regenerative breathing apparatus and, finally, delivery systems for combat swimmers.
The smaller PointShield system from the DSIT DDS family includes the latest software and hardware development, the mass of the underwater unit in the air is less than 45 kg. In March, DSIT's Acorn Energy division announced another pack of orders from an unnamed fleet for its AquaShield underwater security system in March. The same unnamed fleet has been armed with both DDS systems for several years to protect important national targets. DSIT is currently in the process of deploying a complex system that is considered by many sources as one of the world's largest projects for the subsea safety of oil and gas facilities. The Israeli fleet has great needs in swimmer detection systems to protect its new oil and gas facilities on the coastal shelf, whose development is proceeding at a rapid pace.
In June 2013, Atlas Elektronik UK confirmed the successful completion of factory acceptance tests of the Cerberus Mod2 DDS system at its facility in South England before being sent to the German Navy, which will train personnel at the Bundeswehr sites. The German fleet buys five Cerberus Mod2, one for training on land and one each for four Type F125 frigates. Atlas claims that F125 will be the first NATO ships equipped with DDS systems.
The system will operate as a single system without integration into the combat system. Auxiliary components were needed to meet additional requirements and standards, including a completely new design and a special power supply and data processing unit (PSPU), qualified to strict customer standards. The Cerberus Mod2 system is designed to meet the need for portable and shipboard applications, it provides enhanced performance over the previous Mod1 option, allowing you to detect divers with different types of breathing apparatus, respectively, at a distance of 900 and 700 meters. Cerberus Mod2 operates at 70-130 kHz frequencies and features a sonar head with a compact design (400x300 mm and 23 kg in the air), while the complete set, including a coil with cable, a PSPU power supply and processing unit, a portable remote control computer, weighs about 72 kg .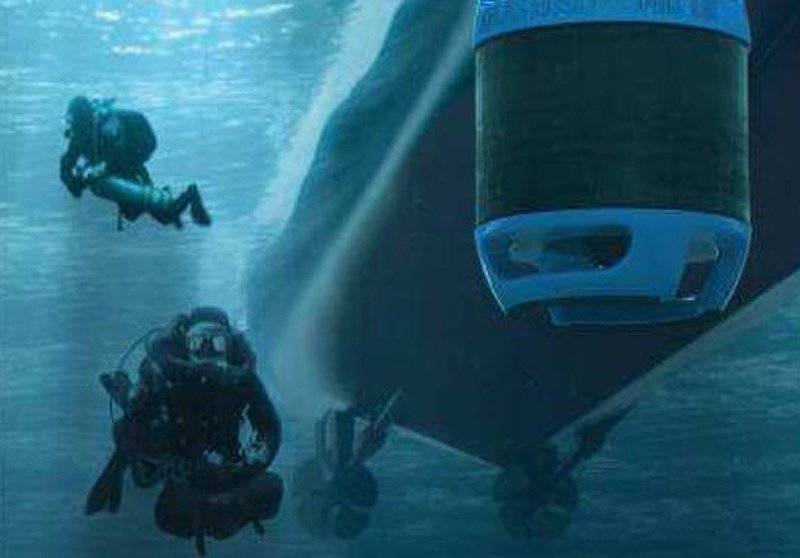 The Atlas Elektronik UK Cerberus Mod2 DDS system will be installed onboard Type F-125 class frigates and deployed there either as a single system or as a component of a common network. The Cerberus Mod2 system has a compact 23 kg sonar and better performance than the larger Mod1 version.
The complete Cerberus Mod2 system from Atlas Elektronik Uk with a coil with a cable, power supply and data processing unit and a laptop computer has a total weight of about 72 kg
At DSEI 2013, Atlas Elektronik UK announced two additional significant contracts from unnamed customers to supply Cerberus Mod 2 systems. According to the company, both contracts provide for the delivery of continuous deployment systems used to protect critical infrastructure. One of the installations is an integrated, multi-touch system designed to protect a particularly important national property. The second order repeats the first one, but all deliveries for both orders passed at the beginning of 2014. These shipments will complement previous orders, including Cerberus Mod 2 DDS for the South Korean company LIG Nex1 in accordance with a five-year contract, issued in April of the year 2012. As expected, the installation of a system that will protect strategic harbors is performed by LIG Nex1 and the fleet of the Republic of Korea.
Based on their heavy and light torpedoes and the experience of creating underwater systems, Wass presented an intrusion warning system (IWS) intrusion warning system last year, based on a light, panoramic 360 ° sonar, designed to be dropped at anchor from a ship. According to the Wass documentation, the submersible head weighs 26 kg, and its IWS system can detect underwater threats, for example, divers at a distance of 500 meters. The surface part weighs 11 kg, it includes a signal processing unit, a user interface and a display of the underwater scenario, adapted to the requirements of the military and government organizations. The surface part is compatible with sonar obstacle warnings, which Wass promotes for commercial applications.
The Teledyne Reson coastline WSS (waterside security system) family, deployed around the world, is based on a new generation architecture. Their advantages include the interchangeability of components, the sharing of data in a widely accepted format, and the user interface for demining operations. The Danish company Reson, during a troop detection exercise, introduced its latest PDS2000 ADT software for working with the SeaBat 7128 sonar. The configuration of the new system is portable and therefore it can be quickly deployed at temporary venues, for example, at coastal exhibitions, sporting events and conferences. It can be deployed in less than an hour, can be installed on the walls of harbors, marinas or on small ships in order to conduct mobile operations in ports, deltas and rivers. According to Reson, SeaBat 7128 is the world's only two-frequency swimmer detection sonar that operates at frequencies above 200 kHz. The newest version of the PDS2000 ADT software allows you to overlay images from a sonar and detected targets onto a digital map in order to simplify identification in a highly noisy space.
Saab Dynamics Underwater Systems offers its portable PDDS (Portable Diver Detection System) diver detection system as a standalone and easily deployable unit designed for seamless integration into third-party operational management systems. It can easily adapt to the rapidly changing conditions of high-dynamic operations, where the small size of the system allows it to be used as a submersible sonar from the deck of a ship; The system is fully operational within a few minutes of deployment. The diameter of the sonar is 300 mm, length 855 mm, it weighs 35 kg and operates at a frequency of 120 kHz with a maximum range of 500 meters. The system has an inertial measurement unit for motion compensation and a battery for installation on small vessels; The PDDS Operator Console is a hardened laptop that provides a complete situational overview and works as a signal processing tool for detection and classification.
There are many other systems on the market that include DDS from the Polish Centrum Techniki Morskiej, DDS-03 from the Spanish Electronica Submarina SAES, Seaking Hammerhead from the British Tritech and CSDS-85 from the Canadian Marport C-Tech. These include the Web 850 system from the American company Wesmar, which was sold in particular to one of the countries of the Persian Gulf in 2012. The 850 web-focused sonar is designed to create a coastal electronic barrier to protect ships, harbors, oil terminals and important facilities. In the technology of a narrow-focus sonar, a powerful concentrated sonar beam is used to determine high-resolution large and small objects. The system is able to detect threats at large distances, even in complex shallow harbors. The introduction of electronic stabilization allows the Wesmar sonar to be installed not only on the underwater platform, but also on the surface, as the buoy and anchor system are included.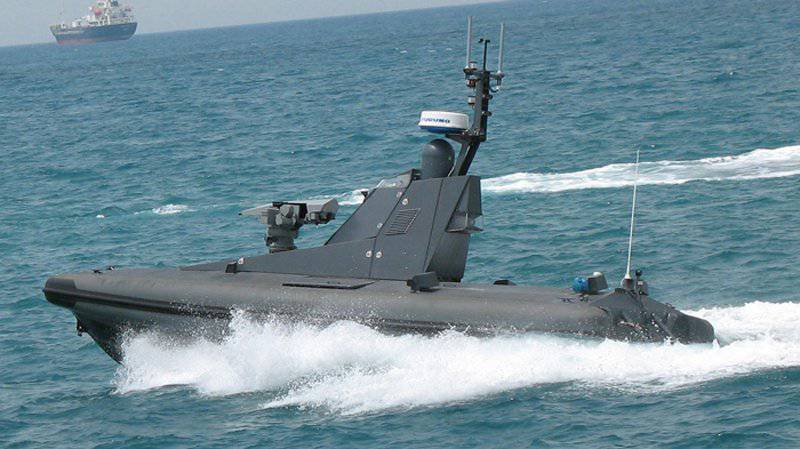 The high-speed patrol automatic device Rafael Protector is in service with various fleets and internal security organizations. It comes with a modular functional system and a special platform that allow you to perform various combat missions, including underwater surveillance.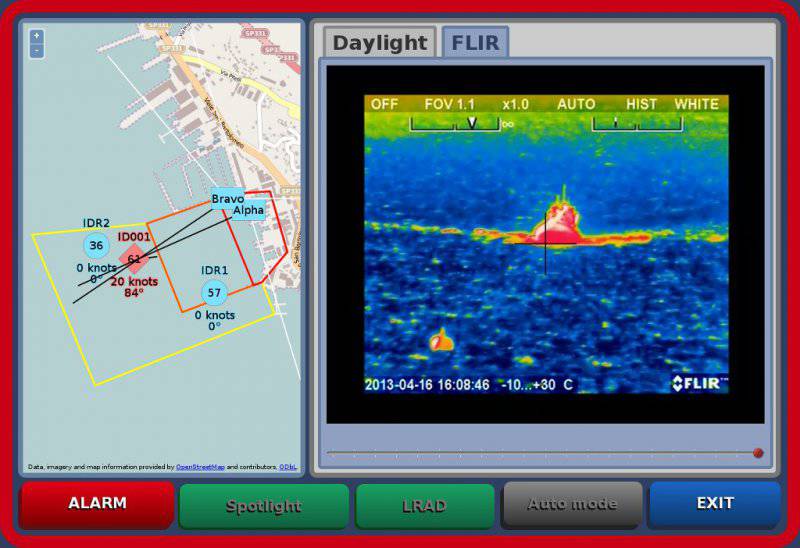 Photos of the Talon CMRE software development center, images from the Flir Systems camera are overlaid on a digital map with detected and identified targets. The system does not require special stationary hardware.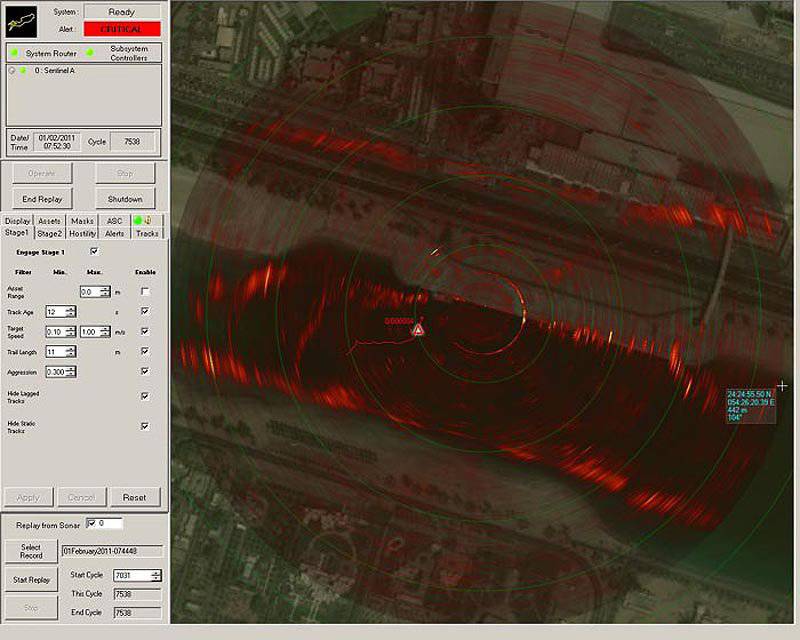 View of the Sonardyne Sentinel DDS display during a Talon 13 demonstration in the CMRE center in Speciah harbor. The image shows the sonar coverage, targets, and their data.
TALON 13 Demonstration
In November, 2013, at Specia's harbor next to the NATO Center for Marine Research and Experiments (CMRE) (formerly NURC), demonstrated new concepts to show how technology can help protect ports and harbors. The Talon 13 demonstration, conducted in collaboration with the mines and commanders of the Italian fleet, focused on the threat of small boats and swimmers / divers by creating a set of multi-level exclusion zones without the need to deploy fixed barriers (i.e. minimizing damage to third parties).
The Talon 13 system project is based on CMRE's port security years and includes the integration of various types of sensor networks and non-lethal warning devices to implement the concept of "fast target detection and warning". Fully developed by CMRE, the Talon software is capable of setting up an independent response of the system, while the operator controls all the work in real time using a "friendly" Internet browser that can work on mobile devices (no need for a special hardware room). Compared to previous Talon demonstrations, in which the illumination of targets from detection / tracking sensors was mostly modeled, this year's version has confirmed the use of modern "data fusion" algorithms that allow you to integrate data coming from various deployed sensors, as well as collected information from stationary port surveillance systems in one overall picture.
The 2013 event was also marked by the debut of a new self-configuring network Manet (Mobile Ad hoc Network - a mobile highly specialized network) developed by CMRE based on wireless communication designed for wearable tactical video systems in order to transfer images from helmet-mounted cameras to the command center for viewing. Finally, the following were tested: automatic operation of a group of sensors / actuators for automatic generation of an alarm and warning, mobile manual operational control for requesting a contact, manual detection / warning of a contact and non-lethal devices. Non-lethal devices included mesh barriers for stopping small boats, a laser blinding device and pneumatic guns.
Lightweight radar for marine surveillance
At the request of the Marine Gendarmerie Command, which needs a system to intercept light boats and pie, conducting illegal activities in the French overseas territories, Teknisolar Seni has developed a special lightweight radar. The radar itself weighs 10 kg and is mounted on a tripod, and the 20 kg container holds the battery and control system with an 14 color screen of inches. Radar allows you to track and track up to 10 targets simultaneously. According to the French company, the range depends on the height above water: at an altitude of 100 meters, the maximum range of a rubber boat with a length of 8 meters is 25 km, then falls to 14 km at an altitude of 25 meters and to 10 km at an altitude of 5 meters, also the detection range doubles at sea state from 3 to 5 (from 0,5 to 4 meters). Signal processing allows the identification of polymer and rubber boats, although the detection is mainly based on the wake of the boat. The radar operates in the 10 GHz band with a horizontal aperture of 1,9 ° and vertical 22 °, the azimuth coverage is 350 °, the system uses a spiral antenna 640 mm output power 4 kW. During battery operation, the radar has a 8 - 12 hours of operation, which can be extended when operating on a solar panel during the daytime. The man-machine interface allows gendarmerie personnel who are not familiar with radar operations to receive specific direct data, such as the direction of the boat, speed and distance from the radar, as well as geographical coordinates. The radar has been proven to be 4 for years and is currently offered on the export market.
ISRAEL AEROSPACE INDUSTRIES SOLUTION solution for maritime safety
Israel Aerospace Industries offers a complete solution known as the ELI-3320 Port-Guard, which can adapt to the protected infrastructure, from harbors to an oil rig. The company has experience in creating drones, radar and special aircraft, adding to them, if necessary, systems from other companies. Among the systems for seas and rivers, IAI offers an underwater electronic network with an indication of the location of penetration and a swimmer's sonar. Part of the kit is also a fence that prevents the passage of vessels. As for radars, they range from coastal radars to over-the-horizon radars. The latter include the ELM-2270 EZ Guard with a maximum range of 200 nautical miles, depending on the size of the target. UAV Heron of the same company IAI can, of course, be part of an integrated system. The vertical take-off UAV Panther is particularly suitable for operations with oil rigs and, thus, greatly expands the range of optical visibility (for example, with SeaMosp), while radio intelligence systems can also be integrated into the Port-Guard system. Port-Guard is operated in various configurations, although its customers are not called.
Materials used:
www.armada.ch
www.sonardyne.com
www.kongsberg.com
www.atlas-elektronik.com
www.cmre.nato.int
www.saabgroup.com