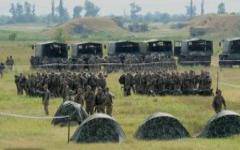 At the military base in Vaziani, near the capital of Georgia, Tbilisi, joint exercises with the American army began under the name Agile Spirit.
"The purpose of the exercise is to deepen coordination and interaction between military units, assist in the exchange of skills and capabilities, improve efficiency for peacekeeping operations and counter-insurgency operations," the Georgian Defense Ministry quoted the message "
News
-Georgia".
From Georgia, 450 troops from the 4th Infantry Brigade of the Ground Forces take part in the exercises. The US Army is represented by 350 marines and an anti-terrorism battalion.
Representatives of the US Army have already declared their "interest in joint exercises" and stressed that they will favorably affect US-Georgian relations.
Agile Spirit teachings are featured in the annual training curriculum. Now, US marines will train Georgian troops to carry out combat missions during the peacekeeping campaign in Afghanistan.