Russian snipers are the best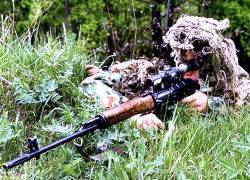 A pair of Russian snipers from the 3 Special Forces Brigade of the Central Military District (TSVO) won the Golden Owl Special Forces international competition and won first place. Competitions during the week were held in real difficult weather and climate conditions of the Karaganda region at the Spassk training ground of the Armed Forces of the Republic of Kazakhstan. More than 170 professionals of the special forces of Belarus, Kazakhstan, Russia, Ukraine, Great Britain, Jordan and China took part in the competition.
Sniper pairs and sabotage and reconnaissance groups during the competition demonstrated their skills in performing special tasks in extreme climatic conditions. The competitor was evaluated by an expert commission on intelligence, special tactics, fire, physical, engineering, military medical and other types of training, as well as on the implementation of a number of standards for individual training, incl. on issues of survival in the steppe and semi-desert.
Ctrl Enter
Noticed a mistake Highlight text and press. Ctrl + Enter