Petro Poroshenko dissolves the Verkhovna Rada of Ukraine
Ukrainian President Petro Poroshenko made a decision to early terminate the powers of the Verkhovna Rada and appealed to the "democratic forces" with a call to speak at the elections as a whole. This was announced by the press secretary of the state leader Svyatoslav Tsegolko.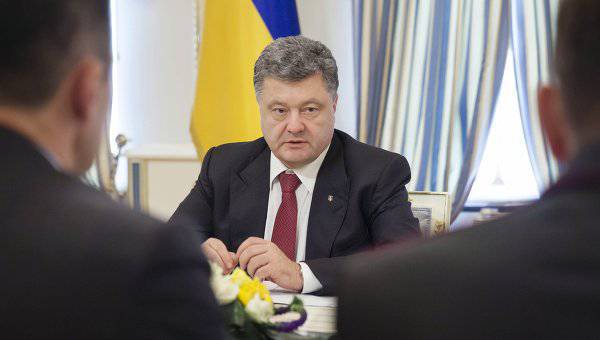 "The President early terminated the powers of the Verkhovna Rada:" because it is the only correct and responsible decision, "the RIA
"News"
.
According to Poroshenko, most of the current deputies are responsible for the "dictatorial laws that took the lives of the Heavenly Hundred."
"We have to answer for this ... The fifth column consists of dozens of supposedly people's deputies. Only they represent the interests of the clearly not the people who elected them, "the Ukrainian president noted.
"Vesti"
note that early elections to the Supreme Rada will be held on October 26. However, although Poroshenko issued a decree providing for the early termination of parliamentary powers, while the parliament continues its work. In particular, in September, deputies will ratify the Association Agreement with the European Union.
It seems that the elections will be held according to the current rules: half of the deputies - 225 people - will be elected according to the proportional system with closed lists of parties, half - by the majority system.
The minimum threshold for the party - 5%. According to experts, the Party of Regions and the Communists are unlikely to get into the parliament. The presidential "Solidarity" can count on about 30%, the radicals of Oleg Lyashko - on about 20%, "Batkivshchyna" of Yulia Tymoshenko - 12%. In addition, most likely in the Verkhovna Rada will be the party "Freedom", "Strike", "Strong Ukraine" and "Citizenship". However, while these are only forecasts, things may change during the election race, which has already begun.