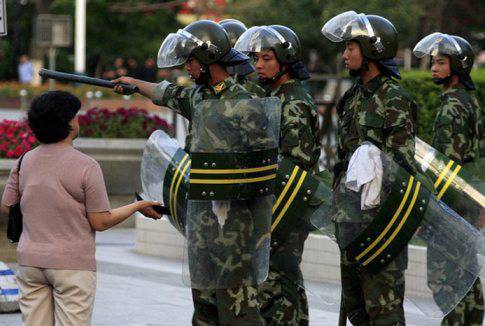 Twenty people were killed in clashes with police in the Xinjiang Uygur Autonomous Region of China, Agence France-Presse reports on July 19, citing a group of Uyghur activists in exile. All the dead are Uighurs, representatives of the Muslim nationality of China, reports Lenta.ru.
According to the WUC organization World Uyghur Congress (World Uygur Congress), the police beat 14 people to death and shot 6 more during the riots near the city of Hotan. The riots were related to the fact that the Uighurs demanded the release of their relatives from prison and tried to take police hostage. As a result, 70 people were still under arrest.
Official Chinese media reported that a group of terrorists attacked a police station in Khotan on Monday, killing four people, including one policeman and two civilians who were taken hostage by the perpetrators. The WUC is accusing the authorities of concealing information about the incident.
The Uigurs are the indigenous people of Eastern Turkestan, now the Xinjiang Uygur Autonomous Region of the PRC. By religion - Sunni Muslims. Uigur language belongs to the Turkic language group of the Altai language family.
This is an ancient ethnos, since ancient times lived in the North of China, the main place of their residence is Xinjiang, but they also live in Hunan, Beijing, Guangzhou and other places. The places of their main residence are mainly the districts of South Xinjiang: Kashi, Khotan, Aksu, as well as the city of Urumchi and the Ili District in North Xinjiang. Outside China, the Uigurs are very few.
The self-name "Uighurs" means "rallying", "unification". In ancient Chinese
historical
In the annals there are different variations of the name of the Uighurs: "Huihu", "Huihe", "Uygurs". The official name "Uighurs" was adopted by the government of Xinjiang province in 1935.
The confrontation between the Uighurs and the official Chinese government has a very long and bloody history.
So, in 2009, in Urumqi, the main city of the Xinjiang Uygur Autonomous Region (XUAR) of the People's Republic of China, there was the most serious ethnic insurrection in recent years. The Uigurs, the indigenous people of this region, staged a demonstration that turned into bloody clashes with the Chinese and the police. Beijing claimed that the riots were provoked by separatists in the United States. Uyghur human rights activists denied the accusation.
The revolt lasted for several hours, up to three thousand people took to the streets and began throwing stones at the police, setting fire to cars and buses.
Then 140 people died, 828 were injured. However, according to Xinhua, the number of dead and wounded may be large. During the riot, 260 machines were set on fire, 203 was damaged at home.
The instigators of the riot were sentenced to death.