According to military experts, the Ukrainian army uses experimental American-made missiles in the Donbass with a special type of fuses that fire one after another within a few hours. 21 August they bombarded the village Dmitrovka with such shells.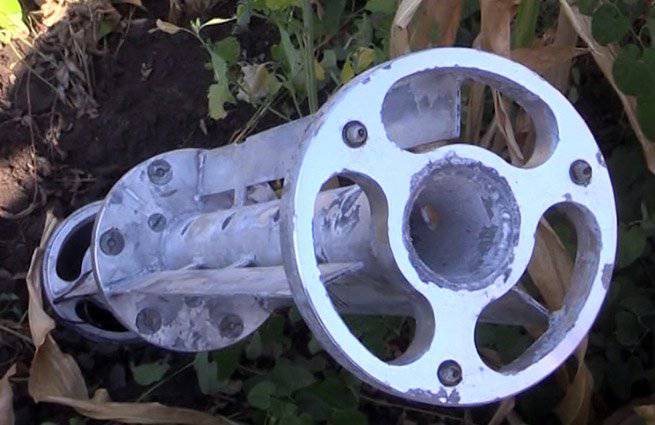 "Firstly, it is marked in Latin letters. Secondly, the first letter in the marking - "X". As you know, the Americans thus denote all experimental samples
weapons
and ammunition ", - quotes the words of military expert Mikhail Timoshenko
Lifenews
.
According to the militia members who came across these munitions, they contain unknown toxic substances that cause varying degrees of poisoning from indigestion to ulcers in the human mucosa. The shells also have small arrow-shaped striking elements.
"The fragmentation shells were invented by the Germans back in 1916 year. How does the fragmentation projectile differ from pure chemical projectile? First, the lethal effect is sharply enhanced. That is, there are fragments, and a poisonous substance. And at the same time, the use of fragments masks the use of chemicals, "said military expert and publicist Alexander Shirokorad.
According to him, the shell of the projectile itself is easily recognized - it is the rocket of the Grad multiple rocket launcher system.
"Few people know that in the 1963 year, when the Grad was put into service, it was adopted with two shells. The 9Н22 projectile is a high-explosive fragmentation projectile, and the 9Н23 projectile is a fragmentation-chemical projectile, "Shirokorad said.
It is worth noting that in addition to the use of chemical weapons, Ukrainian security forces are bombarding various objects, the destruction of which can cause an ecological disaster. In particular,
"Vesti"
reported that as a result of the massive shelling of the village of Yasinovka near Donetsk, one of the shops of the region's largest coke-chemical plant caught fire. At the moment there are firefighters working there.