Military experts praised the tactics of the army DNI
During the
24 and 25 counter attacks in August
the already united armed forces of the Donetsk People's Republic put three large groups of Ukrainian punishers into the ring. The DPR self-defense headquarters reported that more than seven thousand soldiers and 400 units of military equipment had been encircled. Correspondent
LifeNews
interviewed military analysts, asking for an assessment of the tactics of the defenders of Donbass.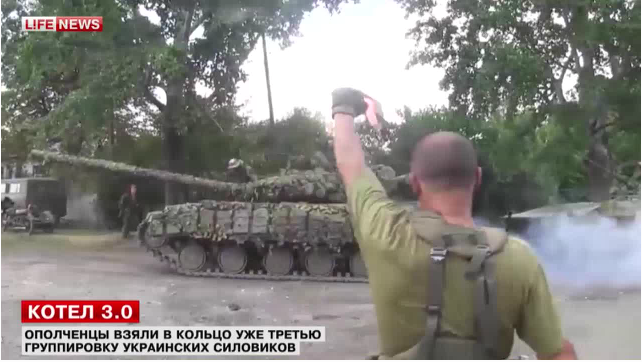 "As soon as it became possible to re-conduct the boiler - the third encirclement, it was immediately organized, immediately the fighting was directed in that direction. Parts of Ukrainian troops are now blocked near the city of Amvrosiyivka, south of Donetsk. According to the headquarters, more than 40
tanks
, about 100 BMP, BTR and BMD units, about 50 Grad and Hurricane launchers, "said military expert Alexei Ramm.
"The supply of encircled troops by air is problematic, since the militias of the South-East have a large number of MANPADS. Dropping from a height will lead to the fact that all these cargoes will also go to the militia, "said Ivan Konovalov, expert of the Center for Strategic Conjuncture, stressing that law enforcement officers can only go for a breakthrough.
According to Ranma, it will be very difficult to escape from the boiler. To do this, you will need to constantly attack the positions of the militia, identifying the weakest directions. In addition, the militias themselves were surrounded, so they know how to prevent a successful enemy operation.
"At one time, the grouping of troops of Igor Strelkov came out of Slavyansk in a very beautiful way. I think this maneuver will be considered in the academies of the general staffs of armies of various countries. There was a breakthrough and a blow from a distracting group, "noted Konovalov.
On August 24, representatives of the DPR army headquarters announced that two punitive groups were surrounded on their territory, including the headquarters of the 8 Army Corps, the 28 and 30 I mechanized brigades, the 95 I airmobile brigade, and the Shakhtersk battalions , "Aydar" and "Donbass". 25 in August in the ring in the area Stepanovka and Amvrosievka was the third group.