JSC Research Institute of Steel - the main developer of designs for the protection of weapons and personnel in the Russian Federation - is developing a new complex of dynamic protection of armored vehicles, according to the online edition
Popular mechanics
.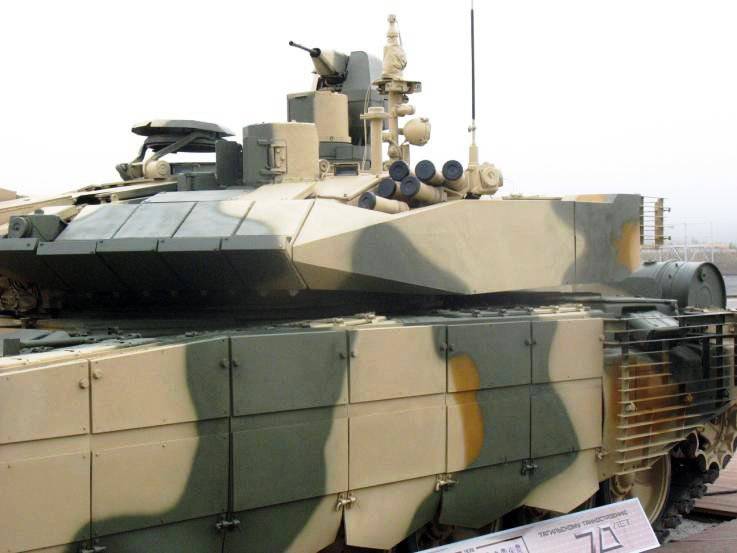 The publication reminds that "dynamic is a type of protection of armored vehicles, which consists of metal containers containing several elements. The element consists of two layers of explosive and a thin metal plate located between them. The principle of the protection is that the containers with explosives, hung over the usual armor, explode "towards" flying projectile.
The first domestic samples appeared in 1972 g. Among them are 3 type of structures: volumetric ("Cross"), using elongated shaped charges and using flat protection elements. The last type today is implemented by almost all foreign developers.
"The main problem of dynamic protection systems using an explosive is low efficiency. This is the main reason for the search for new energy compounds for protection that can localize the release of energy only in the field of interaction with the penetrating ammunition
- indicated on the site of the publication.
Today there are complexes in which explosives are not used in principle. They came to replace polycarbonate, silicone, polyurethane and other chemical compounds. For example, the screens of the foreign complex "NERA" consist of laminated plexiglass and provide anti-cumulative protection against RPGs like PG-7.
Russian
Tanks
Since 72, T-90 and T-2006 have been protected by the Relict effective dynamic protection complex.
Currently, specialists from OAO Research Institute of Steel are working on a new, more modern system. The publication writes that "in terms of efficiency and operational parameters, the newest Russian complexes with energy materials will surpass all existing complexes using explosives."