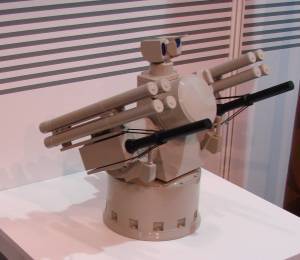 In the near future, the Russian Navy will receive for service a new anti-aircraft missile and artillery complex under the code name Pantsir-M (Marine), RIA reported
News
on Monday, the head of the design department of the Instrument Design Bureau (KBP, Tula), where this complex was developed, Alexander Zhukov.
"It is planned that the Panzir-M complexes will arm new Russian ships
fleet
from the corvette to the cruiser instead of the Cortic complexes now in service, "said Zhukov.
He reported that Pantsir-M was developed in 2011 on the basis of the land version of Pantsir-С1. "So far we have the right to report the parameters of only the export version of the complex called" Pantsir-ME "," said the representative of the PCU.
According to him, the maximum speed of the targets hit by the Pantsir-ME complex is 1000 meters per second, the number of simultaneously fired targets is four, the response time is 3-5 seconds. Pantsir-ME can hit targets with missiles at a distance of 20 kilometers, at altitudes from 2 meters to 15 kilometers; artillery armament at a distance of 4 kilometers, in height - from 0 to 3 kilometers.
For comparison, Zhukov noted, if the Kashtan-M complex (an export analogue of the Kortik), two missiles were aimed at destroying one target, then the Pantsir-ME directs four missiles simultaneously to four targets.
The Kortik anti-aircraft missile and artillery complex is now installed on the Peter the Great heavy nuclear-powered missile cruiser, the Admiral of the Soviet Union Fleet of the Soviet Union Kuznetsov heavy aircraft-carrying cruiser, the Fearless One and Yaroslav the Wise and other ships of the Ships and other ships of the Witters and other ships of the forces of the Russian Union of Kuznetsov.
Zhukov said that Pantsir-ME is a modification of the Pantsir-S army complex, which is mass-produced for the Armed Forces of the Russian Federation and foreign customers. Compared with the existing anti-aircraft facilities of a similar purpose, due to the use of new radar and optoelectronic systems, the accuracy and range of damage to low-flying air targets, including anti-ship cruise missiles, has increased significantly.