Sergei Shoigu awarded the 76 Guards Airborne Assault Division with the Order of Suvorov
On August 22, Russian Defense Minister Sergei Shoigu presented the 76 Guards Air Assault Forces of Chernigov Red Banner Airborne Division with the Order of Suvorov.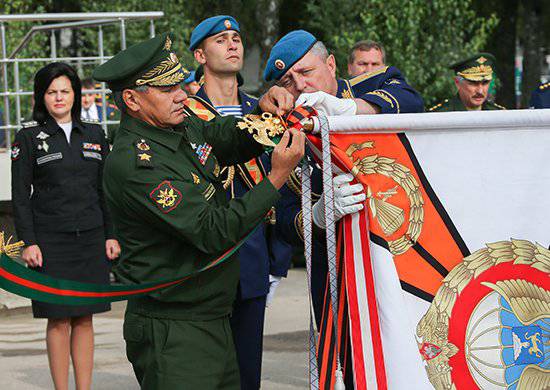 "On this solemn day, I want to note that over the years, the division's servicemen have been exemplary in serving the Fatherland, demonstrating loyalty to the best traditions of the Russian army," the minister said.
Press Service of the Ministry of Defense of the Russian Federation
.
In his speech, Shoigu recalled that the military personnel of the division helped to contain interethnic conflicts on the territory of Armenia, Ossetia, Azerbaijan and Kosovo. In addition, he separately singled out the counter-terrorist operation of paratroopers in the North Caucasus.
"This year, you also honorably fulfilled special tasks for the return of the Republic of Crimea to Russia," the minister stressed.
According to him, it is symbolic that the union was awarded the Order of Suvorov.
"Service in the Airborne Forces initially implies the highest professionalism and loyalty to the science of Suvorov to win, not by number, but by reduction. The recent exercises clearly showed that Russia can continue to rely on you in solving responsible tasks in protecting national interests, "noted Shoigu.
The army general thanked the guardsmen for military work for the benefit of Russia, wishing good health and new successes in the field of service to the Fatherland, and laid flowers at the monument to the paratroopers.
The 76 Guards Chernigov Red Banner Division formed the 1 of September 1938 of the year near Novorossiysk. Initially it was the 157-Infantry Division, whose personnel went through the whole war: defended Odessa, participated in the battles for the Crimea, the Battle of Stalingrad, liberated Ukraine, Poland and Belarus.
1 March 1943 of the Year The People's Commissar of Defense of the Soviet Union ordered that the unit be transformed into an 76 Guards Rifle Division for showing courage and courage.