SWOT for Kazakhstan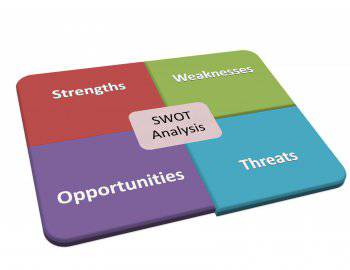 I wrote this small analysis not only for the people of Kazakhstan, but for the neighboring countries - the Russian Federation in the first place, since we are, of course, largely interdependent. What is happening in the republics of the former USSR is for all of us much more important than what is happening in foreign countries.
We are united not only by the CU and the Eurasian Union, but by the fact that the peoples and lands of our republics have been united under different names for thousands of years.
I propose to readers of the discussion site an analysis of the strengths and weaknesses for Kazakhstan, as well as possible threats and opportunities. We know this analysis under the abbreviation SWOT and are usually used to evaluate business projects or organizations.
So, let's begin.
Strengths or advantages of Kazakhstan
Energy and other mineral resources. Developed infrastructure with
Soviet times. Railway network. Power lines. Explored and developed deposits. Neighborhood with friendly or allied states.
Weaknesses or disadvantages
Remoteness from sea routes. The absence of a large consumer market. Unfavorable climate. The income stratification of the population.
Capabilities
The opportunity to become part of the large consumer market of the Eurasian Union. Specialization and cooperation within this market.
Threatening
Political and international risks. Possible deficiencies: fresh water in the region, energy resources in the world.
I would be very grateful if anyone could supplement and correct me.