Once again, the Permanent Representative of the Russian Federation to the UN and the UN Security Council Vitaly Churkin had to confront the Western "partners". This time a heated debate turned around the decision of Russia to send a humanitarian convoy to Lugansk, which was taken the day before. It got to the absolute insanity: the United States threatened Russia with further sanctions for the fact that the Russian Federation decided to deliver humanitarian aid to the citizens of Ukraine. Sanctions for the delivery of humanitarian aid is a new word in Western diplomacy!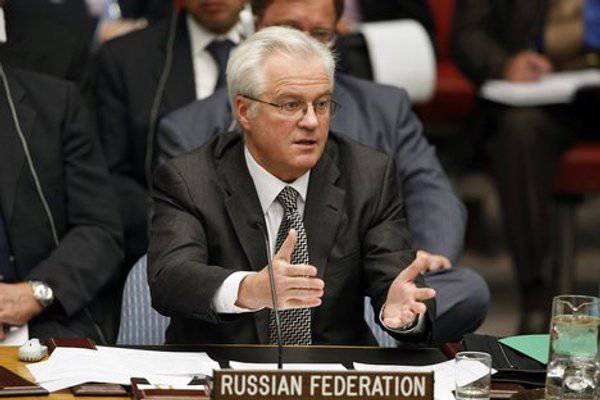 Vitaly Churkin called the next meeting of the UN Security Council a kingdom of crooked mirrors. This is reported by the TV channel
Russia Today
.
Vitaly Churkin, responding to Western attacks about the fact that Russia allegedly went without any legal grounds to cross the Ukrainian border, said that the West, together with Ukraine, was forgetting that Russia had such grounds. According to the Russian Permanent Representative to the UN, Moscow 12 of August received an official consent from Kiev to follow the cargo across the Ukrainian border. After that, Ukraine officially recognized the cargo as humanitarian. But after a few days, she suddenly began to declare that she did not give any permits.
Vitaly Churkina quotes
RIA News
:
We received official agreement from them, we discussed this issue with them, and if they went to the deception, it is their problem.
At the same time, Vitaly Churkin recalled that when sending humanitarian supplies to Syria, none of the Western leaders even considered the need to wait for permission from President Bashar Al-Assad.