Military expert: in vain Ukraine gives Russia the thread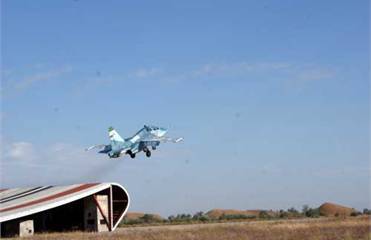 The transfer of Russia to the NITKA landfill in the Crimea will damage Ukraine. About this, as the correspondent of "Rosbalt", said Ukrainian military expert, director of the Center for Army Studies, conversion and disarmament Valentin Badrak.
"Obviously, you know that the other day negotiations were held between the Minister of Defense of Ukraine and the Chief of the General Staff of the Russian Federation. As a result, we see, in fact, that the Ukrainian side is ready to transfer the training complex "Nitka" to the Russians for rent on their terms, "he said.
Badrak believes that "this is not in the interests of Ukraine." "Including, given the possibility of leasing the complex to other countries, and such interest was expressed more than once," he said.
The expert recalled that "by agreement Russia compensated, and did not pay us for the use of the THREAD. "We received spare parts for aircraft components. In fact, finances did not exceed $ 500 thousand annually. This is miserable when compared with the amount of real rent of such complexes. Therefore, this is an absolutely erroneous decision, "he said.
As reported, Ukraine is ready to lend Russia a simulator for deck aircraft NITKA in the Crimea, said Ukrainian Defense Minister Mikhail Yezhel yesterday in Kiev at a meeting with the Chief of the General Staff of the Armed Forces of the Russian Federation - First Deputy Defense Minister General of the Army Nikolai Makarov.
"NITKA" is a ground test aviation training complex. Designed for testing the technology of takeoff and landing of an aircraft on an aircraft carrier. The complex is a replica of the deck of an aircraft carrier and can sway, imitating waves at sea. The landfill has been in operation since 1982, it is used for test flights of deck planes of horizontal takeoff and landing, as well as for training pilots of aircraft carrying ships to take off and landing.

The NITKA range is used by the Russian Federation on the basis of the Agreement between the governments of Ukraine and Russia on its use of 7 in February of 1997 of the year, which was ratified by Ukraine in 2004 of the year.
Ctrl Enter
Noticed a mistake Highlight text and press. Ctrl + Enter