21 August appeared in some media material about the huge losses of the Ukrainian security forces over the past three weeks, based on information from an unnamed source in the Ministry of Defense of Ukraine, reports
"Russian Spring"
.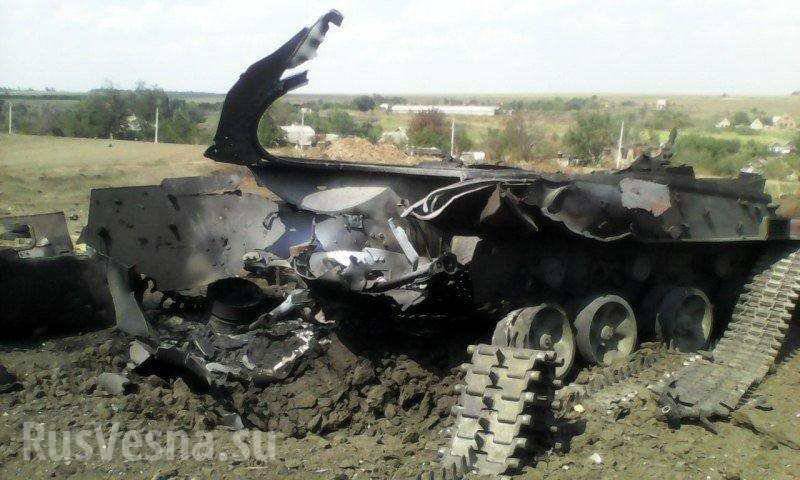 In particular, it is noted that the "change in tactics" that Ukrainian President Petro Poroshenko spoke about at the August 18 meeting was needed because of the loss of most of the strike weapons.
According to the source, "the offensive of our troops near Donetsk and Lugansk actually stopped," and the plan, based on massive shelling by long-range artillery, which involved clearing bridgeheads to capture the suburbs, "can be said to have failed."
"Over the past three weeks, separatists have knocked out more than half of the existing trunking and rocket artillery of our group. More specifically, since the beginning of the operation, more than 200 guns and Grad and Hurricane jet systems have been lost. But the worst thing is that about a third of them fell into the hands of the separatists, "the source said.
According to him, more than 500 units of various armored vehicles were also lost. The Ukrainian military has to "remove third and fourth category equipment from storage in warehouses," which has been there for 30-40 years.
"Her condition, to put it mildly, is unsatisfactory: riflescopes stolen, engines start at best one out of three or four, wires are half rotten ... Our companies, of course, help as much as they can, but they are not omnipotent, Parts must be ordered in Russia", - stressed the source.
However, the worst situation is observed in the Air Force of Ukraine.
"She was a bit able to fly with us. And now, after the loss during the ATO of almost everything that flew - 32 airplanes and helicopters, we can say that the Ukrainian Air Force is no more. There are neither funds for its restoration, nor specialists who would do it, and now there is nowhere to get spare parts for obvious reasons. Therefore, without normal fire support, the troops rose. And not only the rank and file, but the officers refuse to lead their units to the firing points. If previously people were being attacked with appeals, now they will only be threats. That's the whole "change of tactics," - said the source.