Pakistani protests. Deja vu: former athlete and preacher want power
The situation in Pakistan continues to heat up. Thousands of rallies are held in the largest cities of the country, including the capital of the state - Islamabad. Opposition supporters demand that Pakistani parliamentarians vote for the resignation of Nawaz Sharif, Prime Minister of the country. Reports about it
Kommersant
.
Imran Khan, a former athlete (professional cricketer) and Tahir Kadri, an Islamic theologian, are leading the protest in Pakistan as leaders of the Tehrik-e-Insaf. Former athlete and preacher, rushing into power? Somewhere we have already seen and heard ...
A certain feeling of deja vu does not leave after the statements of the oppositionist Imran Khan that he is ready to go to any negotiations with the authorities only after the current head of state leaves his post.
Thousands of demonstrators led by Khan on the eve broke through the cordons of protection of the parliament building and surrounded it. At the same time, as noted, the news agencies of Pakistan, representatives of power structures did not offer any resistance to the protesters.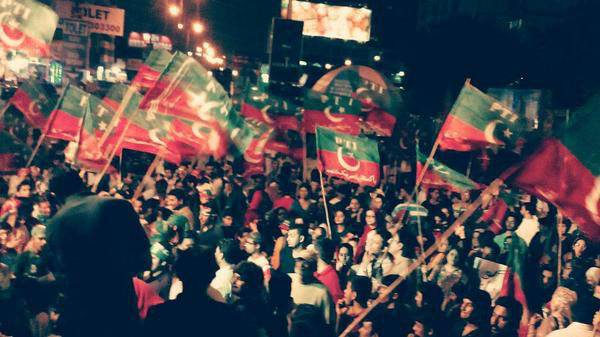 According to Pakistani analysts, this suggests that the army is still trying to occupy neutrality. Such a thesis is confirmed by the fact that one of the country's high-ranking military, General Bajwa, called on the parties to a reasonable dialogue in the name of the state and the people.
It became known that due to the events in the country, Prime Minister Nawaz Sharif canceled the planned speech in parliament today.
For reference: Nawaz Sharif is the multiple Prime Minister of Pakistan. The terms of his premiership are: 6 November 1990 - 18 April 1993, 26 May 1993 - 18 July 1993 (technical premiership), 17 February 1997 - 12 October 1999, from 5 June 2013 to the present. He heads the government and, concurrently, runs his own business.