In March, 2014, the United States announced that it would soon begin to supply shale gas to Europe. There was also a clarification that "soon" is no earlier than 2020 of the year. Other experts silently took calculators and counted: the American "shale gas" would cost the fraternal Europe one and a half times more expensive than the Russian (this would be the best economic scenario). Experts say that the United States in general will not supply gas to Europeans who have suffered from the dominance of Gazprom: Americans will prefer to saturate the domestic market.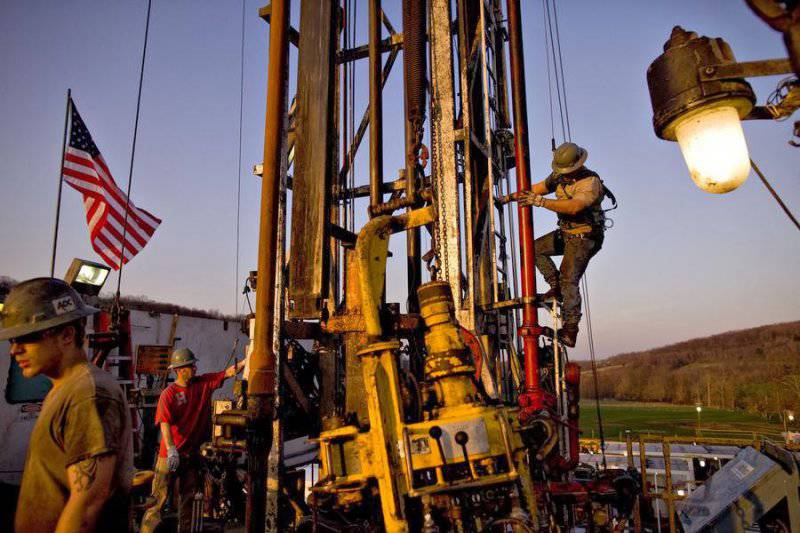 According to the idea of ​​the White House strategists, whose policy cart has long been placed in front of the horse of the economy, American gas will reduce dependence on Russian supplies to the EU countries. At the same time, kind America undertook to help Gazkom and Ukraine. Well, how? Tse Europe.
In the early spring of 2014, B.H. Obama made a regular speech, where he made loud promises.
For the sake of "punishment" of Russia for the "annexation" of the Crimea
Harry Potter
the owner of the Oval Office has promised that his administration will make every effort to provide the European Union with gas, in the quantity in which it pleases the European Union.
"We are ready to allow the export of natural gas in such quantities daily, in which Europe uses it daily," Obama quotes in March
Gazeta.ru
.
The publication further notes that, thanks to the "shale revolution", the United States fully met its own needs for blue fuel, and then began talking about the export of gas in liquefied form. However, according to Obama himself, the American LNG will go to Europe no earlier than 2020 of the year.
And whether go?
In July on the site
Pravda.Ru
An interview with Nikolai Ivanov, a representative of the Energy Department of the Russian Institute of Energy and Finance, was published.
The expert first of all said that energy supplies to the USA are carried out by "private companies that ... make decisions on where to sell these resources on the world market." As for the allegations that the United States intends to supply gas to Europe, "the United States and the president do not command private companies, do not dictate where to supply gas," the specialist said.
Whatever the United States undertakes, "the supply of American gas to European markets is still a very big question." According to the concluded supply contracts, the American gas project, the expert says, is aimed at the markets of Japan, India, and South Korea - that is, not at all to Europe. And Russia has nothing to lose here.
But the opinion of another specialist.
Jay Zawacki is CEO of HavePower, LLC, an infrastructure company for gas production, and a professor of commerce at the University of Maryland. In the article for
"The National Interest"
He points out that meeting the needs of Europe with American gas is an impossible dream.
Horizontal directional drilling and "fracking" in the oil and gas industry prevented a decline in US production. However, the expert notes with irony, if the Obama administration's flexible accounting allows "to spend the dollar twice," then "the same natural gas molecule cannot be spent (that is, burned) a second time."
In other words, the United States cannot simultaneously solve two tasks: a) to become an energy independent power; b) protect Europe from the "Russian energy bear".
Therefore, hopes for the export of liquefied natural gas to Europe - just a pipe dream of politicians. In fact, this is nothing to think about.
During 2013, the states of the European Union plus Switzerland, Norway, Turkey and the Balkan states consumed 18,7 trillion. cubic feet of natural gas. According to the US Energy Information Administration (EIA), 30%, or 5,7 trillion cubic feet, Russia supplied this gas. Can the United States supply so much gas to meet Europe's huge needs?
This question was asked by an expert. And gave the answer.
There is no chance that the United States can deliver 5,7 trillion cubic meters guaranteed. feet to Europe. Both Obama and Putin are aware of this.
Why can't they? The expert reasonably answered this question.
First, there are no pipelines through which natural gas from the United States would flow to Europe. Therefore, all gas destined for export to Europe will have to be liquefied and then transported across the Atlantic Ocean.
But after all, the process of liquefying natural gas is very energy-intensive, the expert notes. To compress and liquefy a gas, an enormous amount of energy will be needed - and this very energy must be obtained ... by burning natural gas.
To export 5,7 trillion cc feet of LNG, need to burn more than 1,9 trillion. cc ft of natural gas. It turns out that for the supply of 5,7 trillion US cubic feet, the United States will need 7,6 trillion. cc feet
Secondly, in this case America will not have enough gas for domestic consumption.
According to Zawacki, if the US sends 7,6 trillion cubic feet of natural gas to Europe, they will not have natural gas left for their own needs. Already last winter, the United States was faced with the fact that gas reserves in storage facilities fell to a minimum - 800 billion cubic feet. The specified volume would provide the needs of Europe for only fifty days. But if the United States parted with this gas, sending it to Europe, the internal system for delivering natural gas to the United States would not have been able to function. Gas in storages maintains pressure in the gas supply system, and with empty storages in the country, all gas-dependent industry will stop, including "freeze" more than 30% of domestic electricity production.
And what about the notorious shale gas?
But even with the fact that the US has already increased production in shale, the country still imports 1,3 trillion cubic feet of gas per year!
Yes, shale gas production will grow, but at the same time domestic production will require more and more electricity. It should also be taken into account, the expert reminds that the Obama administration, due to environmental motives, continues to fight coal (more precisely, coal-fired power plants). As a result, there will not be enough gas for Europe.
Third, the price.
If you focus on the prevailing prices, then American LNG, taking into account liquefaction and delivery, will cost European buyers more expensive than 9 dollars per thousand cubic feet.
However, there is competition!
For example, Russian gas has a cost of 50 cents per thousand cubic feet. In addition, it is supplied through the finished pipeline in gaseous (non-liquefied) form. Hence, the expert concludes that Russia can significantly undermine the attempts of Americans to export LNG.
Well, and one more thing.
The United States does not have the necessary capacity to liquefy gas and supply it to Europe. Capital expenditures on new objects will be expressed in decades of depreciation.
"And if political problems with Russia are not perceived by Europeans as something that will last for twenty years or longer, then Europe most likely will not give up Russian gas for many more decades and will not enter into long-term contracts for the supply of American LNG. Of course, without such long-term supply contracts, there will not be a basis for financing and building a sufficient number of gas liquefaction enterprises for supplying primarily to Europe. "
At the end of the article, the expert adds a few more words.
US exports of liquefied gas will not be able to give Europe independence from Russian gas. At the same time, such exports will allow American producers to inflate prices. Yes, this is good for them, but bad for domestic consumers ...
So, what we have in general and in general?
1. Previously, 2020 did not fear Russian competition, even if it was small, with American "shale gas". This is recognized even by Obama himself, who proclaims himself the savior and benefactor of Europe (these backyards of the great American civilization). By the way, all B. B. Obama's long-term plans are nothing more than propaganda noise, since the presidential election will be held in the United States in late autumn 2016, and Obama is not Roosevelt to pull for a third term. In addition, Republicans are threatening to sue him.
2. The United States will not go on squandering gas across every Europe there, knowing that they themselves will remain without fuel.
3. Gas in the US is produced by private companies, and they are not driven by such crazy people as they are in the White House. Therefore, they will not risk competing with Gazprom. If Obama has a policy ahead of the economy, then everything is there where it should be.
4. Obama is not Harry Potter.
Finally, today's Europe, already full of Russian apple sanctions, will now think one hundred and forty-four times before listening to hegemons like B.H. Obama.
Observed, translated and commented Oleg Chuvakin
- especially for topwar.ru