20 August on
New Delhi Television Limited website
(NDTV) appeared the first high-quality photograph of the Indian nuclear submarine (NPS) S 73 Arihant, reports
Strategy and Technology Analysis Center blog
.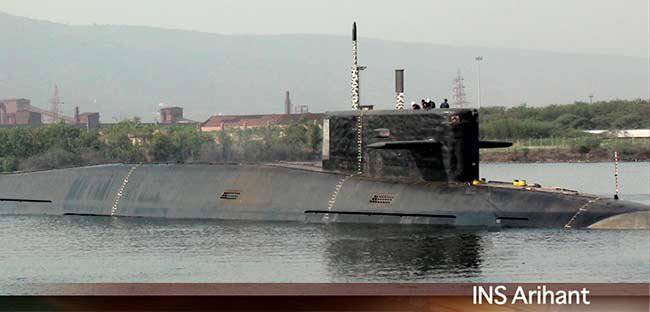 The Arihant missile submarine was created as part of one of the most "long-term" national defense programs in India called Advanced Technology Vessel (ATV), launched in the 1974 year. The development and construction of the submarine was carried out with the active assistance of Russia at the specially created state shipbuilding enterprise Shipbuilding Center (SBC) in Vishakhapatnam, starting with 1998. The Arihant submarine was launched on July 26 2009 of the year, but the factory running trials have not yet begun.
In the photo, published by NDTV, the submarine is located outside the closed mooring complex SBC, which allows to conclude that it was prepared for the first voyage at sea.
It is worth noting that in July XBC NUMX, the SBC in Visakhapatnam began construction of a second submarine of this type, called Aridhaman.
The main armament of the Arihant submarine will be the X-NUMX K-12 Sagarika underwater launch ballistic missiles with a range of 15 km, which are being developed in India under DRDO control. There is information that in the future, submarines of this series will be equipped with a promising Indian K-700 ballistic missile boat with a range of 4-3000 km. A ballistic missile K-3500 with a range of 5-5000 km is also under development.