August 18 from the pier of the Baltic base
fleet
The Russian Navy in Kronstadt docked the oceanographic research vessel Admiral Vladimirsky, which will make a round-the-world voyage. Its crew consists of 131 people, including 9 women.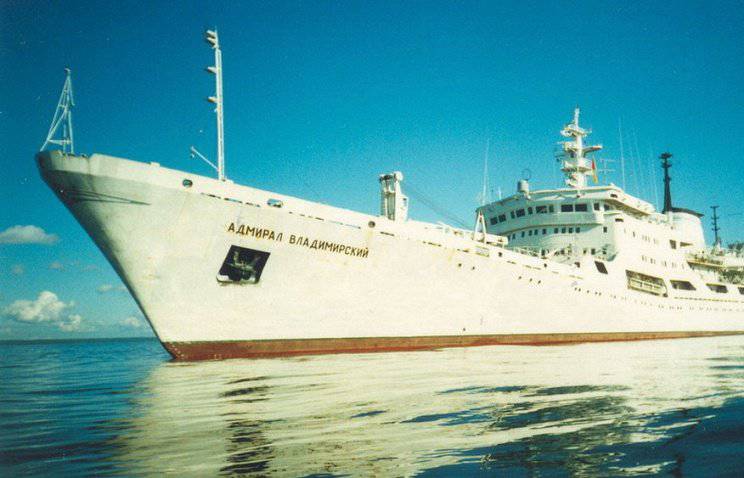 "Today, Russia is returning to the study of the Arctic after a long break, for the first time a research vessel will pass along the Northern Sea Route without icebreaker assistance," quotes the words of the commander-in-chief of the Navy, Viktor Chirkov
ITAR-TASS
.
"It is symbolic that we are escorting this expedition from the cradle of the Russian fleet, Kronstadt, from where Krusenstern and Bellingshausen went on their march on the birthday of the Russian Geographical Society," acting governor of St. Petersburg Georgy Poltavchenko said at the solemn ceremony of seeing off the ship.
As part of the transition, the crew of Admiral Vladimirsky will carry out a series of oceanographic surveys, collect data for the correction of nautical navigation charts, manuals and navigation manuals, and will also check the operation of radio navigation systems.
"Among the main tasks of the expedition is to clarify the boundaries, to study the possibility of creating naval bases, to study the depths on the Northern Sea Route," said Chirkov.
The last such expedition was organized in 1983 year.
The route of the vessel is as follows: the Baltic, Northern, Barents Seas, the water area of ​​the Northern Sea Route, the Bering Sea, the northern part of the Pacific Ocean, the Panama Canal. Then "Admiral Vladimirsky" will cross the Atlantic Ocean, will pass the English Channel, the southern part of the North Sea, the Danish Straits and will return to the Baltic Sea.
In 125 days, the research vessel is to cross the 24 670 nautical miles and enter the 5 Russian and 4 foreign ports.