Poroshenko recalled the flag of Ukraine after the incident with the repainting of a high-rise star on Kotelnicheskaya Embankment of Moscow
In Moscow, a criminal case on the fact of desecration of the skyscraper on Kotelnicheskaya Embankment. Recall, on the eve of the five-pointed star, crowning the spire of a high-rise building, repainted in yellow-blue color. In addition, the Ukrainian flag was hoisted on the building. The criminal case was initiated under article 214 of the Criminal Code of the Russian Federation ("Vandalism"). Reports about it
RIA News
.
In the case are four people who are in the police station Tagansky city of Moscow.
ITAR-TASS
distributed information about the detainees. it
Pogrebov Alexander 1981, R., Shirokuzhukhov, Alexey 1988, R., Korotkova, Evgenia, 1988, born and Anna Lepeshkina, born 1989
From the statement of the press service of the Moscow police:
Two young men and two girls say they jumped from a tall building with parachutes. According to them, they did not hang a flag and did not paint a star.
At the moment, the skyscraper has acquired its usual appearance - the paint is washed away, the flag is removed.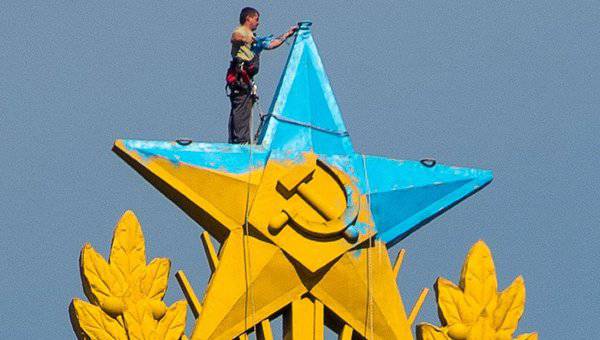 The action in Moscow, as it turned out, inspired Petro Poroshenko for similar "feats": he decided to announce the launch of the Our Colors action in Ukraine and stuck a yellow-blue flag to his car. Even here, Poroshenko is tough with creativity: he draws all the ideas based on foreign options. He announced humanitarian aid from Kiev after Russia sent such assistance, now he remembered about "our colors" after the Moscow incident. But it can wait until the Russian tricolor appears over his administration as part of this action.