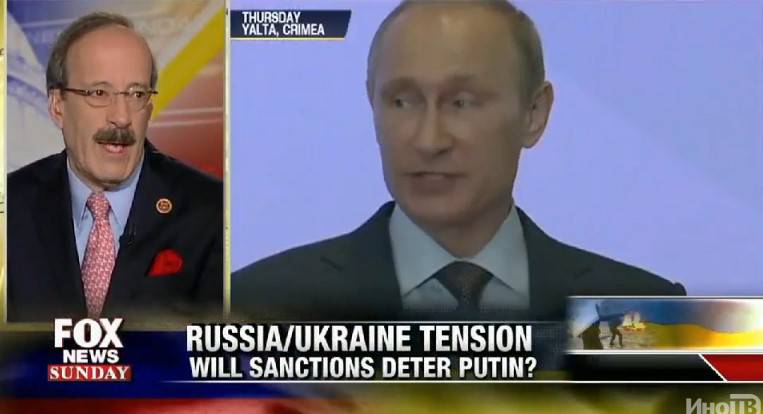 US Senator Ron Johnson believes that the proposals to give Putin the opportunity to retreat with dignity are absolutely meaningless. In an interview with Fox News, he said that Putin was only going to attack. And if he does not fight back now, then he will act according to the scenario of 1938.
Well, I want to transfer the conversation to the topic of Ukraine and Russia, as the conflict continues to flare up. It is said that Russian convoys cross the border. The Ukrainian authorities claim that they destroyed several of these vehicles. There are also reports that the Ukrainian fighter was shot down.
And this week, the results of new polls have appeared, let's see: 74% of respondents believe that President Obama is not pursuing a strict enough policy towards Russia. 77% claim that Putin does not take Obama seriously. Congressman, I want to ask the question: do the sanctions work? Does our strategy work towards Russia, given the success of President Putin?
Eliot Engel, US Congressman: I think that Putin is testing NATO for strength. In the last 15-20 years, Russia, in the view of the alliance, was a kind of partner, and we didn't seem to need to regard it as an adversary. Now everything has changed. Putin made it clear that he is an opponent of the West, so NATO needs to reconsider the whole balance of forces, otherwise the alliance will perish.
That is, it actually means that the clause in the NATO Charter, according to which every member of the alliance must spend at least 2% of its defense budget, must be respected by all members. Now only three or four countries, including the USA, spend so much on defense.
Personally, I think Putin is a bully. If you do not fight him right away, you still have to do it later. I do not like comparisons with Hitler, but in 1938, some said: well, ok, give Hitler Czechoslovakia, the Sudetenland, because he is worried about the protection of ethnic Germans. If we do that, everything will be fine. Everyone knows what happened next.
Now, some say that Putin needs to give the Crimea, or maybe a small part of eastern Ukraine. After all, he protects ethnic Russians. This bully can not be allowed to. And I believe that our current actions in relation to Putin will form the world stage for the next 25 years, since he will be in power for a long time. And if he does not see a real threat in us, he will continue to act with impunity.
Senator, have we missed the opportunity to act more harshly towards the Russian leader? In which direction should we move on?
RON JOHNSON, US Senator: Let's hope that we have not missed this opportunity. However, I constantly hear from representatives of the presidential administration that they want to offer Putin ways of retreat. He does not need the path to retreat, he needs the path of attack.
We had to immediately fulfill the request of the Prime Minister of Ukraine Yatsenyuk for the supply of small
weapons
and ammunition. Right now we have to express our support for Poroshenko as openly as possible, loudly and noticeably. We must declare that we are indeed observing the Budapest Memorandum and are ready to help Poroshenko to ensure the territorial integrity of the country and, of course, his independence as the leader of the country.
As Congressman Engel already said, this is exactly the way to deal with a bully. Indeed, it is necessary to achieve peace by force. And we need to strengthen NATO. Polish Prime Minister Sikorski said that the alliance between Poland and America is useless and may even be harmful, because it creates an imaginary sense of security.
Our allies should not think so about the USA. However, due to the lack of determination and because of the weakness that we have shown, our allies are beginning to see us in that light. We must radically change the situation. We must show far greater strength and determination. We must provide Poroshenko with full-fledged support in his attempts to regain control of the east of Ukraine and defeat Russian aggression in this region.
Senator Johnson, Congressman Engel, thank you for taking part in our program.
Eliot Engel: Thank you, Shannon.
RON JOHNSON: Have a nice day.