Once again, the State Department spokeswoman Mari Harf "pleased" the journalists at the briefing. She announced that the riots and the methods of their suppression in Ferguson cannot be compared with the riots and the methods of their suppression in other countries. According to Harf, in the USA everything is decided "openly and honestly." Apparently, the mania of exclusivity makes itself felt.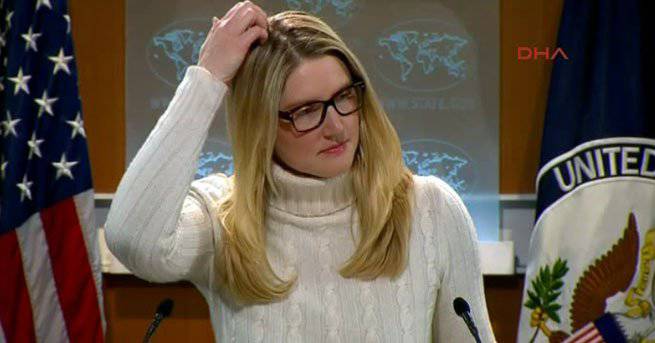 TV channel
Russia Today
talked about how Marie Harf left to answer the question of whether experts from international human rights organizations would be admitted to the United States to work in Missouri, where 18, a black student, Michael Brown, and another African American were killed by a police officer.
Marie Harf:
I have no comments about the process, which is purely domestic and does not concern the State Department.
That is, the dispersal of rallies in Ferguson and other cities of Missouri - this is a purely domestic political matter, and the Maidan, Tahrir, Taksim and marsh is an international matter? And in these matters, is the State Department just called into your nose? Why did the events in the center of Kiev Washington did not call the internal political affair of Ukraine?
The events in Missouri and the reaction to them of Washington makes even the American press go out with sensational materials for the USA. For example, the publication
The Wall Street Journal
writes that after Ferguson, the United States lost the right to criticize any other country in the world for forceful dispersal of demonstrators.
From material to
The Wall Street Journal
:
The tragedy in Ferguson can affect the image of the United States not only among Americans, but also among other states.
It's not a long time to talk about the image of the USA among "other states" ...