The Russians won the tank biathlon championship, but the shooting was more accurate Chinese crews
International Driving Crew Competitions
tanks
and firing accuracy took place in Alabino near Moscow from August 4 to 16. The Russians won both in the team and in the individual championship, the website reports.
Popular mechanics
.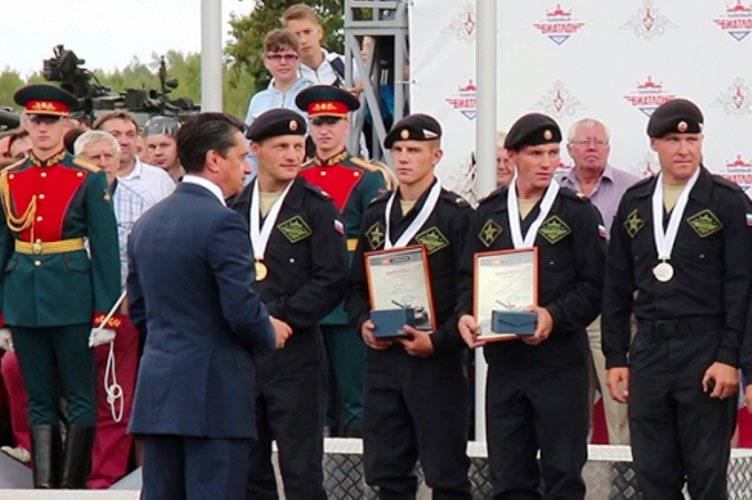 The championship was attended by crews from 12-ti countries: Russia, Kazakhstan, Belarus, Armenia, Kyrgyzstan, Serbia, India, Mongolia, Venezuela, Angola, China and Kuwait.
Russia won with the result of passing the 1 track for an hour. 15 min. 13 seconds In second place is Armenia (1: 20: 03) and in third place is China (1: 30: 56).
Meanwhile, as reported by the Military Parity, Russian observers noted that "the firepower and accuracy of shooting Chinese tanks Type 96A surpassed the similar parameters of the T-72 type tanks that participated in the competition". At the same time, the Chief of the General Staff of the Armed Forces Valery Gerasimov said:
"The Chinese crews fired perfectly, Russian tank crews need to learn from them."
Accuracy on the move (30 km / h) for Type 96А also turned out to be significantly higher than that of T-72. Although the Chinese tanks, according to previously conducted laboratory tests, are inferior in accuracy to the American МХNUMX Abrams.
The newspaper "Huantsyu Shibao", commenting on the results of the biathlon, said that the Chinese soldiers took the third place because of the "weak engines of their cars."
Another Zhongguo Zhibao newspaper quoted one of the participants of the Hou Peng competition:
"The Russian team used the T-72B tanks, whose engine power is HP 1130 We brought our tank Type 96A, whose engine power is less than 300 l. with."."The driving characteristics of our tank engines must be improved, but the true combat capability of the vehicle can only be verified in real operations. Armament, firing systems, optics and electronics Type 96А no worse than foreign analogues "
, - the colonel of the Chinese army Yu Kuilun expressed his opinion to the publication.
Tank Type 96A is described by experts as the "second generation chassis, third generation tower." According to experts, "the tank has insufficient speed, slow acceleration, not too frisky when overcoming the slopes." They say that the mobility of the machine is easy to increase, if you install on it the engine from Type 99. However, it is inexpedient to do this because of the high cost of the unit: one tank of Type 99 is equal in value to three Type 96A.