Ukrainian professor, man, head of the molecular electronics department of the Ukrainian Institute of Human Ecology, Mikhail Kurik suggested carefully checking the water carried by the Russian humanitarian column heading for the Donbass. According to Kurik, this water was taken from a military test site, and this is not without reason ... The professor shared his thoughts on the "war water"
UNN
.
Kurik believes that 700 tons of water, which is transported in Russian KAMAZ vehicles, should be subjected to the most serious testing. Moreover, the test must be carried out even on such a parameter as "genetic memory."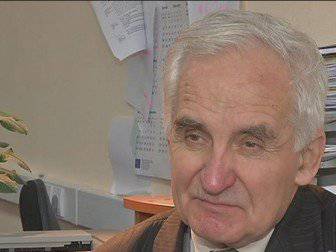 Curry:
And the main criterion of this water is its compliance with that in the human body. There are several matching options. The first is the fulfillment of sanitary and hygienic conditions about the quality of the water brought by the Russians. Whether or not there are chemical impurities or pathogenic bacteria. Further, water quality is determined, like drinking water, by molecular structure and genetic memory.
The worst thing is that this water can be technical. That is, we are talking about a likely planned sabotage. It is very necessary to check the genetic memory of water and chemical and bacteriological indicators.
The professor believes that if water was collected at a military training ground, then it can be used for destructive actions, among which Kurik sees even an impact on the psyche of Ukrainian citizens.
Judging by the statements of Kurik, a certain influence on his psyche has long been made. Does water? And did not Mr. Kurik lose his first letter U in his last name? ..