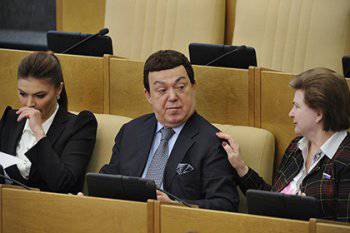 In the interview
"Komsomolskaya Pravda"
Iosif Kobzon said that he wanted to speak in front of the Donbash miners together with Andrei Makarevich.
"I will not make a difference: whoever wants, he will come to these public performances in the squares. And the Ukrainian army, and the militia ", - quoted Kobzon
"Lenta.ru"
.
According to the deputy, taking part in this action, the leader of the Time Machine will be able to show that his performance in Svyatogorsk was disinterested. In addition to Makarevich, a concert dedicated to the Day of the Miner may also be attended by other famous musicians. Kobzon noted that his organization would need the consent of the Ukrainian side.
According to the singer, he condemns the performance of Makarevich in the east of Ukraine, but "categorically against" the deprivation of his awards and titles.
The leader of the "Time Machine" said on the radio station
"Moscow says"
that he is ready to accept Kobzon's offer, but hasn't received calls from him yet. He also noted that he would speak to refugees in any city, but for the military, he would not sing from either side.
12 August Andrei Makarevich organized a performance in the city of Svyatogorsk, which brought together children of refugees from Lugansk and Donetsk. After that, the deputy of "United Russia" Yevgeny Fedorov said that the musician should be deprived of all received titles, as well as the Order of Merit for the Fatherland, 4th degree. The parliamentarian noted that speaking with the support of the new Ukrainian authorities, Makarevich demonstrated an open anti-Russian position. In turn, the leader of the Time Machine said that he would sue deputies if they did not cease to file baseless accusations.