Italian press questioned Ukrainian statehood
Italian newspaper
The print
I came out with material that expressed great doubts about the fact that today there is an independent state on the world map called Ukraine. The publication says: Europe continues to call the territory in Eastern Europe an independent Ukraine, but is it fair?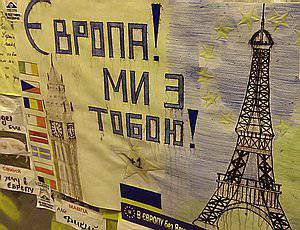 At the same time, the publication notes that for many years in Europe they did not perceive Ukraine as a separate state at all. For most Europeans, Ukraine remained an integral part of Russian territory, which could be explained not so much by geographical cretinism, but by mental features. For obvious reasons, such assessments of the "independence" of representatives of certain circles in Ukraine were brought to white heat, but this did not change the essence of the matter. Today, not all Europeans understand what independent Ukraine is all about.
From the article in La Stampa:
Europe suddenly remembered the state of Ukraine when the post-Soviet bear raised its paw.
That is, when Europeans tried to more actively explain that Ukraine is not Russia ... At the same time, the same publication writes that the leaders of major European powers still do not conduct productive official negotiations with representatives of the Ukrainian authorities, but try to consult the Kremlin on Ukraine's issues, which confirms the failure of Ukraine as a state.