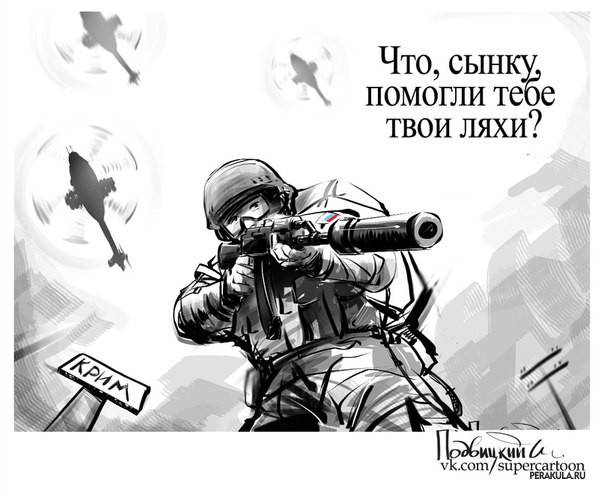 In 1996, I finished school in Ukraine, in the Zaporozhye region, a quite Russian-speaking village. Already then I was very interested
history
and other humanities. After reading the Ukrainian "scientists" (there were no others, and then I felt serious contempt for the works of Soviet leaders), I began to realize that I was ashamed of the dense, lapotny, always drunk and oppressive of all of Russia. Without knowing it, I began to look for a different identity. And I think I would have found it in Ukrainians, in this anti-Russianism, because I was touched by this wonderful singing language, hut-huts and stories about Zaporizhzhya Cossacks-heroes. You have no sivolaposti and drowsiness, but only a century-old craving for European values ​​and lifestyle (by the way, "winners from the rashka" for the sake of experiment can dump in the current Kiev or Dnepropetrovsk, where in the age-old Russian lands the Anti-Russian idea and identity temporarily won, and see how they have enough of those very European values).
I had time to be a pioneer, I remember the grandfather of the front-line soldier well, my parents are both Russian, and the intensity of ukropaganda on young brains in the middle of 90's and now are two big differences. Although I, a lover of history, still hooked on the edge, it's good that I moved to Russia, but now, I suppose, I would like to do it in another southern cauldron with other Svidomo ...
In general, it is not clear why they started this bloody butt in Ukraine. Another 20 years, and Ukraine would cease to be Russian. Totally. Just a natural change of generations and brainwashing. There would not be in two decades the electorate for a kind of pro-Russian PR in the absence of sympathy for Russia. Even 10 years would be enough for the mood of people in Donetsk and Lugansk to be identical to the current Kiev, and the mother of Russian cities would turn into an evil stepmother like Lvov.
Then the DNI - 2024 would be limited to the territory of the kitchen of Pavel Gubarev associates, no more. Recall that during the time of the first Maidan, exactly 10 years ago, football fans of the Russian-speaking areas were sharply against the "Western threat", they were not noticed in Bandera's sympathies and did not gallop in the squares. How things have changed ... You know, after 10 years, there would be practically no one for the Communist Party to vote for, the Communists are mostly older people. It would not have been shameful and absolutely illegitimate to drive this faction out of BP, to prohibit its activities. The KPU faction, at best, would sit in a nursing home. It seems that the western curators of the "Project Ukraine" do not have these 10 years.
A year later, after the Maidan, the next presidential elections were to be held unzalezhnoy. What it cost the West to wait just a year, and then the new head of state would be legitimate on 100% - that in the eyes of compatriots, that in the world community (indecisive, always wavering, tongue-tied, Yanukovych had no chance against a single candidate of the pro-European opposition, and leading media). Looks like there was no year either ...
The West as a whole, and the USA in particular, did not even have one year to legally bring their 100% puppet to power in Kiev. World gendarme is being blown away, a parasite like that. Before he dies, he would like to do so many more cases (see my recent article "The Last Blow to the USA"). There is little time left for the States, so they are in a hurry, and if the chess player has the gunner hanging on the flag, then the time trouble is easy to get checkmate in one move. It seems that an unlucky overseas player at any time will grab a Colt, brushing the pieces on the floor, because the rate in this game is too high. One can only hope that his opponent will neutralize the threat with a wrestling technique and force him to finish the game according to the rules.
I am sure that the American strategists again miscalculated, as before the Hitler, Napoleonic and other "partners". (By the way, when Putin called his Western colleagues with this word, I heard some irony in this. Maybe a plan was worked out against Russia for "partner podlyana", "partner trap", like "unthinkable", and our president would say "I know everything, guys, think of something else.") I think there are few who expected such stubborn and heroic resistance of the New Russia to the fascists. It would seem that the unconditional support of the junta by the collective West with the implicit assistance of Moscow, some kind of regular army against spontaneous militias, local oligarchs with their giblets in European banks and, as it were, the legitimate power of Kiev against lovers of historical reconstructions ... It would seem that there is no New Russia not a chance, and soon pravoseki begin to terrorize our areas bordering Novorossia and Little Russia, our Crimea. But the militia keeps, keeps, and more and more clearly manifests itself, for what, for what goals and ideals both sides are fighting.
My friend, a refugee from the Donbass, when asked about her national identity, says: "I even feel a little ashamed of myself, but I am Ukrainian." And she is not alone in this awkwardness in front of her ancient Russian roots. I remember an interview with one of the militias, who also somehow did not feel at ease because of their nationality, but kind of fought against representatives of their own nation. Although on the other hand is full of ukrovoyak whose names end in -ov and -in. But Ukrainians are, apparently, a state of mind of the Russian Russophobia.
The process of de-Russification of the New Russia, the Ukraine and a little Galicia went irreversibly backwards. If it were not for the rivers of blood, it would even be ridiculous: the Americans, using their own influence and their own puppets, throw into the dump those billions and billions of dollars that they spent on the "project Ukraine", and those years were undoubtedly brilliant and painstaking labor) evil overseas genius (let's give our enemy tribute and support the liberation movement of the native Indian population, Mexicans, blacks, Eskimos of Alaska: Russians are good students).
Ukrainians are slowly beginning to understand that they have done something wrong, plunged into something sticky, including in the blood of their compatriots. Very soon, a simple formula will start to reach all of them: Ukrainian = Bandera = fascist / anti-fascist = not Ukrainian = Russian. For whom are you, a resident of New Russia, Little Russia and even Galicia, you decide, and very soon.
After Odessa, Mariupol and the destruction of the cities of Donbass, posts and articles began to appear to quite Svidomo Ukrainians, in which incomprehension, disgust and horror from their ukrosoratniki manifested themselves more clearly. And most importantly - the understanding of the involvement and complicity in mass crimes. I read a long and confused article - almost an apology of one maydan of Odessa after the events in the House of Trade Unions, which can be replaced with one phrase: "I realized that we (the maydans) have more animals than people do." And, you see, an intelligent man, he realizes that the power will soon change, and they may come to ask all sorts of questions: "I cooked kebabs in another district that day, and only found out about it the next day."
I was wondering why, under Hitler, simple Germans did not oppose fascism. The answer is simple: having entered a former Jewish home, and on a full stomach, tasted bread from trophy Polish wheat, and laid Ukrainian sausages on top, washed down all this with requisitioned French wine, and watching Russian slaves plowing for you — Ostarbeiters, such things, like shame and conscience, they disappear somewhere, and they sincerely believed (or pretended: tastier and more comfortable) in all that nonsense that carried Goebbels' department. But when the funerals began to come en masse from the Eastern Front, and the bombs of the Allies began to pour on the cities instead of any goodies, then the Germans began to guess something ...
In our case, empty gas pipes in the winter and economic collapse will play the same role as the bombs on the heads of the Germans in 1944-45. We are not American-British barbarians, and not their ukroucheniki, we destroyed Novorossia, Little Russia, and maybe even Galicia to anything - we also need to restore it all later. By the way, mass funerals from the Eastern Front for these regions, and in our case, have not been canceled.
Of course, Ukrainian television should be lyustrirovat. Sometimes watch them
news
, talk show. You know, I understand that they are breaking up, but they lie very smoothly and plausibly. He laughed only when "the valiant Ukrainian soldiers from the southern boiler under heavy fire from the Russian territory retreated ... deep into Russia." And so, given the mass propaganda of recent years, it becomes quite clear why in general someone else is fighting of their own will on that side.
So, when the militia take the same Kiev with a massive air support of negative temperatures and with demoralizingly empty, long-turned off refrigerators from Kiev, in addition to capturing bridges, telegraphs, Maidans and crematoriums, you certainly need to take the telecentre. It was then that Kiselev's "News of the Week" on an empty stomach, with felt boots and a hundred times ridiculed quilted jackets would go well.
"Ukraine" as an anti-Russian and fascist project should be eliminated, and there is no one else to do besides us Russians. I remember the "wonderful" invented ukrolegendu about a certain Cossack Kharko, the founder of the city of Kharkov (the same Poles, the centuries-old junior curators of Ukraine, are not at all funny when ukropatriots draw on their maps half of Poland originally Ukrainian). To substantiate the subsequent capture of ukry by the Russian lands, Cossack Mosko, the founder of the city of the same name, can meanly be assigned to the Katsaps, since Ukrainian historians have already "proved" that the famous troublemaker Pugachev is a Zaporozhye Cossack Pugach, who fought with cursed Muscovites. So the state, based on the Bandera idea of ​​eternal war, the destruction of all foreigners, first of all Russians, should cease to exist, and first of all thanks to the Russians, including those from the former Ukrainians.