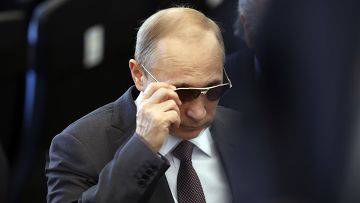 The problem of concession towards Russia in connection with Ukraine lies in the fact that Putin intends to wreak havoc there in order to keep himself in power in the Kremlin.
Over the past few months, President Obama and his Western colleagues have repeatedly spoken with Putin in an attempt to resolve the crisis in Ukraine. Obama and Putin talked nine times, and in June met briefly in France. German Chancellor Angela Merkel (Angela Merkel) talked with Putin 40 times and met with him in France and also in Brazil during the World Cup.
The problem is not the lack of dialogue with Putin. The problem is in the Kremlin leader, who seeks to destabilize his neighbors in order to prevent their attempts at democratization and rapprochement with the West, and at the same time carries out repulsive repressive measures at home.
If Ukraine, Georgia, Moldova and other countries in the region succeed, it will be a serious challenge for the corrupt and authoritarian Russian regime, led by Putin. That is why last autumn it prevented Ukraine's plans to conclude agreements with the EU; that is why he invaded Ukraine at the end of February, when Viktor Yanukovych fled from Kiev. Nothing scares Putin more than the overthrow of authoritarian leaders by popular movements that call for an end to corruption and are striving for a brighter future with the West. So it was in 2003 and 2004, when the pink and orange revolutions took place in Georgia and Ukraine. The same thing happens in Syria, where Putin is helping Bashar al-Assad after several tyrants fell in the Arab world in 2011. The same thing is happening today in Ukraine.
Since Putin's popularity ratings are record high, one might think that he quite confidently feels at his post. But before Putin's actions in Ukraine, his popularity ratings, although they were rather high compared with many Western leaders, did not grow. The Russian economy was in trouble even before the West began to impose sanctions for invading Ukraine. The Russian system is absolutely corrupt, and according to available estimates, Putin's personal fortune reaches tens of billions of dollars. If the Russians' standard of living declines, and those foods to which they are accustomed to disappear from the counters due to the ban in response to Western sanctions, support for Putin may decrease.
For more than a decade Putin has instilled in the country the myth that the West, and especially the United States, represent the main threat to Russia's security. He does this in order to somehow justify his repression in order to maintain control over society, to strengthen the idea that his power is the best defense against such a threat to the West, and to divert people's attention from internal problems. There is nothing new here. After the Beslan school hostage tragedy in southern Russia in 2004, when 300 people died - mainly because of the poorly performed rescue operation, Putin said: "Someone wants to tear a large piece from the country. Others help them do it. "
Speaking with a belligerent speech at the Munich Security Conference in February 2007, Putin said: "Today we are witnessing an almost unrestrained, exaggerated use of force in international affairs — military force — force plunging the world into the ensuing one after another conflict. Almost the entire system of law of one state, above all, of course, the United States, has stepped over its national borders in all spheres; and in the economy, and in politics, and in the humanitarian sphere, it is imposed on other states. Well, who likes this? Who would like it? "
The Russian military doctrine of 2010 says that the main military danger for Russia is the expansion of NATO and the approach of its military infrastructure "closer and closer to the borders of the Russian Federation". But the reality is that the safest and most stable borders with Russia are precisely with the member countries of NATO and / or the European Union, such as Estonia, Latvia, Lithuania, Poland, Norway and Finland.
Remembering
history
I do not mean at all that only rhetoric comes from Putin, but no danger. On the contrary, paranoid Putin is very dangerous for Russia's neighbors and for its internal critics. Ask Georgia, which Russia invaded 2008, or Estonia, which became a victim of Russian cyber attacks in 2007, or Moldova, which faces trade embargoes, or Ukraine today.
Ultimately, Putin wants to destabilize Ukraine and other neighboring countries in order to make them unattractive to the West. Putin fabricated a threat to the Russians in Ukraine to justify his invasion; but the reality is that such threats do not exist. More importantly, he does not care about these Russians and their well-being. After all, he is completely indifferent to the rights of his own citizens inside the country, as evidenced by the heinous attacks of power on human rights and the ban on the import of food. Putin is not interested in which model of power will exist in Ukraine - federal or some other; his main goal is to wreak havoc and stir up separatism in this country.
That is why appeals by some commentators to Western leaders "to explore opportunities for quiet compromises" with Putin on the Ukrainian crisis, as well as "to understand the Russian leader's concerns, his demands and his ideas about a possible unblocking of the situation" are meaningless and even counterproductive. Putin is not interested in reducing tensions, unless, of course, this helps him in the realization of his main goal - to preserve power.
In fact, for the sake of preserving power, Putin is ready for anything, including attacking Ukraine under the false pretext of "humanitarian intervention." The situation is aggravated even more by Putin's propaganda carried out through television controlled by him. It enjoys ever darker sentiments among Russians, who may even get out of Putin's control, and it will be very difficult to pay off. Therefore, Putin, and now Russia itself, is becoming a serious threat. To cope with this threat, we need even tougher sanctions, including the inclusion of Putin himself in the sanctions list, as well as the provision of military assistance to Ukraine and other Russian neighbors (not only NATO members) so that they can protect themselves. We absolutely do not need a new search for compromise with Putin.