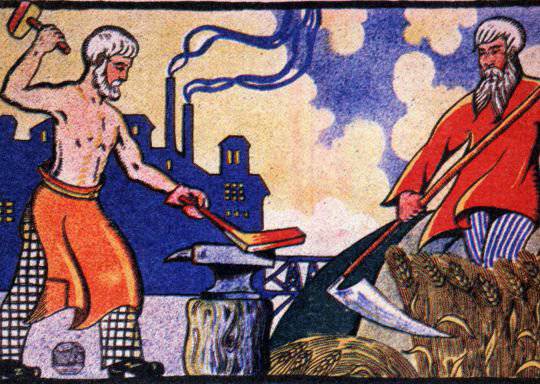 The indecision of the leadership of our country in the face of the Kiev junta and the world forces behind it — at the visible level of the United States and Europe, at more hidden — with bank capital, at even more hidden — "figures without faces and back" —is difficult to justify, but can be explained. This is evidence that Russia has not yet gained strength after the 1991 "geopolitical catastrophe" - neither military, nor economic, nor moral-moral .. And this means only one thing: we must become strong. And not "once", but in the near future. Today. Now. The faster the better. The only way here is "the state of labor", "the state of general mobilization".
Yes, for now the enemy is really stronger. And there is only one way out for us: to dissociate himself from him as much as possible, including getting rid of "euro-dependence" - there will be sanctions, or there will be none. Honestly, if it does not, so much the better: "Thunder will not break, the peasant will not cross." "We need Europe for ten years, and then we will turn our back on it" (attributed to Peter the Great). We have no "ten years" - we will endure. We will build a military and "gas" alliance with China (realizing that this is also temporary), create new generations of super-weapons and prepare for an already large test of strength. "Relaxation" - first of all in the very way of life - of the last decades, and, in fact, begun in the fifties of the last century, after the Twentieth Congress, must be put an end to.
In fact, the internal basis - in the conditions of Russia (in the West it is not) - the collapse and disintegration, first of all, of consciousness is the concept of "human rights" that was recited in the late eighties, first into our legal ideology, and then into the legal system. Rights without obligations.
The prominent Russian theorist of law NN Alekseev (1879 — 1964) speaks of "legal obligations" as follows: "An internal, organic combination of rights and obligations. In it the right, so to speak, is imbued with duty and duty with law. In the place of a separate law from a duty and a separate duty from a right, it turns out what could best be called the Russian word legal duty. Some representatives of the organic school in Germany taught about such a combination, in Russia we were Slavophiles, Dostoevsky meant it, about which the late PI I. Novgorodtsev, leaning towards the same views, wrote. S.L. Frank understands him when he says that "no human right has immanent moral force" "
Of course, different depth levels are also possible here. At the same time, according to Alekseev, the ideal case is this: "On one side, one-sided positive duties on the other side can correspond to rights obligations. The ideal case of such a relationship could be that unlimited monarch, who would consider his power not as a right, but as a duty towards his subjects, as serving them. This would correspond to the ideal concepts of monarchy that Slavophiles or some Moscow Rus journalists had. Such a concept of monarchy is developed by the Chinese theory of the state, especially the school of Confucius, etc. "
"It is clear, Alekseev explains, that the combination is conceivable only in positive, not in negative relations: for the very idea of ​​legal responsibility includes the idea of ​​some positively directed activity."
For today's Russia, a "positively directed activity" can only be a preparation for finding and acquiring our natural borders - from the Carpathians to the Pacific Ocean, from the North Pole to Tibet and the Himalayas, and then protecting these borders. These are activities similar to the Soviet 30 industrialization. , although on a completely different ideological basis: the focus is not on the book-set "ideal", but on the real "life power" as it is. A.G. Dugin writes: "Today, Russia is no longer burdened with a fatally false ideology: neither Soviet, nor liberal, nor imperialist. Therefore, the new battles of Russia make it possible to see its original spiritual essence clearly and almost without hindrances and additions. Russians today are just Russians as they are. And this opens up the possibility of a direct and unhindered work of the spirit of the Holy Spirit through our churchliness, the national spirit through our actions, the sovereign spirit through our power and the figure of a ruler. "
N.N. Alekseev bases his understanding of the Russian system of legal obligations on the basis of VO Klyuchevsky's statement: "In other countries we know the state order based on the combination of class rights with class duties, on the concentration of rights in some classes and duties in others. The political order in the Moscow state was based on a layout between all classes only of duties not connected with rights. True, the duties were connected with unequal benefits, but these benefits were not estate rights, but only economic benefits for the performance of duties. The relation of duties to these benefits in the Moscow state was inversely to that which existed in other states between duties and rights: there the former emerged from the latter as their effects; here, on the contrary, the benefits were the political consequences of state duties (V. Klyuchevsky. "
History
classes in Russia ", M., 1886, p. 110)" And Alekseev specifies: "It would be more correct, perhaps, to say that in the life of the Muscovite state that organic principle of legal responsibility, of which we spoke above, prevailed. And they were painted not only public, but also private life. "
This is extremely important: "not only public, but also private life".
That is, Moscow Russia was a state of labor, a state of workers. More precisely, workers and warriors. Plus monks, ascetics, "sovereign pilgrims."
Note that all this was written in the thirties of the last century: "We are convinced that in this direction is the resolution of the Russian revolutionary process. And this resolution can be achieved through creative efforts, and not as a result of a combination of elemental forces. Such a resolution would mean that we thus entered upon the basis of the development of the features of our history — the soil of our historical cultural traditions. At the same time, our modern "Westerners", starting with the socialists and ending with monarchists, sympathize with the awakened revolution of the bourgeois elements and believe that they will succeed in building the Russian world by the type of property owners who have agreed on two laws: "don't touch me" and "do ut des" "And - the most important clarification:" In order to avoid misunderstandings, we want to emphasize that the organism of labor demotia is not given at all, but is set in the modern Russian process. " (N.N. Alekseev)
One way or another, the "Russian process" was not interrupted, while the "bourgeois element" personally witnessed its complete inconsistency. This, of course, does not mean that the state of labor should be built according to initially false, and even outdated, "Marxist-Leninist" recipes. The motivation should not be ideological and ideological, but flow out of the "primordial spiritual essence" "without hindrances and additions" - "Russians today are just Russians as they are". "We are Russian, God is with us!" - this, Suvorov, is the only thing for which we will fight and work to feed those who fight. Strictly as the "armed Great Russia", "pseudo-state" (V.O. Klyuchevsky) was arranged when the Moscow kingdom of the XV-XVI centuries fought both in the West and in the East.
Important considerations under the heading "Modernization of Russia will not start in 2015" were published by well-known publicist V. I. Skurlatov: "Deliberately blocking the over-modernized modernization of the Russian Federation is a state crime. With a whistle in front of our eyes, Communist China has overtaken us in all respects, India and Brazil, once sculpted, are successfully modernizing. For the modernization breakthrough, mobilization of the productive forces of the people is necessary, which implies the elimination of idleness as the mother of all vices and relaxation. We, Russians, are so far behind the advanced countries that we have to strain ourselves to overtake. Only hard work makes people free, as hard training makes an athlete a champion. Therefore, idle days should be minimized, 6 should work days a week, extra holidays should be abandoned and only 1 of January (New Year), 1 of May (Labor Day) and 1 of September (Knowledge Day) should be left. And you need to work not 8 hours a day, and 11. And leave reduced to two weeks. And increase the retirement age for both men and women to 70 years. I look at the calendar of holidays and weekends in the upcoming 2015 year - again wrecking two-week winter "holidays", again all kinds of unnecessary holidays, especially in May, not to mention Saturdays, etc. As you can see, a malicious relaxation is planned, no lumen is visible. So the nations leave history. "
In principle, this is true. But not all.
It should primarily be about the restructuring of consciousness itself, the attitude to work itself, and not about the "company to strengthen labor discipline" of the type of "Andropov". Moreover, whether we like it or not, the nature of the main technologies today is completely different than it was under Yu.V. Andropov. The "information society" is, whether we like it or not, the same goes for "nanotechnologies" (completely independent of the existence or non-existence of Chubais).
Today, labor cannot be reduced to "staying at work" - if it is, of course, not an army, not the military-industrial complex, not high-precision production, not heavy industry, not medicine. This is the absence of doctors at work, even on weekends, and even more so during this most "wrecking holiday", and especially in today's extreme times, in a blatant manner.
But, for example, for fundamental science (theoreticism, mathematics, even design), "labor discipline" is sometimes harmful. In such areas, discoveries - even today - are made "on the loft". ​​But without basic science, there is no military-industrial complex or high-precision production.
То же самое касается и многих других областей, искусства, «Когда говорят пушки, музы молчат». Но тоже не всегда. Шостакович писал «Ленинградскую симфонию», а Леонов - «Русский лес».
Often the daily "presence at work" is not work, but idleness. This applies primarily to "office plankton". This category of "workers" should simply be drastically reduced and redeployed into the real sector, incl. in agriculture. In this regard, Herman Sterligov has very reasonable ideas (although his own hatred for the science necessary for the defense of the country is suspicious).
A real small and medium private business, educational institutions — everything that is not directly related to industry and defense — can set their own internal rules for themselves.
What should be tough to do away with is a cult of entertainment. This means, above all, a drastic reduction in show business and the "glamor industry" (with reprofiling, including forced), but with the preservation and decent financing of book publishing, film studios, philharmonic society, etc. The same applies to the spectacular sport and, again, its redeployment towards mass popular and military-folk physical culture - like the Patriot center in Kubinka, recently created and opened by Defense Minister S. Shoigu.
The question of the retirement age should also be approached differentially. The "state of general mobilization" cannot but be a social state, and a social state in any case is based on mercy for the aged. Therefore, it is impossible to agree with V.I. Skurlatov.
But what is impossible to disagree with is what it is. All multi-day holidays, really wrecking - yes, down with.
The same applies to the Sabbath as a day off. In the prewar and military conditions, the six-day work week is obligatory. Saturday should be a working day.
As for the holidays, big amendments are needed here. Labor mobilization will take place only if the religious traditions of the state-forming Russian people and other indigenous peoples of Russia are fully taken into account, as well as the customs that have developed during the last decades (primarily after World War II). Therefore, compulsory holidays should be Easter (although this is also Sunday), the Nativity of Christ and Victory Day. Next, you need a "flexible schedule" of holidays and weekends. For the New Year it would be correct to choose from the choice - January 1, January 14 or September 14 (church indication). The Twelve or "Soviet" -professional holidays can be set individually or by labor collectives - in agreement with the administration.
Muslims can also be given several free days on their main holidays, but they have to work on Easter and Deity. Similarly, Buddhists and representatives of the peoples of the North, as well as Russian Rodnovers. One way or another, Yvidei living in Russia should have the right not to work on Saturday, replacing it with a working day on Sundays.
The system of vacations should be just as flexible. Perhaps in an emergency military situation they will have to be abandoned altogether. But in periods of easing tensions, they should be. In heavy industry, the military industrial complex, medicine - yes, two weeks. In agriculture, fishing, etc. vacation schedule - seasonal, depending on the annual range of nature and agricultural work. Also, of course, universal military training of the population at the place of residence and work should be organized. For women - mainly military-medical. It is absolutely necessary.
At the same time, it is necessary to bear in mind serious amendments to this general scheme, which are expressed not by the guardians of idleness. So, the blogger arsenikum objects (in abbreviation): "It's impossible to put an ordinary person in this mode if it is really a job (even with idle times it is exhausting). At the same time, if we proceed from the fact that our conditional worker does not run with a wheelbarrow (this is necessary except for ritual purposes), but works where you need to apply your head (at least on relatively complex machines), in this case 11 watch worker the day is simply wrecking (injuries and accidents will increase). A pension in 70 years in this situation is such a sarcasm, they will not survive ... Right, you see, someone would write a program that would combine the use of ethnopsychological features (the use of "emergency bursts of activity", "artel spirit", etc.) with a temporary
mobilization, limited inspirational idea, and in combination with mechanization and other high technologies ... Well, any mobilization must be limited either in time or (and this is more correct) in goals. Institutionalized, like permanent mobilization, will degenerate from bad people into formalism and imitation of vigorous activity; in good people it will cause a new tide of hopelessness. Moreover, I fully understand that a "demobilized" society is always aesthetically and ethically disgusting, but "if you always pull the string, it will just tear" ... "
I must say, thoughts are quite reasonable. In any case, first of all, where it is a question of "using ethnopsychological features (" emergency rush of activity "," artel spirit ", etc.) with" temporary (this is debatable! —V.K.) mobilization limited by inspiring an idea. " (http://karpets.livejournal.com/1366715.html#comments)
What is this idea (or rather, not an idea, but a spirit), it was said above.
Naturally, the question arises about employers and forms of ownership. In principle, of course, it will be possible to solve it more or less definitively (just like the question of the type of government and forms of self-government) only after passing through the band of tests and tests that we are passing today, and the end of which is not yet visible. But in general, you can say so. Those representatives and leaders of large-scale are not talking about small and medium-sized, everything is obvious here, it cannot be interfered with — the private sector, who are ready to go for self-restraint and participation in the common cause, must retain theirs. They will undoubtedly have participation in the future of Russia. This applies even to those who received property in 90, not quite (to put it mildly) honestly - they can thereby atone for the past. Conscious compradors should be removed (best of all, if they just voluntarily leave), and their enterprises are nationalized. Not in the name of an abstract idea, but for the sake of survival and the victory of Russia.