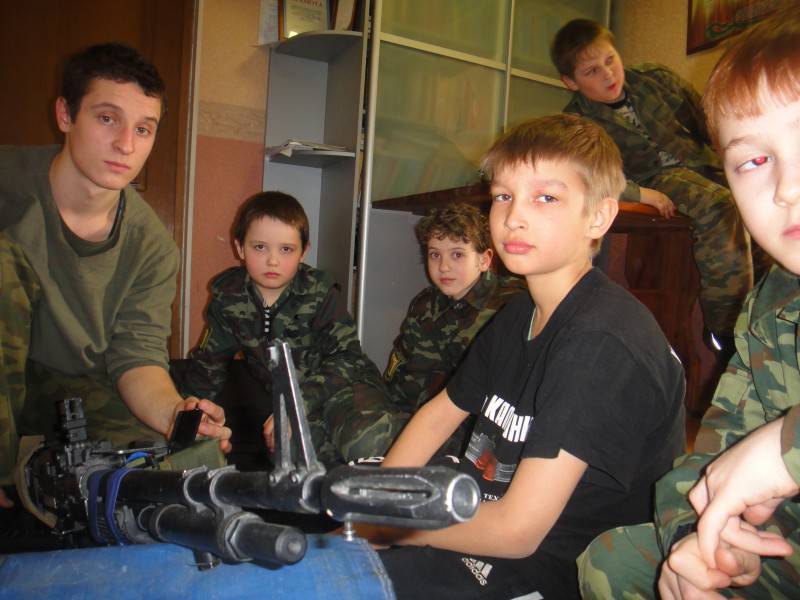 From time to time, articles are published on our website on a very sensitive topic - the upbringing and education of our children. I will not repeat, I will not analyze EGE and computer games, clothes, haircuts, mobile phones, etc. Believe me, this is not the main thing.
I am 53 of the year, three grown children. I am not a teacher, life is connected with the armed forces and the military industrial complex, but I really want to express my thoughts on this topic. I apologize in advance for some of the emotion and unexplored style of narration.
We all want our children to grow up as patriots, smart, strong people. But they themselves do not always help in this.
This is what I am talking about. I know my roots very well. And all that I know, my children also know, and they simply will not dare to betray their kin, their country.
My grandmother did not know how to read or write. But her wisdom, her knowledge of life, her love for people created such a moral character, with which it is simply impossible to bear now.
Summer xnum th. A woman, injured with her infant child by a single bullet, was looking for her daughter under the corpses of Germans - my 41-year-old mother (thank God, our soldiers heard a child's cry, dug up), saved all of her six children, did not lose anyone. She, half-dead, was dragged into the car by strangers along with her children. Our, Soviet. It was the last echelon from Pskov, with families of commanders.
My grandfather, four classes of education, then the Red Army, then the 1-I Soviet Joint Military School (Courses of the Red Commanders), went through two wars, all the time hesitated to speak out in public in disputes, it all sounded too country-like. But he did not hesitate on the orders of one to go to the pillbox, he was sure that he would raise people. And raised! And it was like a conspiracy. For all two wars - only one wound. I once, small, decided to help him, to gather for a meeting with brother-soldiers, I wanted to bring a uniform from the closet. And suddenly he felt how heavy he was. From orders ... I wanted to joke - I say that it's easy to learn, hard in battle, and then even harder - to wear an order. And he looked at me like an adult. He says that it's harder to live for dead friends, remember. I remembered.
These people did not graduate from universities, did not go abroad and did not taste the benefits of gourmets. There was another thing in their upbringing - unlimited trust and unlimited responsibility. And in return, they paid unlimited devotion.
Grandmother, at that time a girl 12 years old, one raised her younger brothers and sisters, her parents died. My grandfather worked with 10-years, I had to help my mother, my father died. They were the breadwinners in their families, they had a huge burden of responsibility.
The burden of what our children are now being protected from.
To educate real people, you must look at the generation of our fathers and grandfathers. There were all kinds of people, but ...
Leningrad 41. They bombed the area of ​​the Kirov factory. An unfamiliar woman, whose name we still do not know, covered the stroller with a small one-year-old child. I transferred my life to him. In 66, this boy will be my future wife's dad.
Now a few words about my generation. In 1977, I completed the master of sports standard in bullet shooting. Pistol. Exercise MP-8, if anyone knows. This is high-speed shooting on turning silhouettes. I was 16 for years, and the title was officially given only in 1979, in 18 years, as it should be. But
WEAPONS
I have been entrusted in 13 years!
You try to understand the sensations of a boy who has a real small caliber pistol in his hands. Let the dash, let the sport. But the PISTOL. This is a serious trust.
When we traveled around the country to compete in the Games of schoolchildren, we had an adult attendant with us who had suitcases with our weapons and ammunition. They gave us all this only on the firing line, just before the shooting. But if the competition was held on the DOSAAF line, then there was no accompanying person, we were on a par with adults. Weapons and ammunition were issued to us on receipt after the credentials committee. We were responsible for its performance and its safety. We. The boys. For us, this was a manifestation of the highest trust that can only exist. Of us, no one has ever failed our coaches. Not with anything!
Why am I doing all this? If you look at our children simply as children, do not try to instill in them a sense of responsibility, do not try to trust them, and seriously, and not somehow show off, they will become people very late.
Do not be afraid to trust them, do not be afraid that they will burn, and more than once. Do not be afraid of their pain, bruises, teach them to suppress their fear. Do not be afraid to talk about difficulties, do not hesitate to your victories and defeats, tell about grandparents, about
stories
my family and my country. Believe me, when they hear it from mom and dad, and not from textbooks, you will see their serious eyes. Matured
And necessarily - the sport. This is the main thing that can help us in the education of our children. All my children went in for sports, all the crap with drunkenness in doorways and drugs passed by - they simply did not have time for this and they simply could not betray the trust of their parents and their coach.
My youngest son started playing hockey with 4-years, he still plays at a professional level (he is 26 years old). So, when his mother once punished him for his unlearned lessons and didn't let him go to the gym, he tied up the sheets and decided to go down from the 3 floor. We caught him on time, on the windowsill. And he told me what I remembered for the rest of my life: "I cannot let the team down!"
What is there to add ...
My dear, my dear parents of the current boys and girls! Do not be afraid to see adults in your children. They really need your trust.