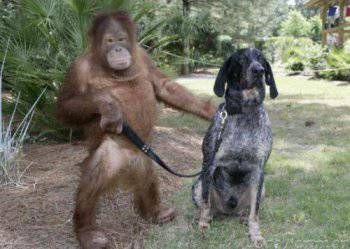 Human life is priceless! It would seem an indisputable fact. But no. In democratic countries, it applies only to citizens of these countries. This does not apply to the rest. Just as democracy is not the power of the people, but the power of citizens, including those with slaves, who, of course, are not citizens. This was the case at the birth of democracy in ancient Greece. So it is now.
Yes, the life of democrats is priceless ... But what if you need to defend your "democratic values" somewhere far away? Send troops there, so they made it clear who is right and who is not? But this is an unpromising business, priceless "democratic" lives are lost, especially when dealing with an unpredictable Russia. Taxpayers will not forgive, as they will not forgive the fact that they have not fully defended their interests, have not piled in more corpses of people who disagree with the general line of democrats.
There was a way out, and relatively cheap. It is necessary to create an artificial army. More precisely, not even create, but bring up. From ordinary people, for example, from Ukrainians.
From the point of view of management theory, invented in a democratic society, a person is a set of unique "communication lines", at one end of each of them is a "button", and at the other end is a reaction to a signal. But people are all different: one has many "buttons", another has few, one "button" is hidden and you can't find them so easily, the other is visible, one "communication line" is closely intertwined and you don't know what "button" will give what reaction, the other all the "lines" are straight. How to unify all this? The answer was also found - it is necessary to create a dominant for experimental people.
What to create a dominant? That's right, on strong feelings! What are our strongest feelings? That's right: Love and Hate! Love was dropped right away, it is unpredictable, like the Russians, it tends to develop, it creates (that's annoying) new "lines of communication", etc., etc., you can't name it all. Yes, and a man who loves will not go kill his own kind on the orders of the democratic centers. In short, Love is troublesome. Hate, all good, cheat. And it does not develop, although it grows, and does not create redundant "communication lines."
So experts in democracy have made a bet on Hate. It remains to create a dominant. And work began to boil. It was necessary not for one person, but for the whole country called Ukraine, to chop off all "communication lines", except for one, called Hatred. Started with
stories
After all, a properly chosen "story" will cut off such "lines of communication" as pride, patriotism, and self-esteem. At the same time, through propaganda, the enemy is declared and the rest of the "lines of communication" are beginning to be destroyed - as contradicting Hatred or distracting its strength. No, everything is for Hate, everything is for the victory of Hate! Admiration and a sense of beauty? They are not needed, they are useless, because they contradict Hatred. Pity, compassion? Yes, these are the most terrible enemies of Hate! Destroy, once and for all! What is left? Yes, like nothing ...
Excrement, I mean the experiment was a success. The Man who hated turned out to be a success, possessed completely predictable behavior, for he had only one "button" and one "line of communication". And most importantly, everything was relatively cheap, taxpayers from democratic countries can sleep peacefully, no one will risk your priceless asses, oh, sorry, lives.
And the Man Hates went to kill his own kind. But other people who came to kill the products of democratic developments did not want to be game and began to resist, and (this is the audacity) with
weapons
in hand. And then the side effects appeared, the experimental people had no courage, because it, along with patriotism, was also sacrificed to Hate. But where there is no courage, cowardice appears. But in democratic centers they didn't pay attention to such trifles, because there were many, several tens of millions of People who hate them. Just think, a million more, a million less!
It was also complicated by the fact that the Hateful Men could not quickly kill all those who disagree, even though the first were ten times more, and they were not cheated by heavy weapons. What did it lead to? So far, nothing catastrophic, according to the leaders of the democratic centers. And no one knows what will happen next. Someone hopes that the Hateful Man can be converted, after a hundred years, by the method of soft therapy, or after three years by the method of shock therapy, if not transformed into a Man of Lover, but into a Man of Reasonable.
Yes, no one knows, no one knows that the process is out of control of the creators of Man of a new type. This is still unnoticed. No, the Hateful Man will not turn his weapon on his creators, they will just have time to slip away in time, which they have learned during their numerous experiments. The case turned out to be much worse.
Hatred does not stand still, she is always hungry, if there is no one and nothing to eat, she eats herself, I mean the Man in whom she settled. She is unintelligible in food, this is not a gourmet for you, preferring only Italian cheeses, but from the Dutch, turning up her sensitive nose. She can eat everything her teeth can reach.
And finally, that terrible day will come when she will devour the Mind entirely! This, of course, will occur gradually, first Hatred will devour Logical Thinking, this can already be observed, then it will start to Language ... And what will be the Man without Reason? That's right, Monkey. Do you think that nothing will happen next? It will be, even as it will be! And the dream of many outside observers will come true - Hatred will die of hunger, because it will have nothing to eat! After all, what can you eat in Monkey? Nothing! The monkey will surely survive. And it will be nothing, so-so, look.
The monkey tribe is replenished with new human-like fellows. Pretty quickly, they give up their clothes and become covered with wool, not immediately, but learn how to climb trees. And they will be happy in their own way when they can catch a skinny rat.
Of course, the Democrats will say that they wanted the best, but it turned out ... it turned out Monkey. Mistake went out, it is impossible to take into account everything, with whom it does not happen. Taxpayers will not be particularly indignant, even if about Monkeys others have a headache, those who live next to them.
So there is a know-how from true democrats - technology of transformation of the Person into the Monkey.
PS
If you think that there will be nothing further, then you are deeply mistaken. For GOD will come on the scene! The Divine Providence is unknown to us, mere mortals ... But it is quite obvious that God did not create the Man for this, breathed Mind into it, led it along the path of comprehending the Divine, sent the Savior, the Prophets, and so for thousands and thousands of years. What will GOD do with the defilers of His Providence? Do not guess? Let it not be considered sacrilegious, but GOD has a sense of humor. He will turn the Democratic technologists and their taxpayers for the company into monkeys! Monkeys, wait for the first (small) and second (like a tsunami) replenishment wave!

But it will already be another know-how, know-how from GOD.