About shelling Makiivka and statements Tymchuk
The city of Makeyevka (DPR) with more than 300-thousand population has been subjected to a powerful artillery shelling of punishers. The greatest number of shells and mines exploded in Chervonogvardeysky district of the city. Locals referenced
Interfax
they say that buildings make fire in Makeyevka after shelling. Information about the victims of shelling has not yet been reported.
Tymchuk, who calls himself the head of the ATO Information Center on the Facebook page, writes that a regrouping of ukrovoyak forces is currently taking place. From the message of Tymchuk:
The militants (namely, the militiamen are called representatives of the pro-American Kiev junta - note "VO"), using reserves, including heavy armored vehicles, and acting from the settlement of Molodogvardeysk, tried to regain their earlier positions in the direction of Novosvetlovka-Khryaschevatoe, but unsuccessfully. The ATO forces consolidated on the frontiers in the area, ensuring their control over the strategically important highway M-04, and providing themselves with a further opportunity to enter the suburbs of Lugansk from the south with the unlocking of the Lugansk airport, where our units keep the defense.

At the same time, clashes continued in the Lugansk region, where earlier the ATO forces had conducted preparatory actions to liberate the city.
Militants in the area of ​​the НHNUMX highway, in the direction of Shakhtersk-Snezhnoye, took no less active measures, trying to restore the supply route of their group in the Donetsk region. These counterattacks were repelled by the ATO forces, however, further actions of our forces in the area were blocked by the actions of the enemy.

Vigorous actions of anti-terrorist operation continue in Donetsk, and also in the direction of Gorlovka-Enakievo.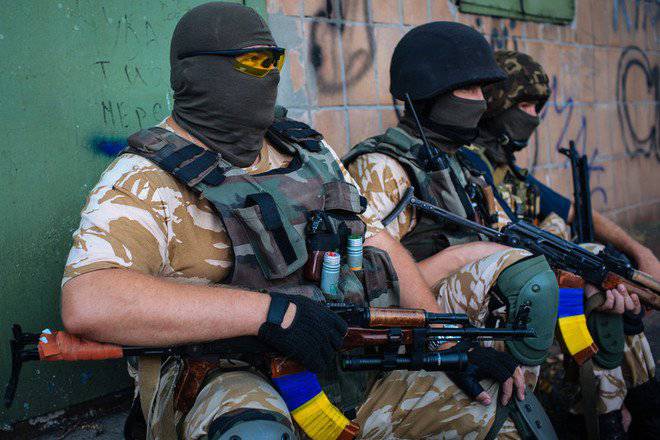 To listen to Tymchuk, so the forces of "ATO" literally reflect all the attacks of the militias. But for some reason, Tymchuk is silent about the defeat of the same ATO forces by Igor Bezler's detachments and how the 20 of Nazi guards and… thongs remained in the place of the defeat of the fortified area. Information about unusual finds at the site of the defeat of ukrovoyak spread
"Vesti"
.