Ukraine agrees to give Russia a NITKA test site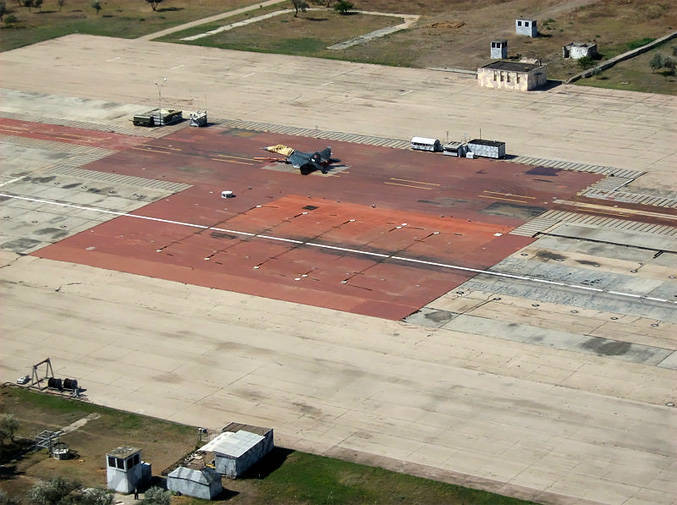 Ukraine is ready to lease to Russia a simulator for deck aircraft NITKA in Crimea. This was stated by the Minister of Defense of Ukraine, Mikhail Yezhel, on the eve of Kiev at a meeting with the Chief of the General Staff of the Armed Forces of the Russian Federation - First Deputy Minister of Defense General of the Army Nikolai Makarov, the press service of the Ministry of Defense of Ukraine reports.
"We received a letter from the Minister of Defense of the Russian Federation with a request to consider a proposal to transfer the NITKA landfill for rent. We believe this is the best option that will allow us to constantly maintain the proper readiness of the training ground for training Russian pilots. At the same time, NITKA will remain in the ownership of our state. Ukraine will receive rent and not spend money on the maintenance of NITKI and the personnel of the landfill, "said Yezhel.
He also suggested that the Russian side consider the possibility of participating in the implementation of a project to build a ship of the corvette class, noting that Russia has vast experience and potential in the field of shipbuilding.
The head of the Ministry of Defense of Ukraine proposed to prepare a comprehensive package of proposals for the development of bilateral cooperation in the defense sphere, drawn up in the form of an agreement, and submit it for consideration by the leaderships of both countries at the next summit meeting.
In turn, Makarov supported this proposal and expressed his conviction that the level of cooperation between Ukraine and Russia in the military sphere should be much higher.
"NITKA" is a ground test aviation training complex. Designed for testing the technology of takeoff and landing of an aircraft on an aircraft carrier. The complex is a replica of the deck of an aircraft carrier and can sway, imitating waves at sea. The landfill has been in operation since 1982, it is used for test flights of deck planes of horizontal takeoff and landing, as well as for training pilots of aircraft carrying ships to take off and landing.
The NITKA range is used by the Russian Federation on the basis of the Agreement between the governments of Ukraine and Russia on its use of 7 in February of 1997 of the year, which was ratified by Ukraine in 2004 of the year.
Ctrl Enter
Noticed a mistake Highlight text and press. Ctrl + Enter