The first "Mistral" will be equipped with weapons in St. Petersburg
The landing ship dock of the Mistral type, called Vladivostok, will go to St. Petersburg after acceptance. There at the shipyard "Severnaya Verf" he will be equipped with domestic systems
weapons
reports the website of the State Corporation
Rosteh
with reference to the head of the Rosoboronexport delegation at the exhibition "Engineering Technologies" Igor Sevastyanov.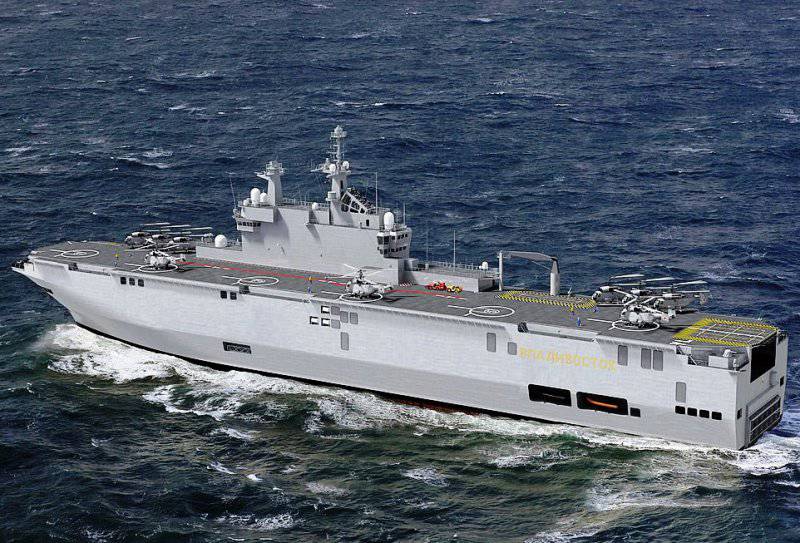 "Ship" Vladivostok "is completed. Crews are quartered at Saint-Nazaire. Their training began. All work is on schedule. At the Severnaya Verf, it will be equipped with Russian-made weapons. "
- told Sevastyanov.
The crews of amphibious assault ship docking ships "Vladivostok" and "Sevastopol" are currently in France on the training ship "Smolny". Vladivostok is already launched and several times went to sea. It is assumed that the manufacturer will transfer it to the Russian sailors this fall.
The contract for the construction of two Mistral docking ships was concluded between Rosoboronexport and French DCNS in June 2011. The Russian Shipbuilding Corporation acted as a subcontractor of the French shipyard STX France located in Saint-Nazaire. The first ship "Vladivostok" was launched in October 2013.
It was built in stages. The aft part was manufactured in Russia at LLC Baltic Plant - Shipbuilding and then sent to France, where it was docked with the nose part manufactured at the STX France shipyards.
The length of the "Mistral" is 199 m, width is 32 m, the depth (up to the level of the flight deck) is 27 m. The vessel's draft is 6,42 meters (with a displacement of 22,6 ths. Tons) passengers –18,5, crew - 481 people.