In the city of Ferguson (Missouri, USA) the riots don't stop every day. Residents require an objective investigation into the murder of 18-year-old black student Mike Brown by police. According to the governor of the state of Missouri, Ferguson has turned into a war zone. According to information
with the BBC
, in the center of the city several hundred policemen were called in to ensure order; however, the more policemen appear in the city, the greater the indignation of local residents grows.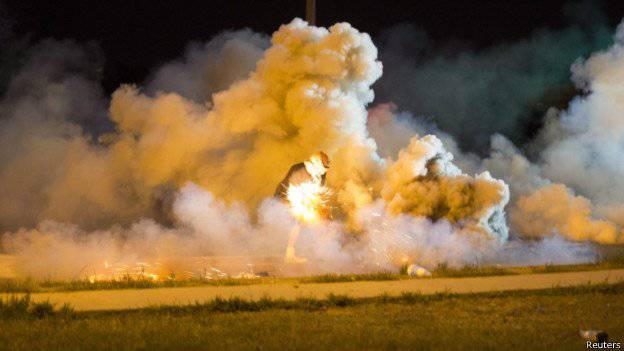 Despite the fact that the US authorities declare the need to restore confidence among the residents of Missouri, the clashes continue. The police once again used tear gas and rubber bullets against the protesters. In response, protesters threw stones and smoke bombs at the police, used traumatic
weapon
.
In memory of the deceased Mike Brown in the United States announced a minute of silence, which, according to the authorities, was supposed to promote reconciliation. In the meantime, there is no question of reconciliation. The latest survey showed that 47% of Americans do not believe that the investigation into the student's murder will take place objectively. If we talk exclusively about the black Americans who participated in the survey, then about 67% are inclined to believe that the shooting policeman will be unfairly justified.
Speaking about the reasons for the murder, the Missouri state police claim that the policeman fired in response to the aggressive actions of the young man and already after the fight broke out. Eyewitnesses of the incident declare that this is a lie. The shots rang out at the moment when Mike Brown stood with his hands up.