Fights in the Donbas go in all directions
Over the past day, battles between the militias and the Ukrainian security forces went in all directions, reports RIA
"News"
. Clashes take place in the south of the city of Miusinska, where they managed to block up to a company of the enemy, militia representatives say. A successful counterattack is under the neighboring town of Red Ray.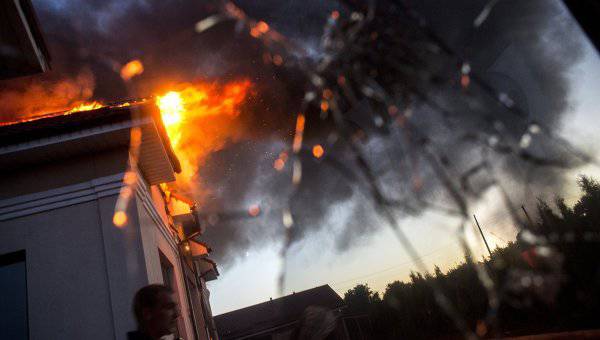 Representatives of the headquarters of the Donetsk People's Republic reported that the militia fighters managed to repel the village of Stepanovka, located in the Shakhtersky district near the border with the Russian Federation, from the military.
Near the village of Krasnaya Talovka an ambush was organized, into which a column of security officials fell. The technique was undermined by two bombs, and then attacked from an RPG.
"The enemy troops were many, but the partisans, on the contrary, were few and there was no complete destruction of the column," the headquarters noted.
During the defense of Ilovaisk, militia fighters destroyed a self-propelled artillery, KamAZ and 2 infantry fighting vehicles of the Ukrainian security forces, under Marinka - 1 SAU and mortar crew. In addition, a T-64 tank was shot down in the Anthracite and Krasny Sulin settlements, where the security forces lost more than 30 people.
At the moment, heavy battles are under the city of Enakievo, which is fired from artillery. Militias are conducting counterattacks from Gorlovka.
"Russian Spring"
gives a summary from Igor Bezler, who reports that in the last three days they managed to destroy 47
tanks
T-64, 17 armored personnel carriers, 4 BMD and 1 BMP. In addition, the headquarters with officers of the Right Sector was destroyed in Upper Krynka.
"Vesti"
reported that the Ukrainian security forces once again fired Donetsk with prohibited phosphorus ammunition. According to local residents, shelling was conducted on the village Karavannaya and State Farm Wide, located in the city.
"There have been several explosions. From above descended like fireworks or white rain. Now it burns in the area of ​​the Zaporozhye highway. The fire is dense, about five kilometers across the horizon, "said a local resident.