The head of the State Committee of Ukraine sent to fight in the Donbass
Activists of Dnepropetrovsk sent the head of the State Committee on Land of Ukraine, a member of the political council of the Freedom party, Sergei Rudyk, to the combat zone in eastern Ukraine, reports
UNIAN
with reference to the chief editor
"Censor. No"
Yuri Butusov.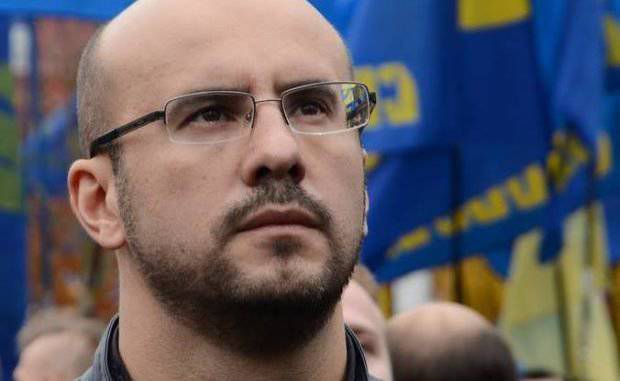 "The activists brought Rudyk to the Headquarters of the National Defense of the Dnipropetrovsk region, and force him to sign a receipt that he wants to go to the front as a volunteer. The official resists, asks to call the police, says that he has a family, and that he is very necessary in Kiev, that the prime minister is waiting for him, "Butusov wrote on Facebook.
According to him, in Dnepropetrovsk, Rudyk tried to appoint some Vadim Chuvpilo to the post of head of the regional department of land resources. Coordinator of the Lustration Committee of the Dnipropetrovsk region Tamila Ulyanova noted that Chuvpilo is "a completely inexperienced 29-year-old young man", "a protege of Deputy Prime Minister Yanukovich Alexander Vilkul and an oligarch Rinat Akhmetov", who is "a symbol of corruption and lawlessness" in Krivoy Rog, therefore the committee "Categorically against such an appointment."
"Most of our activists are now at the front, but I am very glad that we managed to gather people and prevent Rudyk from committing this monstrous lawlessness," Ulyanova noted.
Later Butusov reported that Rudyk began to equip.
"Rudyk equip. He refuses to put on his uniform and protection - they have already put them in a patrol car, which is leaving today with the cargo of the Defense Fund to Amvrosiyivka.
Weapon
until it takes. Foolishly, without weapons, helmets, armor and camouflage driving around the advanced checkpoints would be very risky. I hope the head of the State Committee on Land Resources will come to its senses, and understand that such stubbornness is simply thoughtless, "said Butusov.
After some time, the deputy head of the governor of the Dnepropetrovsk region, Boris Filatov, said that Rudyk had already been sent to the combat zone.
"The polished svobodovskaya bastard of the head of Derzhkomzem Rudyk arrived in the Dnieper to appoint a regional and popiaritsya for the wounded. As a result, he torn his jacket for several thousand dollars, did not appoint anyone, and went to the front, "he wrote on Facebook.