In Ferguson (a suburb of St. Louis, Missouri), tensions have not subsided for several days. 9 August policeman shot several times at unarmed 18-year-old Michael Brown, from which a black youth died on the spot, the channel
RT
.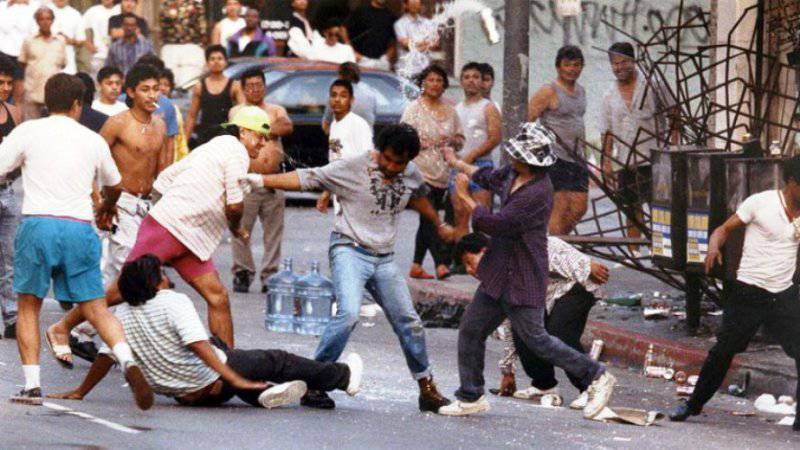 Personal details of the police have not been disclosed. There are several versions of what happened. According to the police version, the young man entered into the fight against law enforcement officers, "getting into his car and trying to take the gun away." Along with him, allegedly, there was another young man who also participated in the scuffle. As a result, the policeman applied
weapon
. Once he shot in the car, and then fired several more shots, which turned out to be fatal for Brown.
To disperse the protesters who oppose the brutality of the police, the guards used tear gas. During 2 hours, they warned that they would use special equipment if the protesters did not disperse.
"Protesters do not bother anyone. They want to tell the police the following: "You cannot force us to stay at home. If you wish, we have the right to stand here even until dawn. It looks like martial law. Do we have curfew now?"
, - said one of the participants of the action to the "RT" correspondent.
Dozens of city stores owners had to close because of the sweeping wave of robbery and vandalism.
"Some sellers have to shut up shops and protect what remains in them. But I understand the grief of the relatives of the deceased, and I offer them condolences. "
- A local resident shared his impressions.
One of the 10 stores in August was completely burned. On this day, a peaceful rally in memory of Brown turned into unrest. The death of a young man for a local for the most part black population means that there is a wall of misunderstanding between them and the police.