Completed preliminary tests of the new Russian assault amphibious SUV "Ansir"
Anton Marohin, a representative of the N. Bauman Moscow State Technical University, said at the Innovation Day of the Defense Ministry of the Russian Federation in Alabino, Moscow Region, about the successful completion of preliminary tests of the Russian Ansir assault amphibious SUV, reports
"Messenger of Mordovia"
.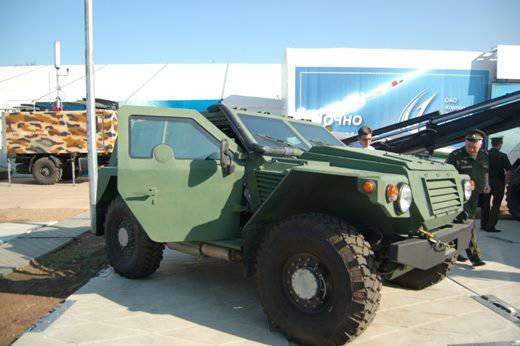 This machine was developed by the specialists of the Wheeled Machines department and the Technika software company by order of the Russian Ministry of Internal Affairs. Corps assault floating armored car "Ansir" has a level of protection according to the fifth class GOST 50963-96. Its weight is 4200 kg. With relatively compact dimensions: length - 4000 mm, width - 2100 mm, height - 1850 mm, base - 2500 mm, clearance - 350 mm, "Ansir" can carry up to 800 kg of cargo.
The car has high dynamic performance on the roads, the ability to provide the desired smoothness when driving on dirt roads and rough terrain, as well as the ability to overcome water obstacles by swimming. The maximum speed on the highway is 130 km / h, afloat - 5 km / h. Power reserve - up to 800 km. The angles of descent, ascent and roll are at least 35 degrees.
"Ansir" is equipped with a diesel power unit with power 180 hp and mechanical transmission with permanent all-wheel drive, as well as forced locking of axle and cross-axle differentials.
According to Alexander Kartashev, associate professor of the Wheeled Machines department, the armored car managed to successfully pass all preliminary tests and confirm the declared characteristics. In the course of the tests, minor remarks arose that were resolved promptly.
The main purpose of the new amphibious SUV is power support for special operations, guarding and escorting convoys, reconnaissance and patrolling. It is possible to install various weapons, including those with remote control.