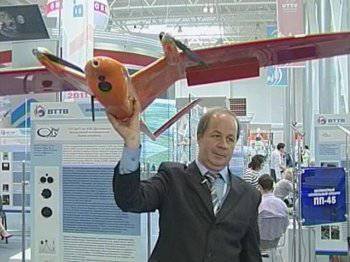 In Omsk, demonstrated the latest unmanned aerial vehicle. The machine was developed at a local technical university, and it is built using modern composite materials. The drone can search for people, help to make accurate maps for navigation systems, as well as to take photo and video. The machine, created for civilian purposes, is already interested in the military.
State security agencies seized video frames with military equipment from the drone developer Pavel Pogarsky - shooting in high quality can reveal strategic secrets. Aircraft in parallel with
tanks
and demonstrates its capabilities with small arms in the sky: a mini-plane can reach speeds of up to 150 kilometers per hour, while traveling can also be in a vertical plane (elevation difference from 300 meters to 400 meters allows you to take multiscale shots, including in 3D )
In the central part of the drone, you can fix any equipment with a total weight of 1200 grams - the imager will help you find leaks on pipelines, criminals or lost people. The developer of the device cooperates with manufacturers of navigation systems.
"This device closes a very good niche - shooting small areas where it is unprofitable to use the plane, it is very interesting, and there is a very large amount of work," explains Sergey Tyumentsev, engineer of the enterprise for the production of navigation systems.
However, the most popular nozzles on the drone, nevertheless, are video and cameras. Using the software, you can set a complex flight configuration, and hence the shooting.
"We are approached by archaeologists, and we are already conducting experimental flights to assess the terrain during excavations, environmentalists for video and photo observations," says Pavel Pogarsky, the developer of the PP-45 unmanned aerial vehicle.
Cartographers are waiting for the new modification of the drone - specialists are interested in relief shooting. The developers of the device are now solving the problem of organizing high-altitude 3D video filming.